Twitter has locked the account of CJ Pearson (@thecjpearson), president of The Free Thinker Project, for tweeting, "Every pedophile in America should be castrated."
Free speech advocate Ali Alexander reported that Twitter flagged the tweet and locked Pearson's account because the tweet violated its rules around "abuse and harassment."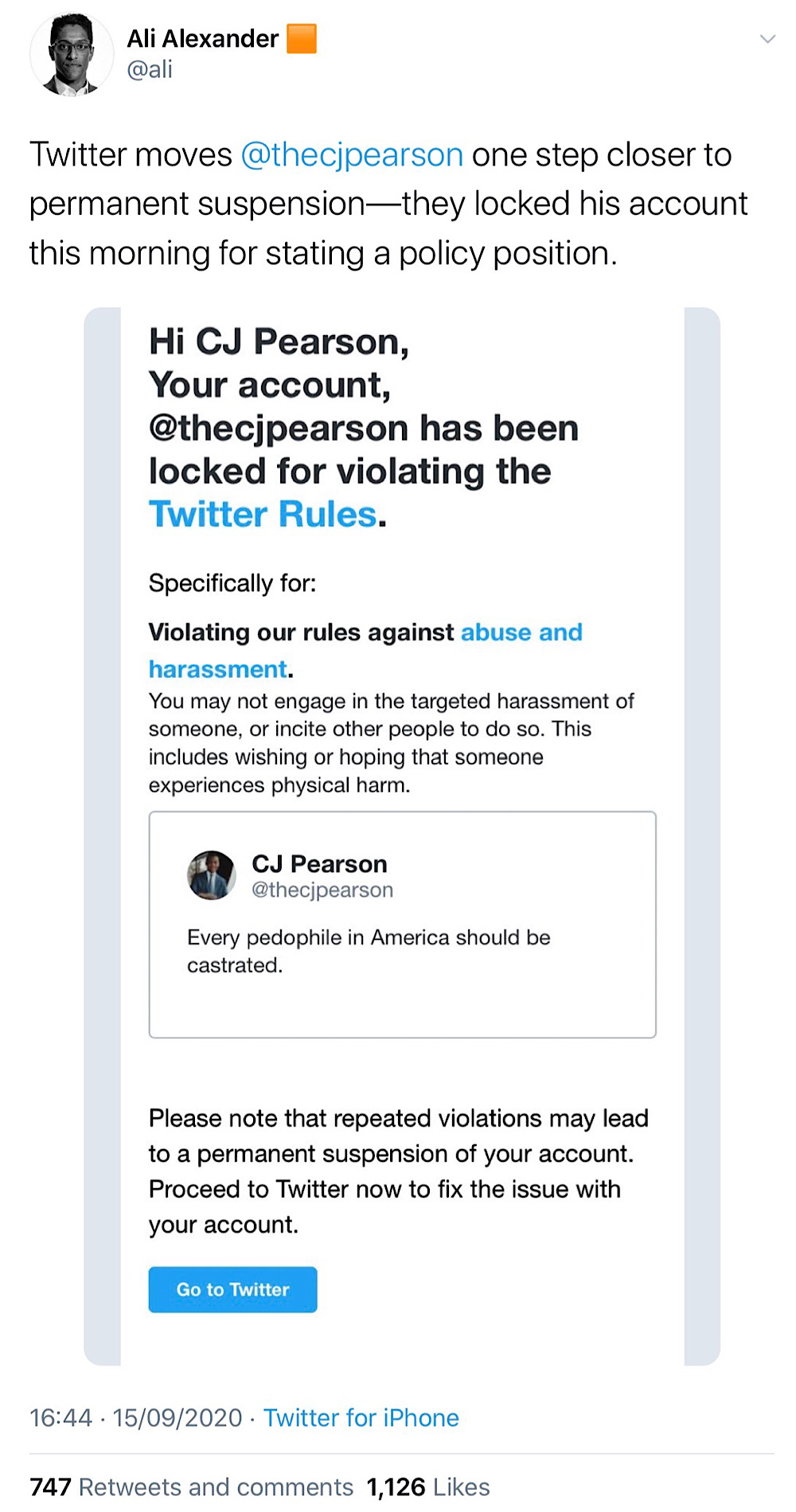 Twitter's enforcement action means that CJ Pearson's account is now closer to permanent suspension and he'll have to delete the tweet to regain access to his account.
Many Twitter users slammed Twitter for locking Pearson's account over the tweet, accused the company of protecting pedophiles, and noted that Pearson's tweet is a common policy position.
Twitter came under fire last year when it quietly changed its terms of service to allow "attraction towards minors," with many users shocked by the change.
Not only are these types of changes and enforcement shocking Twitter users when looked at in isolation but when looked at in comparison to other changes Twitter has made, they also suggest a clear ideological bent.
On the one hand, users that tweet common policy positions on pedophiles, statistical facts, or state "OK dude" are met with strong enforcement action.
Yet users that discuss "attraction towards minors" are having exceptions carved out in Twitter's rules meaning that they face no enforcement action.
Outside of Twitter, the controversy surrounding the Netflix movie Cuties has raised concerns about other companies mainstreaming the sexualization of minors.
Several politicians, including Congresswoman Tulsi Gabbard and Senator Ted Cruz, have called out the movie but activists and mainstream media outlets have attempted to dismiss their criticisms by claiming that they're supporting and legitimizing QAnon.