Twitter has announced that it may start censoring some tweets from President Trump and other government officials by hiding them behind a notice in certain circumstances.
Tweets that are hidden behind this notice will also be stripped of almost all their organic reach in the Twitter algorithm. The announcement comes after mass censorship of pro-Trump content and investigative reports that expose anti-Trump bias during the last seven days.
Twitter made the announcement on its official blog where it said it's making the changes to "protect the health of the public conversation" and said that it has previously allowed tweets that break the rules to remain on the site because they're in the public interest. It suggests that many people were getting confused by this so now it's going to "fix that" by hiding these tweets behind a notice and restricting their distribution on the site.
Here's how the notice that hides the tweets will look: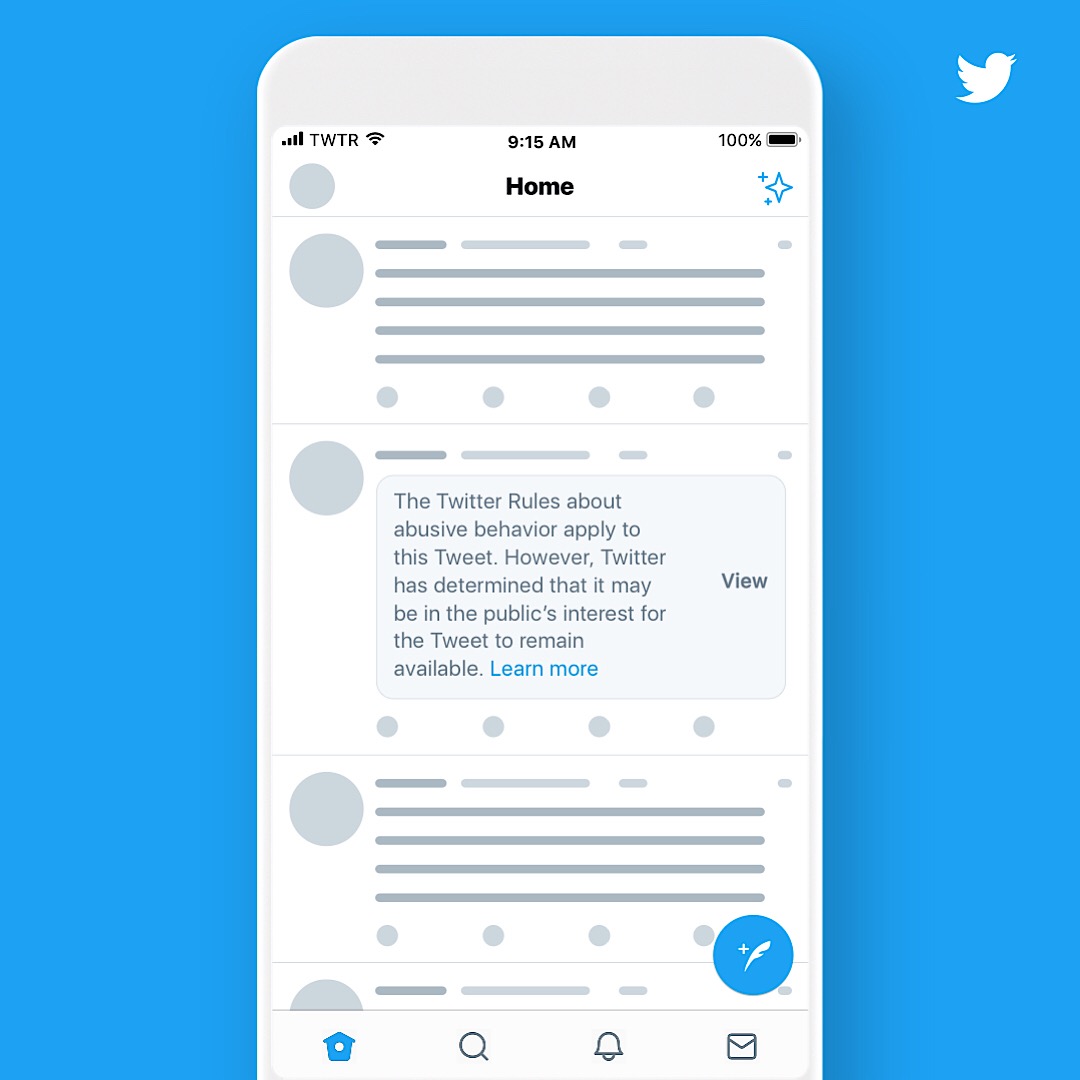 Tweets that get hidden by this notice will also be blocked from appearing in:
Safe search
Timeline when switched to Top Tweets
Live events pages
Recommended tweet push notifications
Notification tab
Explore
Considering that most tweets are time sensitive and gain traction because they're commenting on current events, these conditions mean that any tweet hidden behind this notice will pretty much be invisible to anyone not following the Twitter account or visiting the Twitter profile page directly.
Since Trump is the most prominent US government official on Twitter, these changes are likely to hit him the hardest and throttle his organic reach on Twitter.
Beyond Trump, the changes will affect accounts that:
Are operated by or represent a government official, someone running for public office, or someone who is being considered for a government position
Have more than 100,000 followers
Are verified
The changes won't apply to tweets retrospectively but any tweets sent from today could potentially be hidden behind this notice.
Twitter first revealed it would be rolling out this feature in March after legacy media outlets continued to accuse the platform of allowing Trump and other public figures to have total immunity on the platform.
This announcement follows The Donald subreddit, one of the largest pro-Trump online communities, being quarantined yesterday on the eve of the first US presidential debates. It also comes after Project Veritas released a video showing a Google executive discussing plans to prevent the next "Trump situation."
Many big tech companies including YouTube, Reddit, and Vimeo have censored this report but it's created a Streisand effect which has brought even more attention to these tech company's political bias.