Twitter today temporarily suspended the official Twitter account for the new pro-life movie Unplanned just a day after it opened to theatrical release.
Unplanned is Christian drama movie written and directed by Chuck Konzelman and Cary Solomon, based on the memoir of the same name by Abby Johnson. The film stars Ashley Bratcher, Brooks Ryan, Robia Scott, Jared Lotz, and Emma Elle Roberts, and follows the true story of Abby Johnson, a Planned Parenthood employee who has a life-changing experience.
The movie opened yesterday, March 29th 2019, and has been popular amongst conservatives who are happy to have move conservative representation in a theaters.
Texas Senator, Ted Cruz praised the movie and encouraged people to go and see it.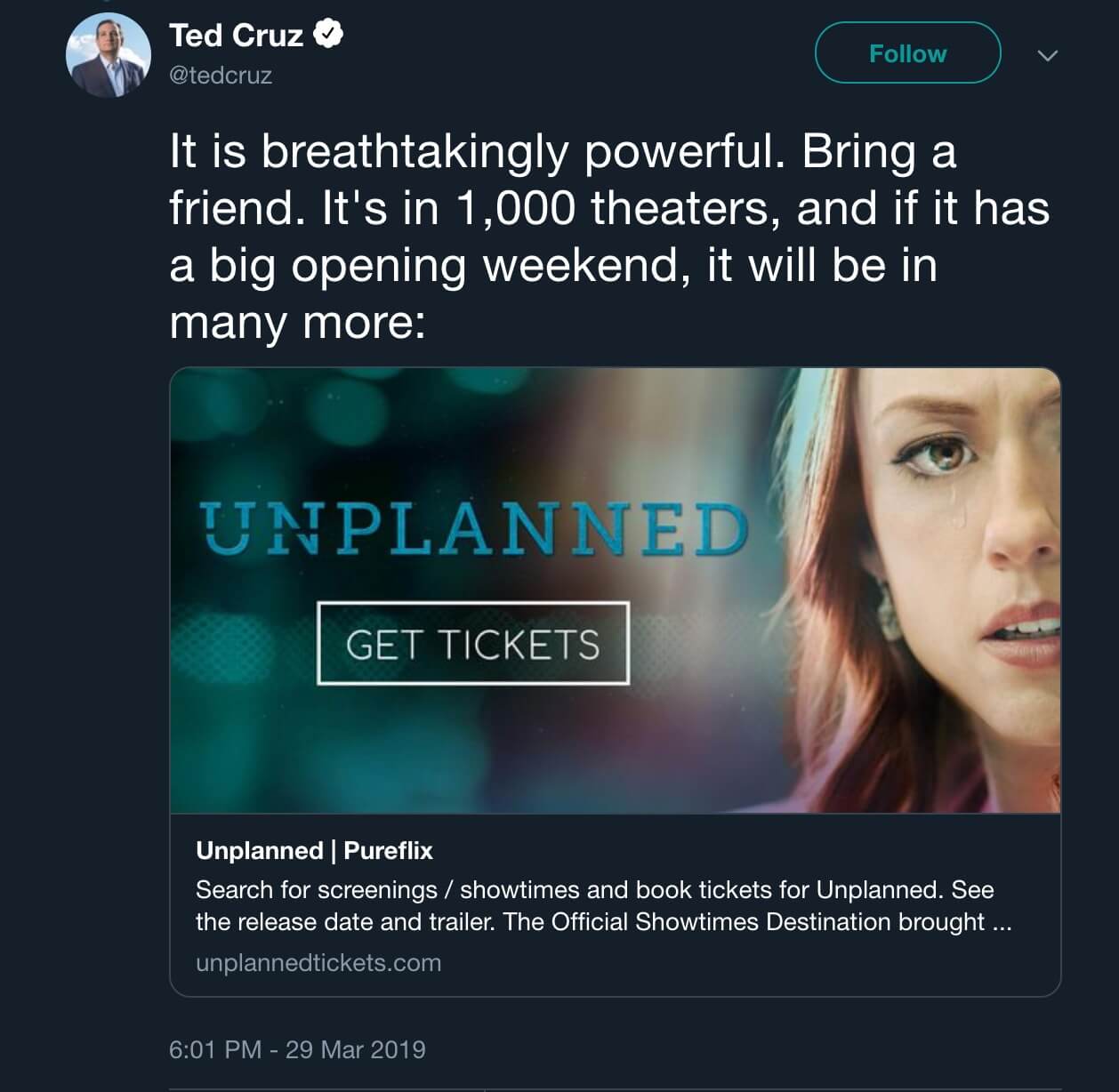 Conservative commentator Glenn Beck also shared his appreciation of the movie and even tagged the @unplannedmovie Twitter profile of the movie less than an hour before Twitter suspended the account.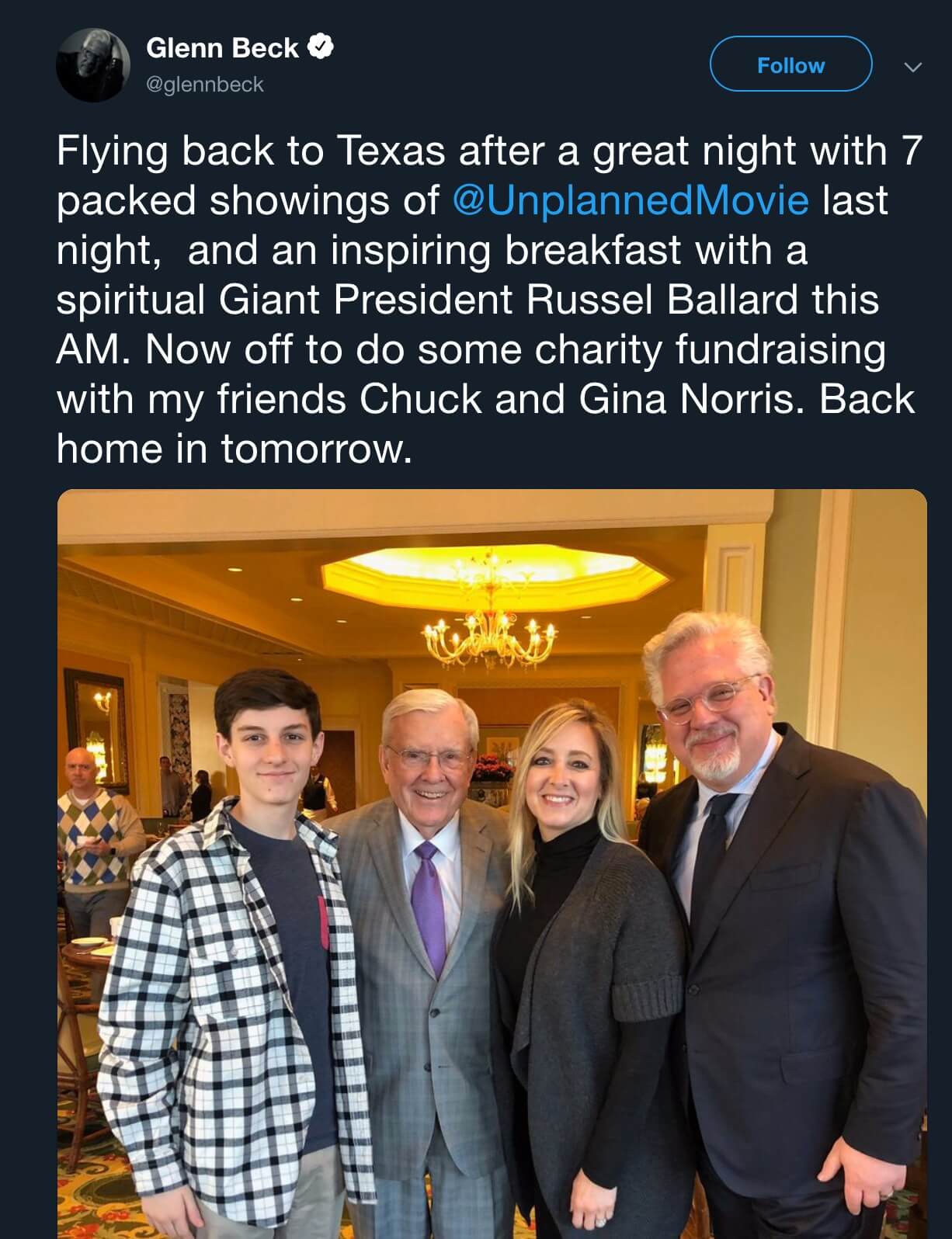 When clicking on the account profile, it led to a message saying that the account has been suspended:

"This account has been suspended. Learn more about why Twitter suspends accounts, or return to your timeline."
The message gives no indication as to why the account of the movie had been suspended.
For the Twitter account of movie to get suspended on its opening theatrical weekend release is likely going to affect ticket sales as social media marketing is often in full force during the opening weekend.
When the account was reenabled, they Unplanned social media team made the following statement: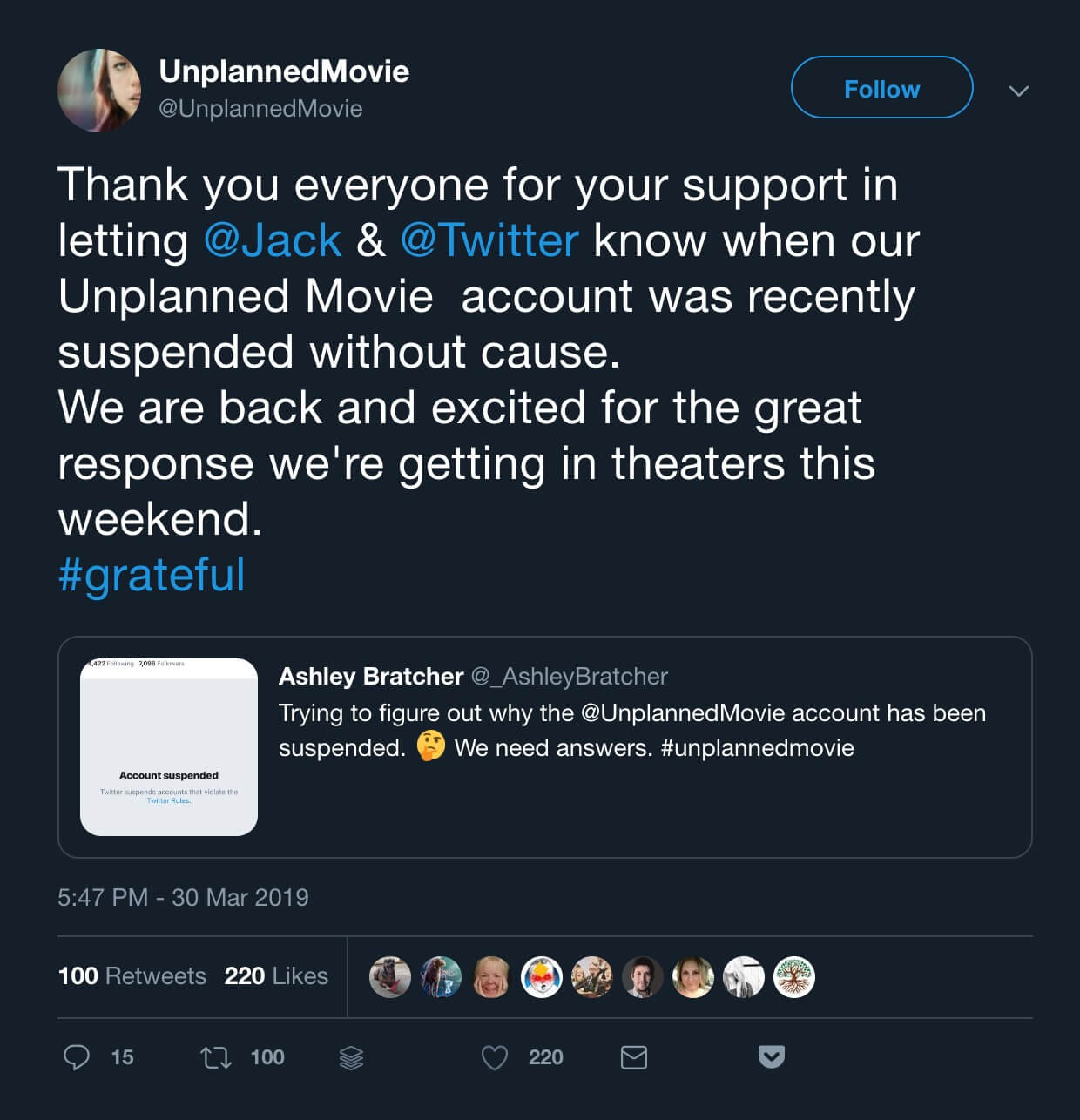 "It is a sad time we live in when corporations can remove individuals freedom of speech at will. When did we empower these corporations to have such authority? More importantly, why do we empower them to do so?" Cary Solomon, the co-writer and co-director of the film, said in a statement to The Hollywood Reporter.
Chuck Konzelman, the co-director and co-writer, added:
"It's a sad state of affairs when the right to free speech gets shut down with the flick of a switch. The Twitter account for our film, Unplanned, was suspended this morning — without explanation. Whether this was an executive decision by Twitter, or a reaction by Twitter to complaints from those opposed to the pro-life viewpoint, either reason is unacceptable. Fortunately, the uproar in our defense was loud and fast in coming: Our account has since been reinstated. Thanks to all who have rallied to our defense."