Julian Knight, the Chair of the UK House of Commons Digital Culture Media and Sport (DCMS) Select Committee, has invited Twitter and SpaceX CEO Elon Musk to discuss his plans to authenticate real humans on Twitter with UK Members of Parliament (MP).
Musk tweeted that he planned to authenticate all human users of the platform in April after his offer to take Twitter private and make free speech changes.

In a May tweet, Musk clarified that he also respects online anonymity and that a balance between authentication and anonymity must be struck.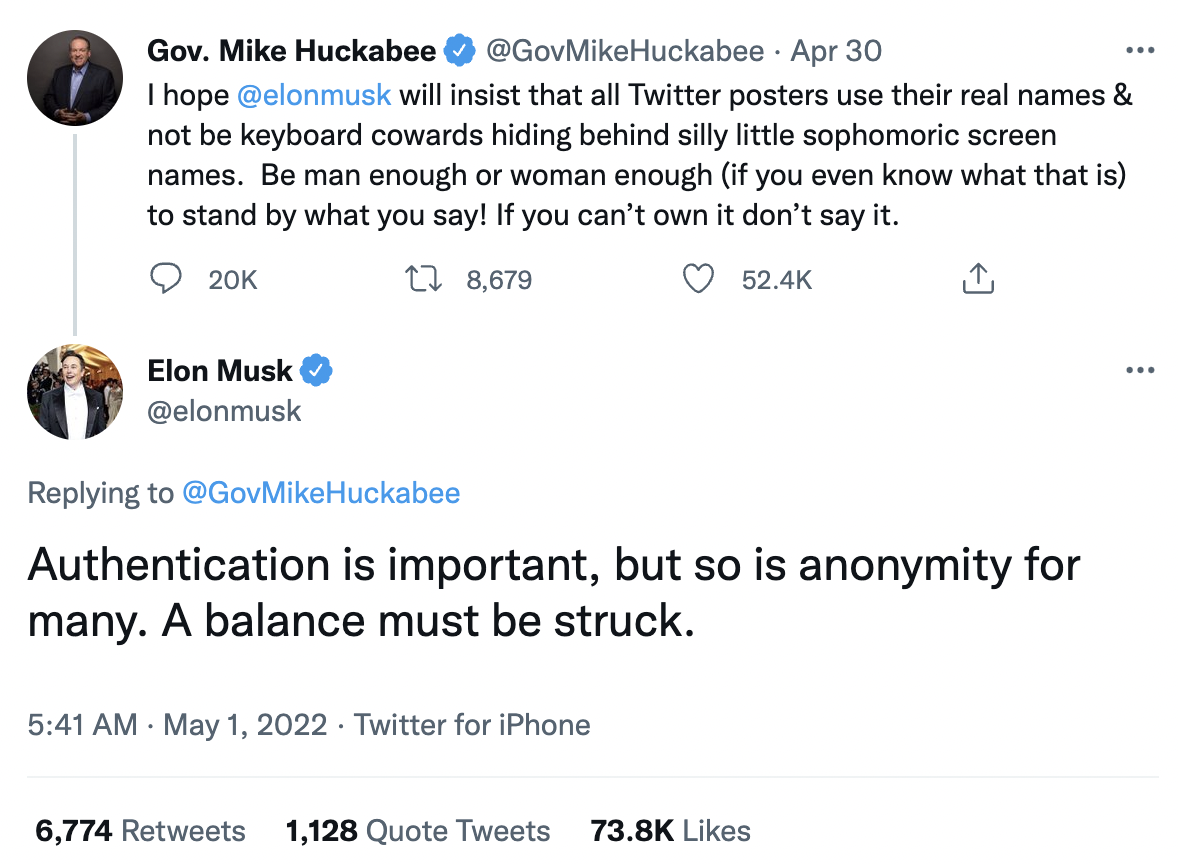 Knight's invite letter claims that Musk's proposals echo those of the UK government and cites the Online Safety Bill – a bill that will require Big Tech companies to implement identity and age verification technology.
We obtained a copy of the invite letter for you here.
However, unlike Musk, the UK government has shown no intention of respecting online anonymity in its bill.
The Online Safety Bill, which is currently making its way through Parliament, will require services containing pornographic content to implement age verification technology and use it to ensure that children "are not normally able to encounter" pornographic content.
It will also force large platforms to "offer all adult users of the service the option to verify their identity" (even if identity verification isn't required to access the service) so that these users can choose to filter out "non-verified users."
Related: UK bill will mandate implementation of identity and age verification technology on Big Tech platforms
Identity verification erodes anonymity because it requires users to associate their online accounts with their identity and then verify their identity. This identity verification process usually requires users to hand over sensitive personal information (such as a copy of their passport, driving license, or utility bills) to companies that often store this information on their servers.
While it's possible to implement age verification without requiring users to fully compromise their anonymity by using decentralized age verification technology (which verifies a user's age without handing over personal information to third parties), most age verification implementations eliminate online anonymity by requiring users to hand over personal information, submit to face scans, and have copies of this data stored on third-party servers.
Authenticating whether a user is human requires while maintaining anonymity is much easier because there's no requirement to prove the age or identity of the human that's being authenticated. While Musk hasn't elaborated on how he plans to authenticate humans on Twitter, some potential ways to achieve this while maintaining anonymity include requiring user accounts to perform a simple verification task that's difficult for bots to perform or using privacy-preserving attestation technology, such as Cloudflare Managed Challenge, to differentiate humans from bots.
Since the letter to Musk is an invitation, there's no legal requirement for him to meet with MPs. However, if the Online Safety Bill becomes law, Twitter will be subject to these age and identity verification requirements and the bill's other provisions. These other provisions include a requirement for large platforms such as Twitter to censor some types of "legal but harmful" content – a requirement that's at odds with Musk's goal of making free speech changes on Twitter.