The police in the UK have been known over the years for taking a curiously active role – at least by a functioning democracy's standards – in policing speech on the internet, all the way to showing up at people's homes for their social media posts.
And it seems that their actions are supported, and likely stemming from, both political and ideological camps in the country, basically agreeing that this is the right way to go.
The latest example arrived on Friday when news broke that conservative commentator and campaigner Darren Grimes was being investigated by the Metropolitan Police for the statements made by a guest on his podcast, historian David Starkey.
Some of Starkey's comments have been condemned as racist, but it is Grimes who is investigated on hate speech grounds – a probe that, if it holds and possibly produces an indictment, could set a grave precedent and have a chilling effect on freedom of expression exercised by new media like podcasts, and perhaps traditional media as well.
With that in mind, the reaction to the launching of the investigation – viewed by many as scandalous – by UK's leading opposition party, Labour, and its leader Keir Starmer was eagerly awaited.
Those hoping this party that bills itself as "progressive" and protective of free speech would live up to it will be disappointed.
Labor politician and MP Karl Turner – who is picked to become the next justice minister if the party comes to power – supported the investigation in a tweet.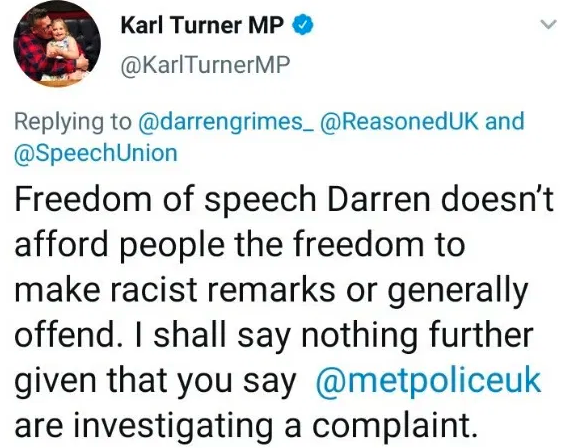 "Freedom of speech doesn't afford people the freedom to make racist remarks or generally offend," he claimed in a post tagging Grimes.
The casual equating of racist remarks and just anything in general that might offend somebody, probably eventually appeared absurd to Turner himself, who quickly deleted the tweet. Not to mention that comedian Ricky Gervais reacted by saying this tweet offended him, so perhaps Turner was trying to avoid getting a complaint filed against him and facing an investigation himself.
The biggest takeaway here is that Labour thinks it's "sometimes" fine to involve police in order to control speech in the media.
"There has got to be a level of tolerance of course, but there is a line which can be crossed, and it's very important that it is investigated, and in some cases prosecutions," Keir Starmer told London's LBC radio, adding, "When people go over the line it's right that it's investigated."