Four days after UK Vaccine Minister Nadhim Zahawi insisted that vaccine passports would be "discriminatory" if they were "just vaccine," the UK government has announced that COVID-19 vaccine passports will be mandatory for nightclubs and "other venues where large crowds gather."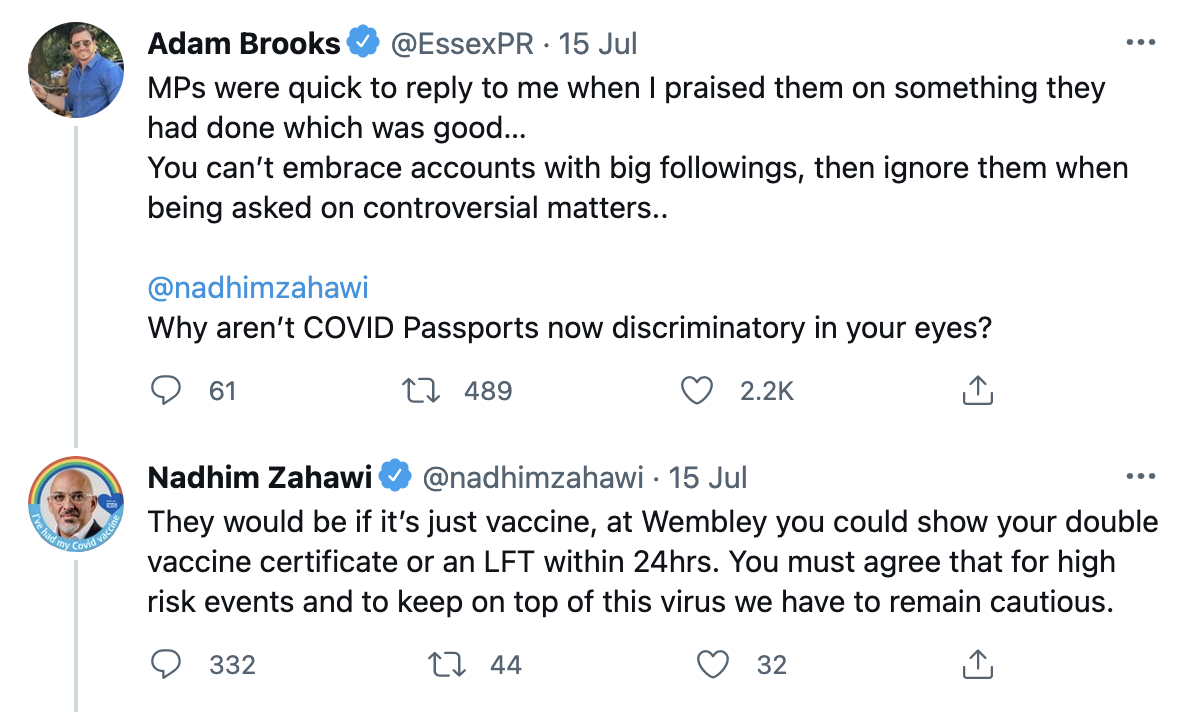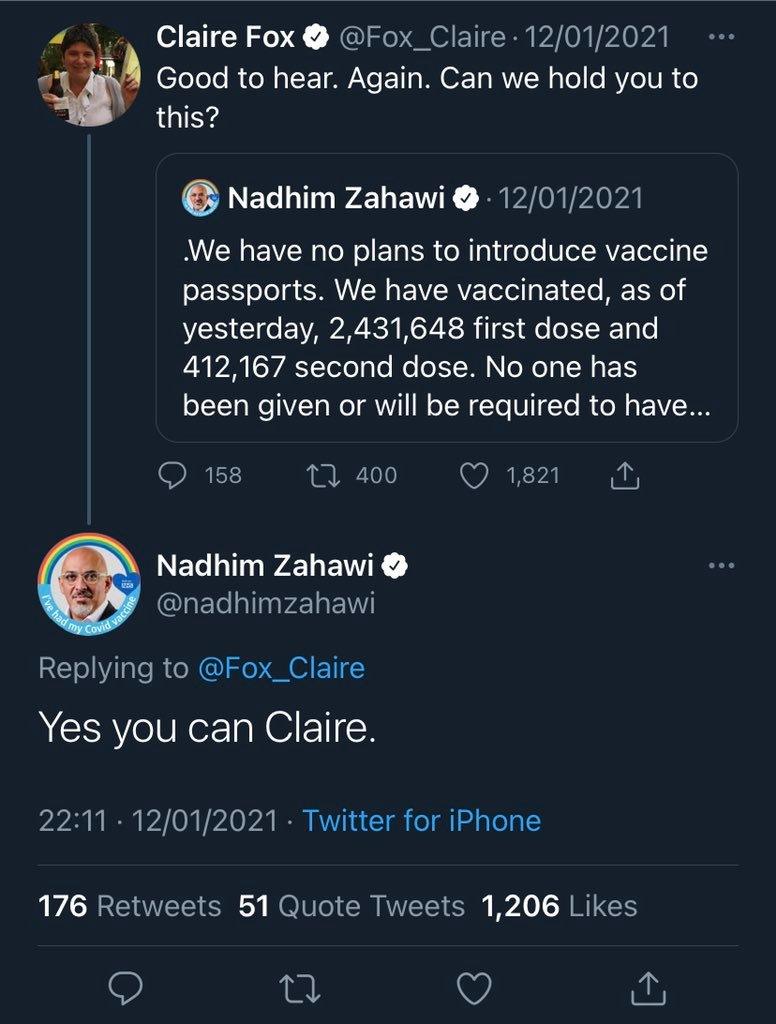 "By the end of September, everyone aged 18 and over will have the chance to receive full vaccination and the additional two weeks for that protection to really take hold," Zahawi said in Parliament today. "So at that point, we plan to make full vaccination a condition of entry to nightclubs and other venues where large crowds gather. Proof of a negative test will no longer be sufficient."
https://twitter.com/NewtonClarkeUK/status/1417158930019532803
UK Prime Minister Boris Johnson, who last year claimed to be a "freedom-loving Tory" and said coronavirus restrictions were "the last thing we want to do," supported the mandating of these vaccine passports that make people's ability to enter certain venues contingent on showing proof of vaccination.
"The only reason that we're able to open up in this way at all is that we've vaccinated such a large proportion of the population," Johnson said during a press conference. "It is phenomenal that every adult in this country has now been offered a first dose. But unfortunately, that does not mean every person over 18 has yet had a first dose."
Johnson continued by complaining that "there is still 35% of 18-30-year-olds, 3 million people, who are at the moment completely unvaccinated…we need even more young adults to receive a protection that is of immense benefit to your family and friends and to yourselves."
He then said "life's most important pleasures and opportunities are likely to be increasingly dependent on vaccination" and followed up by announcing:
"By the end of September, when all over 18s will have had their chance to be double jabbed, we're planning to make all vaccination the condition of entry to nightclubs and other venues where large crowds gather. Proof of a negative test will no longer be enough."
Ironically, Johnson made this vaccine passport announcement on a day that has been branded "Freedom Day" by many UK media outlets – a reference to today's lifting of all coronavirus restrictions in the country.
Not only did the Prime Minister announce freedom-restricting vaccine passports on so-called Freedom Day but he also made the announcement while self-isolating due to being pinged by the National Health Service (NHS) Test and Trace Program, even though he's already had the coronavirus and been double vaccinated.
Civil rights groups and members of Parliament (MPs) blasted the mandating of vaccine passports and vowed to oppose them.
"We will fight this from parliament to the courts," civil liberties group Big Brother Watch tweeted.
Alistair Carmichael, Scottish Liberal Democrat MP for Orkney and Shetland, branded vaccine passports "utterly incoherent" and added:
"Vaccine passports are illiberal and unworkable but even if they were not it makes no sense to open everything up for two months before imposing them. Chaos with the Conservatives in government. Liberal Democrats will oppose these divisive plans. Anyone who uses them is an enemy of liberty."
The UK's announcement of mandatory vaccine passports comes one week after France mandated vaccine passports for "non-essential" services. French citizens who refuse to comply face up to six months in prison while businesses that welcome customers without COVID passes can be failed for up to a year and fined up to €45,000.
Before this announcement, UK businesses and citizens had started to push back against vaccine passports and other coronavirus surveillance tech. 80% of UK nightclubs said they would reject COVID passports and 20% of 18-34-year-olds have deleted the UK's COVID surveillance app.
Not only are rights groups, businesses, and MPs rejecting COVID surveillance tech but these systems have consistently been abused by those who operate them.
It was recently revealed that a UK COVID surveillance officer exploited his authority and used contact tracing data to track down a student on Instagram and send her unsolicited messages where he described her as "cool" and "beautiful." The student described the officer's actions as "predatory" and "creepy."
And last year, it was revealed that UK contact tracing system data was being sold to third parties.