The Online Safety Bill, the most far-reaching online censorship law to ever be proposed in the UK, has been presented to Parliament.
UK Digital, Culture, Media, and Sport (DCMS) Secretary of State Nadine Dorries, said her aim with the bill was to "make the internet, in the UK, the safest place in the world for children and vulnerable young people to go online."
However, as with many bills that are positioned as a way to keep children safe, this Online Safety Bill contains sweeping speech restrictions that will affect all UK internet users.
The bill requires Big Tech companies to take action against "priority legal but harmful" content which will be decided by the government. The DCMS Secretary of State has the power to add more categories of priority legal but harmful content via secondary legislation in the future.
According to the Financial Times, this secondary legislation "requires less scrutiny from MPs [Members of Parliament] than the original bill."
Companies are also required to report "emerging harms" to the UK's communications regulator, the Office of Communications (Ofcom).
Additionally, the Online Safety Bill outlaws sending "knowingly false" communications that are sent "with the intention to cause non-trivial emotional, psychological or physical harm," requires large social media companies to introduce identity verification tools, gives Ofcom the power to force companies to use "better and more effective" proactive content moderation technology, tasks Big Tech with determining which of its advertisers are pushing scams, mandates that any website hosting pornography put "robust checks in place to ensure that users are 18 years old or over," and more.
UK citizens who are found guilty of offenses under the Online Safety Bill can be imprisoned or fined.
Not only does the Online Safety Bill contain numerous provisions that can be used to silence UK citizens and punish them for their online speech but powerful "recognised media outlets" are exempt from any regulation in the bill. Some of the outlets that will be getting special carveouts under this bill have even been praised by politicians for pushing for stronger "online safety" laws.
Tech platforms already remove millions of "harmful" posts each quarter and if this bill becomes law, they'll have an even stronger incentive to censor.
The punishments for companies that fail to censor enough under the Online Safety Bill include having their sites blocked and being hit with multi-billion dollar fines worth up to 10% of their annual turnover. Tech company executives can also be jailed if they fail to cooperate with Ofcom's information requests.
Despite introducing strong punishments for tech companies that don't remove enough harmful content, the Online Safety Bill has yet to reveal the categories of legal the harmful content that tech companies will have to target under this bill.
Earlier this week, Dorries said large platforms will be required to remove legal but harmful content "if it is already banned in their own terms and conditions."
Yet today's UK government press release for the Online Safety Bill says that the categories of legal but harmful content will be "set by the government and approved by Parliament." The press release also lists "exposure to self-harm, harassment and eating disorders" as examples of harmful content that online platforms will be required to remove.
The introduction of the Online Safety Bill to Parliament is the first stage of its legislative journey.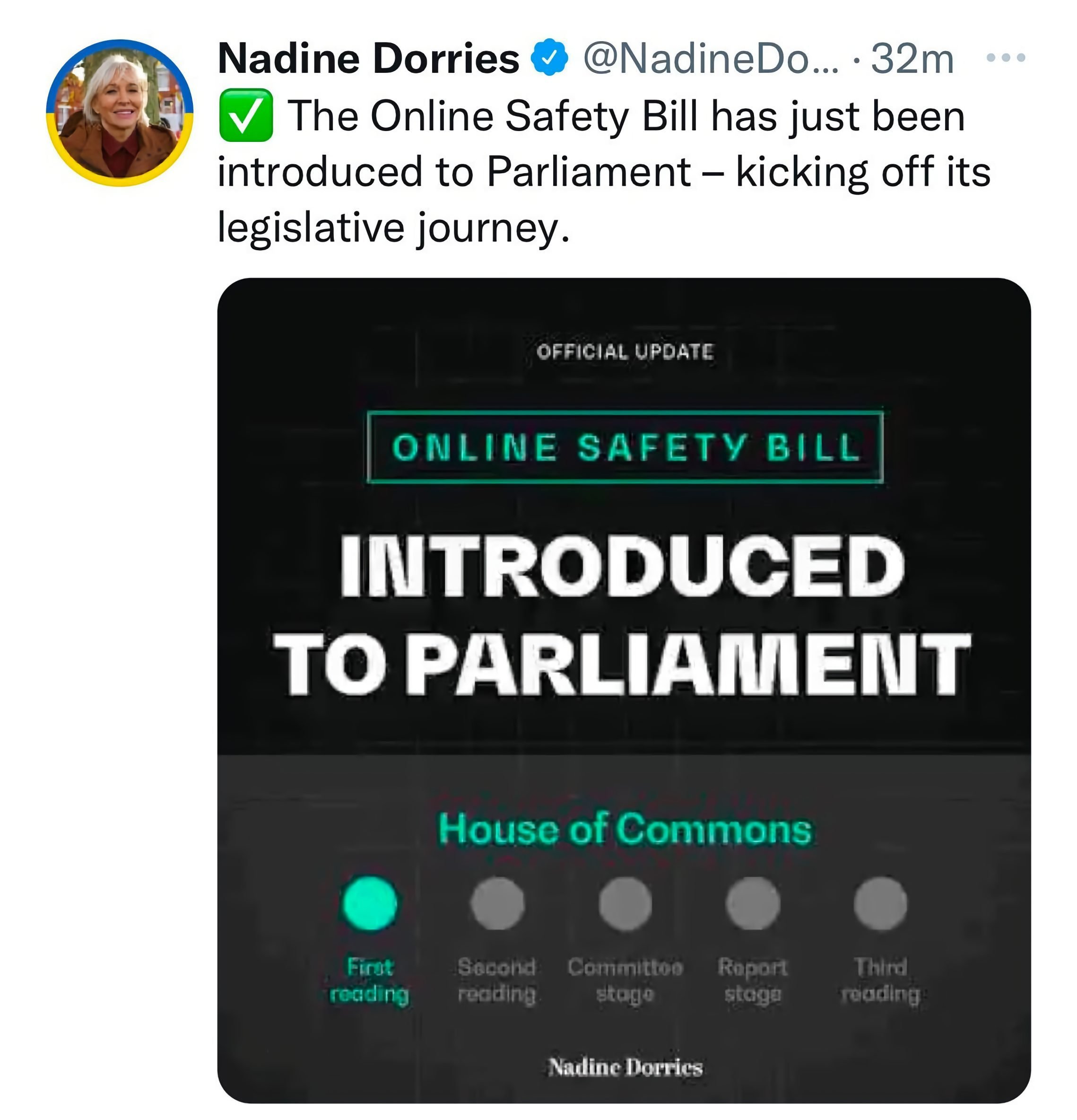 Numerous UK rights groups have blasted the Online Safety Bill and warned that it will restrict free speech.
"The Online Safety Bill is set to rip up the rule book as far as traditional British free speech standards are concerned," Mark Johnson, Legal and Policy Officer at civil liberties group Big Brother Watch, said. "This is a censor's charter that will give state backing to big tech censorship on a scale that we have never seen before."
Toby Young, General Secretary of the Free Speech Union, warned that the bill will have a "chilling effect on free speech."
"We are particularly concerned that the government has said it will force social media platforms to remove 'legal but harmful' content, including 'harassment,'" Young added. "That will enable political activists and interest groups claiming to speak on behalf of disadvantaged groups to silence their opponents by branding any views they disagree with as 'harassment.'"
Matthew Lesh, Head of Public Policy at the think tank Institute of Economic Affairs said: "The UK threatening tech executives with jail time is eerily similar to how Russia and other authoritarian countries are currently behaving. It is an attack on free speech and entrepreneurialism."
Before the bill was presented to Parliament, the UK's main opposition party, the Labour Party, suggested that it would offer little obstruction to the Online Safety Bill and complained that it hadn't been introduced fast enough.
Last October, Labour Leader Keir Starmer lamented that it has been "three years since the government promised an Online Safety Bill. Starmer also claimed that "the damage caused by harmful content online is worse than ever" and promised to support the bill if its second reading was brought forward to the end of 2021.
More recently, Labour Member of Parliament (MP) and Shadow Culture Secretary Lucy Powell said that Labour supports "the principles of the bill that is finally being published" and claimed that "delay up to this point has come with significant cost."