As the coronavirus continues to spread, many have referred to it as "the Chinese virus" and "Wuhan flu" because of its origins in Wuhan, China.
Despite several viruses, such as Ebola and the Zika virus, being named after where they originate, state-controlled Chinese media outlets, international agencies, public figures, and reporters have attempted to frame the names Chinese virus and Wuhan flu as racist.
And amid these calls to control how the coronavirus is described, Wikipedia is now proposing renaming its article on the Spanish flu to "1918 influenza pandemic."

While the origins of the Spanish flu are unclear, many Wikipedia editors are opposing the proposed change and arguing that it's most commonly called the Spanish flu – something that's supported by the vast difference in Google Search results for Spanish flu (168 million) and 1918 influenza pandemic (6.7 million).


Other editors are arguing that this proposed change is "politically motivated" and will "set a terrible precedent for revisionism."
Twitter users have also slammed the potential name change and described it as an attempt to "bury or alter" facts and rewrite history.
https://twitter.com/gwambertv2/status/1240365395850084352
Wikipedia is often recommended at the top of search results and according to this Wikipedia Pageviews Analysis tool, the Spanish flu page has been receiving over 300,000 daily visits over the last few days.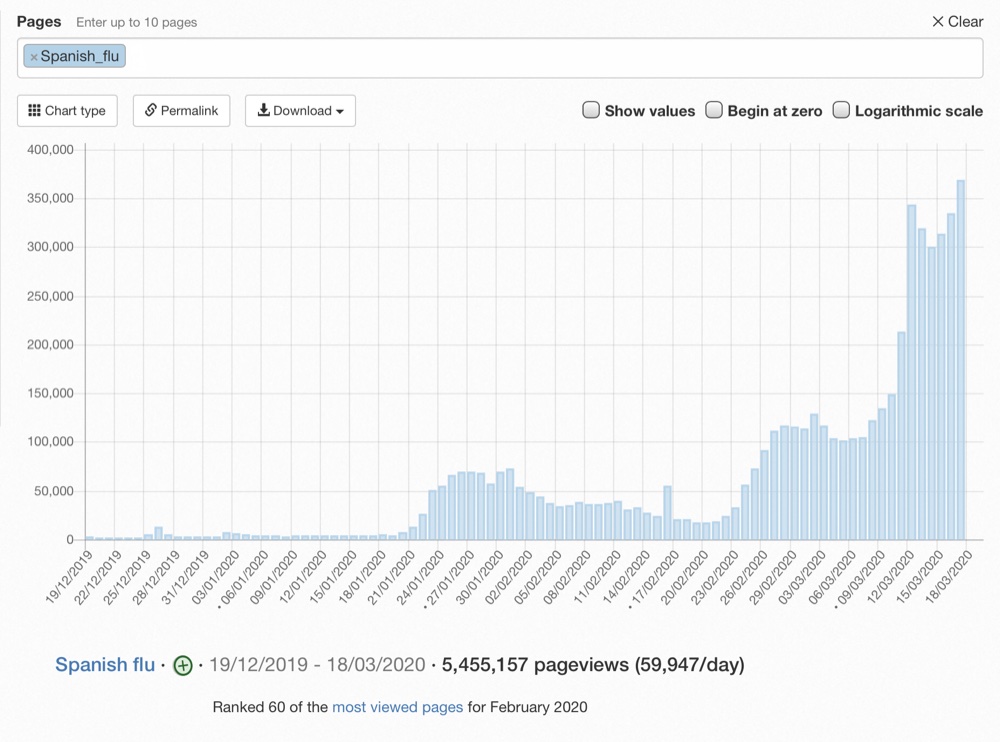 If this name change is pushed through it would influence the perspective of millions of people per month and have the potential to erase the prominence of the name Spanish flu going forward – a move that would essentially revise history, as critics of the change pointed out.
The proposal to change the name of the Spanish flu article on Wikipedia comes within days of several other revisionist and subjective changes to pages this month.
A few days ago Wikipedia slashed the Spanish flu death rate from 20% to 2% in this same article.
And earlier this month, Wikipedia deleted a list of scientists who disagreed with the consensus on climate change.