X is planning to introduce a new "Report EU illegal content" button for the EU's new censorship law to be enforced starting this week.
The new feature was found in X's code by independent app researcher Nima Owji.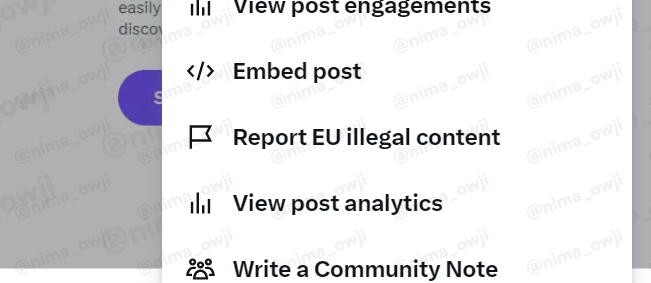 With European Commissioner Thierry Breton tightly grasping the reins, Big Tech is finding itself caught in the sweeping and extensive master plan of the European Union's latest digital rulebook, the Digital Services Act (DSA). X has come under scrutiny for whether it is sufficiently prepared to step in line with these censorship demands which begin to take effect, for the largest platforms, from August 25.
Breton recently conducted a "stress test" of X's systems during his visit at their San Francisco headquarters. The results acknowledge X efforts to meet the DSA norms, but his warning was clear – more work is needed. Despite the meeting witnessed by X owner Elon Musk and newly appointed CEO Linda Yaccarino, Breton emphasized that preparation for new rules must not be slackened.
As we covered in our video report, Breton has repeatedly threatened X over the new regulations, promising retaliation if the social media company refuses to comply.
The DSA will obligate companies to implement more stringent control over not only illegal content but also "hate speech," "disinformation" and more.
This act, when coupled with upcoming regulations on data and artificial intelligence, cements Brussels' pioneering role in the growing international urge to suppress online speech.
The DSA is one of the biggest threats posted to free speech from the EU in some time. It carries the risk of impinging on free speech and fostering an environment of tight control and censorship — a fear deeply rooted within the global anti-censorship and free speech community.
Along with X, Breton is carrying the same message of enforcement of DSA to other tech chiefs, including Meta's Mark Zuckerberg and OpenAI's Sam Altman.