Former Democratic presidential candidate and founder of the non-profit Humanity Forward, Andrew Yang, has called for a digital coronavirus vaccine pass system where people download bar codes to their phone to prove their vaccination status.
Yang added that it would be "tough to have mass gatherings like concerts or ballgames without either mass adoption of the vaccine or a means of signaling" and compared his proposed system to bracelets that show a person is negative and all them to "interact more freely."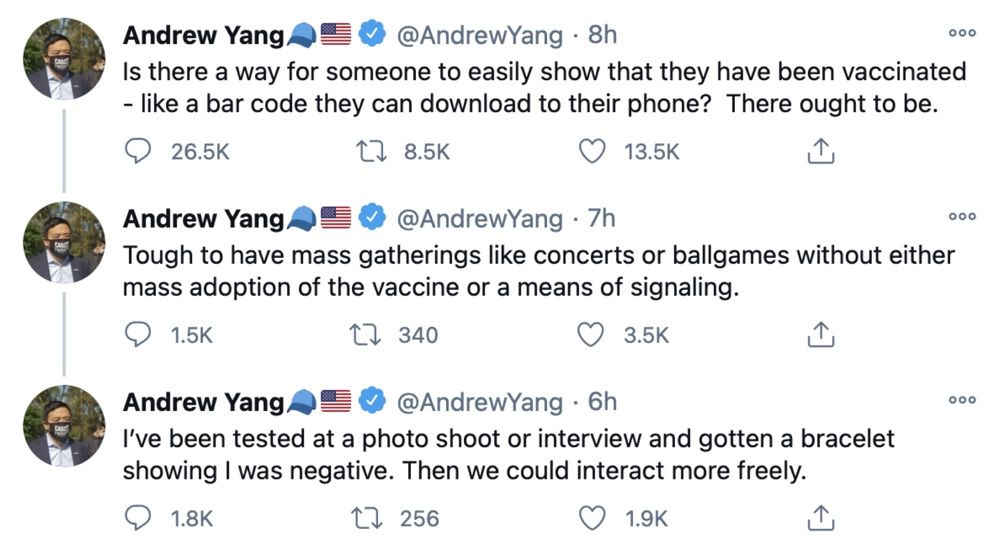 Yang's suggestions were met with heavy pushback with numerous Twitter users noting that historical attempts to publicly mark people have proved extremely dangerous. Other Twitter users also highlighted that such a system would have dire implications for individual freedom and privacy.
The UK's controversial contact tracing law, which requires businesses to display government-issued QR codes and make entry conditional on either downloading a contact tracing app and scanning the QR code or handing over personal information, has demonstrated the pitfalls of such a system once implemented.
Despite the law stating that the contact tracing app is optional, UK businesses quickly started to refuse entry to customers unless they had downloaded the app.
The usefulness of the app has also been called into question. It's supposed to limit the spread of the coronavirus by letting people know when they're at risk of the coronavirus and telling them to self-isolate. But reports have shown that the app's Bluetooth technology could be resulting in up to 30% of users being falsely told to self-isolate.
Before these types of digital coronavirus passes manifested at scale, several public figures warned that governments and other powerful figures and institutions would use the coronavirus to usher in changes that erode people's civil liberties. But they were swiftly censored and dismissed as conspiracy theorists.
Now digital coronavirus passports that impose restrictions on those who refuse to take the vaccine are being rolled out in several countries. Intergovernmental organizations such as the United Nations (UN) and the World Health Organization (WHO) are also throwing their support behind or introducing their own digital passes amid.
Even when the government doesn't mandate such systems, businesses are considering forcing their customers to use digital passes. Several airlines are considering mandating digital vaccine passes to fly while ticket sales company Ticketmaster considered making proof of vaccination or a negative coronavirus test a requirement for its customers.