Apple has thrown down the gauntlet to Damus, the burgeoning social media app that prides itself on being decentralized, accusing it of running afoul of its App Store policies. The bone of contention is Damus's "zaps" feature, which, by enabling bitcoin earnings for users through tips, has found itself in the crosshairs of the tech giant's policies.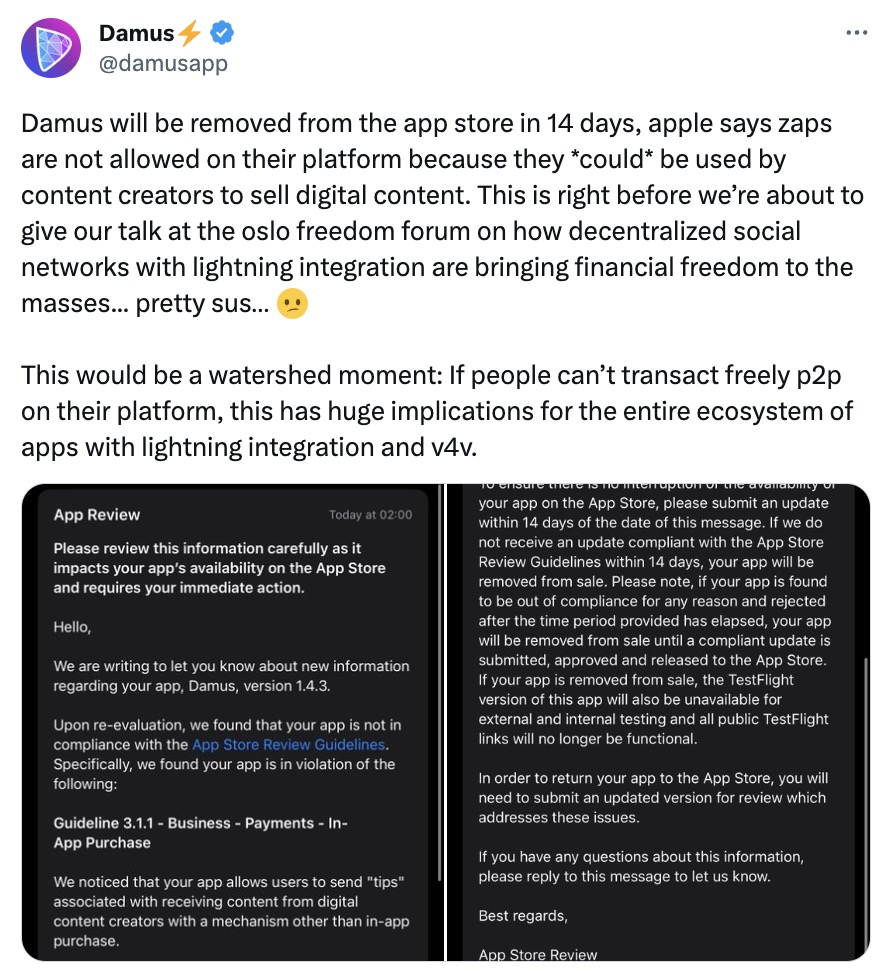 Apple's stern communiqué to Damus was delivered with a 14-day ultimatum, with the tech giant stating, "To ensure there is no interruption of the availability of your app on the App Store, please submit an update within 14 days of the date of this message. If we do not receive an update compliant with the App Store Review Guidelines within 14 days, your app will be removed from sale."
The "zaps" feature is an integration with the Layer 2 Lightning Network, allowing users to tip each other using Bitcoin. According to the Nostr protocol, on which Damus is based, zaps are simply tips.
Apple's quibble with the feature is its non-adherence to guideline 3.1.1, which mandates the use of in-app purchases for transactions connected with digital content. Apple is unwavering on this: "We noticed that your app allows users to send 'tips' associated with receiving content from digital content creators with a mechanism other than in-app purchase," the company pointed out.
Damus core developer William Casarin conceded to The Block that they are likely to excise the 'zaps' feature to retain their App Store listing. However, the platform made it clear that it does not sell digital goods or have features for such; it only facilitates peer-to-peer transactions similar to Venmo, which Apple also doesn't take a cut off as it's not considered a purchase of a product.
Apple sent the notice to Damus just before William Cassarin, Damus' founder, was about to give a talk about the importance of decentralization for freedom at the Oslo Freedom Forum.
"This is right before we're about to give our talk at the oslo freedom forum on how decentralized social networks with lightning integration are bringing financial freedom to the masses," Cassarin wrote on the platform.
Damus, a product of the Nostr protocol and used and supported by Twitter's former CEO Jack Dorsey, made its debut in February. Dubbed as "the social network you control," its decentralized approach has been seen as refreshing. The potential delisting would, as Damus declared, render it "a dead platform for bitcoin applications trying to innovate on lightning."
Apple's App Store has been at the center of controversy regarding its monopolistic control over app distribution on iOS devices. One of the key issues is that Apple's App Store is the only authorized way for developers to distribute apps to iPhone users, effectively giving Apple a stranglehold on the mobile software marketplace. This limitation not only constrains developers' freedom but also hampers innovation and competition, letting a single Big Tech giant decide who lives and who dies.