Apple is threatening free speech social network Parler with a ban from the App Store unless it censors "objectionable" content and bears full responsibility for everything users post to the app.
In a message sent to Parler via Apple's App Review Resolution Center, Apple accused the app of "serious App Store guideline violations." This message cites complaints about "objectionable content" and accuses Parler of being "used to plan, coordinate, and facilitate the illegal activities in Washington D.C. on January 6, 2021."
It also holds Parler to the impossible standard of being "responsible for all the user generated content" on the service and ensuring that this content meets Apple's App Store requirements.
Facebook, Twitter, and YouTube all host content that some users would deem to be "objectionable" but the alt-tech app Parler seems to be the only app that's facing a potential ban from the App Store over this content.
Apple has given Parler 24 hours to "remove all objectionable content" from its app and provide "detailed information" on how it plans to moderate and filter the app for "this kind of objectionable content going forward."
If Parler fails to comply with Apple's demands, it will be booted from the App Store.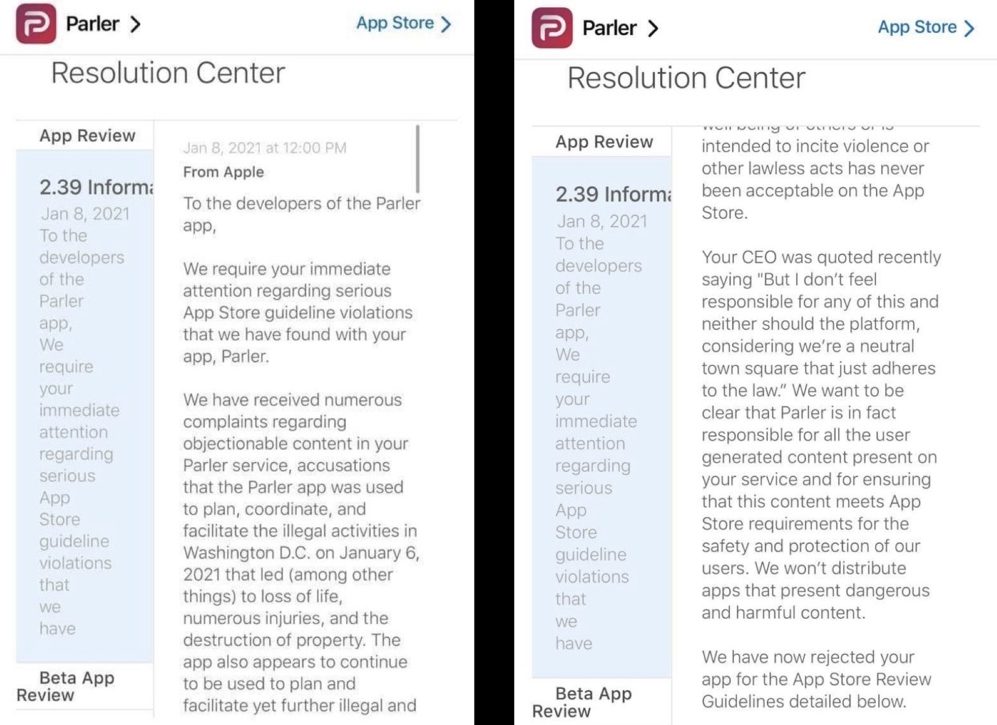 Parler CEO John Matze highlighted the hypocrisy of Apple imposing this impossible standard in a statement:
"Anyone who buys an Apple phone is apparently a user. Apparently they know what is best for you by telling you which apps you may and may not use.

Apparently they believe Parler is responsible for ALL user generated content on Parler. Therefore by the same logic, Apple must be responsible for ALL actions taken by their phones. Every car bomb, every illegal cell phone conversation, every illegal crime committed on an iPhone, Apple must also be responsible for….

Standards not applied to Twitter, Facebook or even Apple themselves, apply to Parler."
Matze added: "We will not cave to pressure from anti-competitive actors! We will and always have enforced our rules against violence and illegal activity. But we WON'T cave to politically motivated companies and those authoritarians who hate free speech!"
Apple's threat follows numerous mainstream media outlets and activist groups pressuring Apple and Google to deplatform Parler from their app stores over user-generated content on its app. Many of the complaints from these mainstream media outlets and activists are cited in Apple's message to Parler.
Related: ? After pushing for Big Tech censorship, mainstream media outlets will now complain about alt-tech "echo chambers"
Supporters of Big Tech censorship commonly use the argument that those who don't like the censorship should build their own platforms.
Alt-tech platforms such as Parler have done just that and created a Twitter alternative that supports free speech. As a result of the mounting censorship this year, Parler and other alt-tech platforms have enjoyed substantial growth.
But now that these platforms have grown and provided a space for users to discuss topics that are censored on Big Tech platforms, their App Store distribution is being threatened.
The App Store is an essential distribution channel for social media apps on the iPhone. While Parler can be accessed via a browser, most mobile users only connect to social media via apps.