A history teacher at John Carroll in Baltimore was fired when a two-year-old photo showing her waving the middle finger at a Trump-Pence campaign banner resurfaced online.
The school administration, which also changed its social media policy, claimed the photo was not the reason for the termination – yet, few are convinced.
Najia Stallworth, who has been teaching since 1996, was fired from the Bel Air Catholic School that hired her in the summer. She claims the photo showing her waving the gesture at a Trump-Pence bumper sticker was taken by her husband two years ago after a concert they had attended.
She explained to the school administration that the photo was on her husband's page and only became public after Facebook's privacy settings changed. The school administration seemed to understand and indicated they had her back.
"It came across as a very caring 'we're got you, don't worry,' we're just going to ride through this and in a couple of years, you'll only be remembered as the subject matter expert for AP U.S. History at this school," Stallworth said.
The photo was shared last week on Facebook by a Texas man who has 19k followers.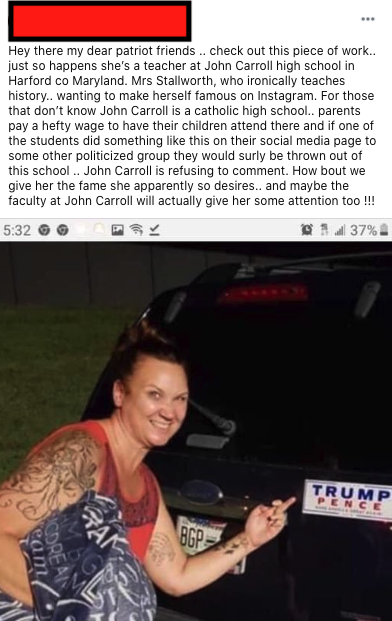 "Hey, there my dear patriot friends .. check out this piece of work.. just so happens she's a teacher at John Carroll high school in Harford co Maryland .. Mrs Stallworth .. who ironically teaches history.. wanting to make herself famous on Instagram.." the user wrote.
"John Carroll is refusing to comment .. how bout we give her the fame she apparently so desires .. and maybe the faculty at John Carroll will actually give her some attention too !!!" the user added.
The post went viral and did appear make John Carroll pay attention. However, they gave a different reason for terminating Stallworth. The Bel Air Catholic School principal told her that she was terminated for using the word "sperm" on a page used by students as an online learning platform. The principal said such language from a teacher at a Catholic school was not tolerated.
Stallworth said the use of that phrase was taken out of context. She was trying to sarcastically rearrange the letters in the acronym PERMS, which stands for Political, Environmental, Religious, Military, and Social. She said that the students would often get witty and use SPERM instead of PERMS.
"Every time I have ever used that, in the last umpteen years of teaching, somebody's trying to be witty," she said.
The school administration did not reprimand her for using the phrase, and it only resurfaced when she was getting fired.
Following the backlash from parents, someone launched a petition on Change.org that urged the school to take action against Stallworth, although the petition did not mention her directly by name.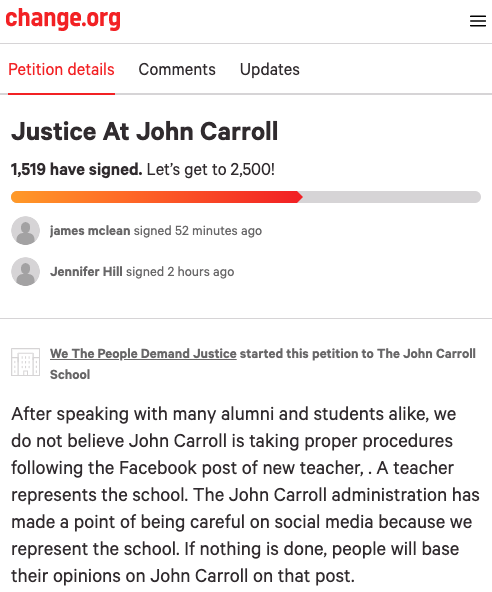 Although it seems that John Carroll ultimately fired Stallworth due to pressure from the petition and the Facebook post, they insist outsiders do not influence their decisions.
John Carroll's spokesperson, Kathy Walsh, said the decision to fire the teacher was not "based on the court of public opinion."
"That's not how we operate, that's not how we do business," said Walsh to the Baltimore Sun. "I would love to be able to tell you more and reassure people why this decision was made and that it's not in response to any outside influences but rather for other reasons that we can't get into because it's a confidential, personnel matter."
The same day Stallworth was fired, Walsh announced changes in the social media policies because of "the recent destructive and divisive social media attack waged by third parties with no direct connection to John Carroll, and the overall climate of social media."
The school removed public pages in favor of private groups, which will "keep people out who don't have any business – there's no reason for someone in California to be commenting on something happening at a small Catholic high school in Bel Air."
The school also disabled commenting on its Instagram and Twitter accounts by people they do not follow.
Stallworth, who was previously teaching in Tennessee, said she did not take the attacks personally. However, the school administration did not handle the situation well, and she's frightened that she might end up "an educational pariah."
"I've dedicated my life to teaching, and I don't know if there still room in the educational world for me, and I honestly don't know if I want to be part of it anymore," she said. "I am about to be VERY busy legally. This is going to be an expensive fight but I will not back down."