Back in 2018, we covered several YouTube alternatives for users that were tired of YouTube censorship.
Since covering these alternatives, YouTube's censorship has reached new extremes and the market for YouTube alternatives has become much larger and more diverse.
So if you've had enough of YouTube's crackdowns on free speech, constant demonetization, and excessive promotion of mainstream media outlets, take a look at these alternatives which each give power back to users in different ways.
BitChute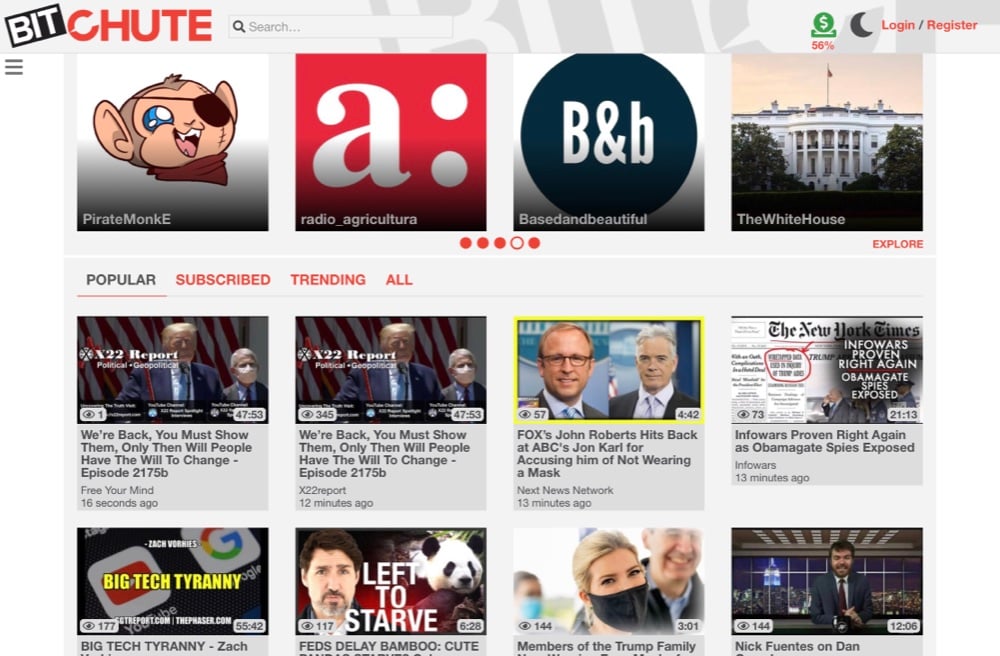 BitChute is a peer-to-peer video sharing platform that launched in January 2017.
Its founder Ray Vahey stated that his motivation for starting the site was to do something about the increased levels of censorship and demonetization on YouTube.
Since launching, it has become one of the most popular YouTube alternatives and last month, BitChute hit record traffic levels and had over 20 million visits, according to web analytics service SimilarWeb.
One of BitChute's top features for creators is its tools that make backing up an entire YouTube channel or automatically sending videos from YouTube to BitChute a breeze.
And unlike YouTube, BitChute supports free expression and is a great place to find popular videos that have been censored by YouTube.
Viewers can tip or pledge to creators via several integrated payment processors including PayChute, SubscribeStar, CoinPayments, Patreon, and PayPal.
BitChute plans to launch live streaming in the future which will bring it even closer to YouTube in terms of feature parity.
According to BitChute, its live streaming feature will use "a fully decentralized protocol from launch" with open-source tools that will work "out-of-the-box in a normal web browser."
This will allow viewers and streamers to connect to live streams without a central authority.
"Not even we will be able to disrupt the connection," BitChute said when announcing its live streaming feature. "The power and responsibility that currently resides with the platform will shift to the streamer."
Brighteon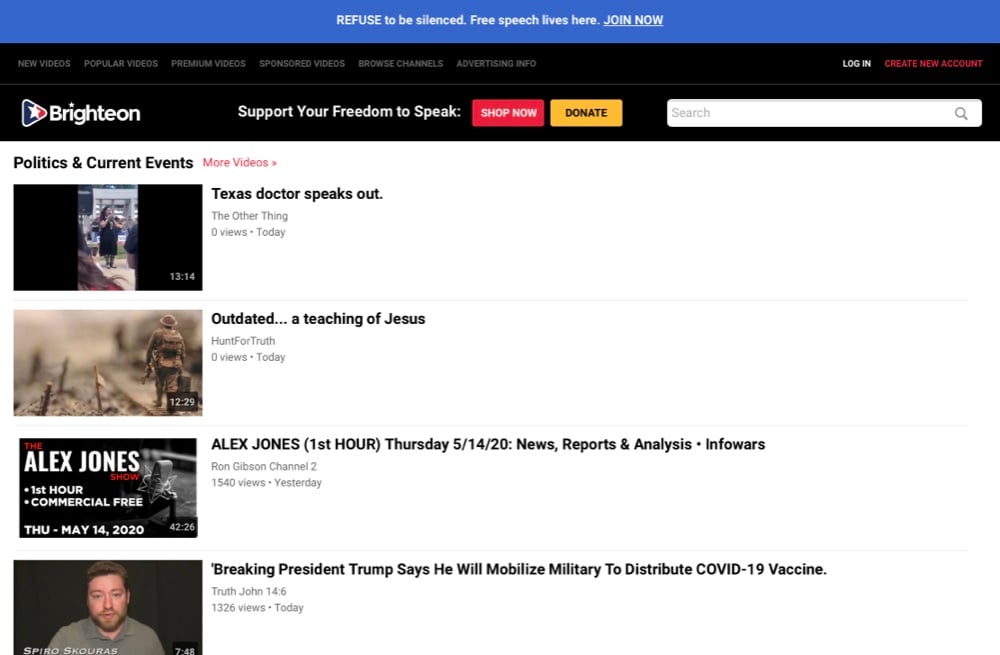 Brighteon was started by Natural News founder Mike "Health Ranger" Adams in July 2018 as a way for people to speak their mind freely without being censored.
Like many of the other YouTube alternatives, Brighteon has seen a steady increase in traffic over the last few months and had more than 2.8 million visits in April, according to SimilarWeb.
The platform positions itself as a "free speech alternative to YouTube" and states: "Unlike Google and YouTube, we do not shadowban new videos from channels you subscribe to. If you subscribe to a channel, you will see ALL of the new videos from that channel on your home page when you log in."
Brighteon also values user privacy and states that it doesn't track users to build psychological profiles and doesn't monetize user profiles in any way.
Instead, the site is solely supported via display ads promoting the Brighteon Store which sells a range of health and personal care products.
Creators can monetize their videos by opting in to the Brighteon Store affiliate program where they can earn up to 12% revenue on sales from their viewers or by selling premium videos to their viewers.
One thing to be aware of is that Brighteon does impose upload limits on new users and 20,000 channel views are currently required to unlock unlimited video uploads.
While Brighteon currently has a centralized structure, Adams ultimately wants the platform to become a decentralized system.
LBRY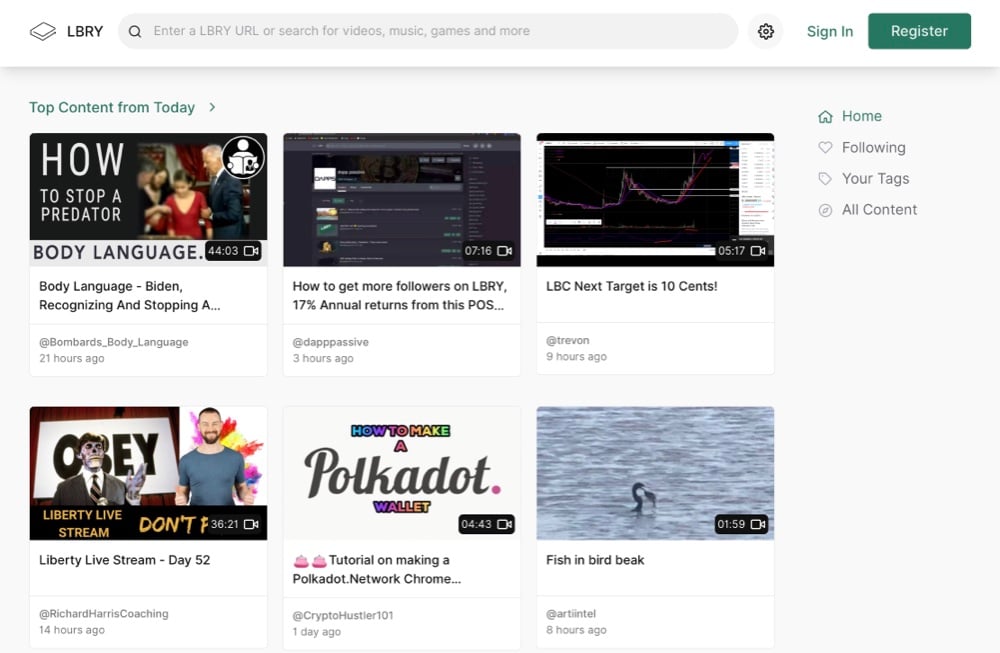 LBRY is a decentralized, peer-to-peer protocol that was founded by Jeremy Kauffman and allows anyone to build apps that interact with digital content on the LBRY network.
It soft-launched in 2018 and has seen rapid growth over the last few months, reaching one million monthly users in March and then getting over 2.3 million monthly visits in April, according to SimilarWeb.
LBRY's serves up its video content via LBRY.tv and like BitChute, it has a YouTube syncing tool that makes it easy for YouTube creators to sync their existing YouTube content with the LBRY network.
LBRY also has its own token, LBC, which is awarded to users of the platform and can also be used by viewers to send tips to creators.
LBRY's focus is "content freedom" and everything built to power LBRY is open source and community-driven.
According to LBRY, it's "the most censorship-resistant system to ever exist for the purposes of publishing digital content" because "anyone in the world can access the LBRY network without relying on LBRY Inc. servers or machinery" and the open-source code allows anyone to create alternative versions and apps.
NewTube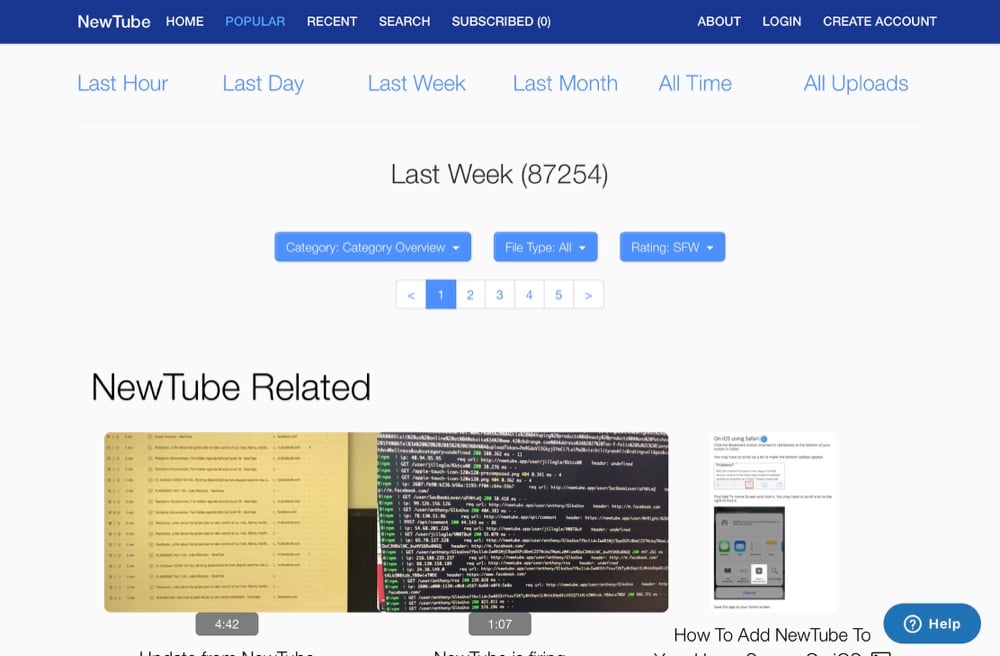 NewTube is one of the youngest YouTube alternatives which started in January and has already racked up over 565,000 total video views.
It's powered by the open-source NodeTube software which is designed to be as efficient and effortless as possible from a user's perspective.
The NodeTube project places a strong emphasis on user privacy and states that users will not see ads or be tracked and that "public IP stays private, unlike some other YouTube alts."
"Reclaiming some of the digital and cultural real estate of YouTube" is one of the project's top priorities according to its developer and the project plans to achieve this by using open source software such as NodeTube to improve the landscape of digital media sharing and the free flow of information in the 21st century.
NodeTube has already been forked over 100 times by the developer community and is being actively developed which means NewTube users are likely to see lots of new features integrated into the platform as the software behind it continues to grow.
DTube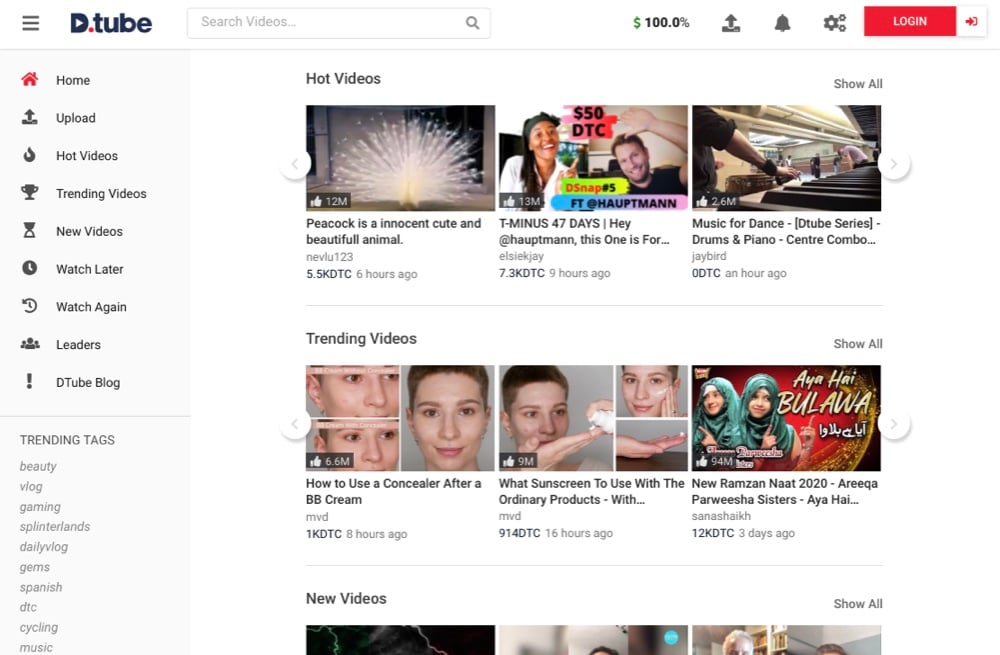 DTube was the first crypto-decentralized video platform and is built on the STEEM blockchain and InterPlanetary File System (IPFS) peer-to-peer network.
The platform currently brings in over 570,000 monthly visits, according to SimilarWeb.
It started in July 2016 and like several of the other YouTube alternatives, it has its own cryptocurrency token, DTC, which can be earned by both viewers and creators and also used to quickly and easily tip creators.
DTube claims that the decentralized nature of IPFS and the STEEM blockchain mean that DTube is unable to censor videos or enforce guidelines.
The platform is also ad-free and DTube states that it contains no hidden algorithms and that all of its data is public and can be analyzed by anyone.
One of the unique aspects of DTube is the way users drive what is shown on the homepage, hot section, and trending section.
Unlike YouTube, where algorithms, curation, and the boosting of "authoritative sources" determine the content users see, users upvotes and downvotes are the main factor influencing what is recommended on DTube.
PeerTube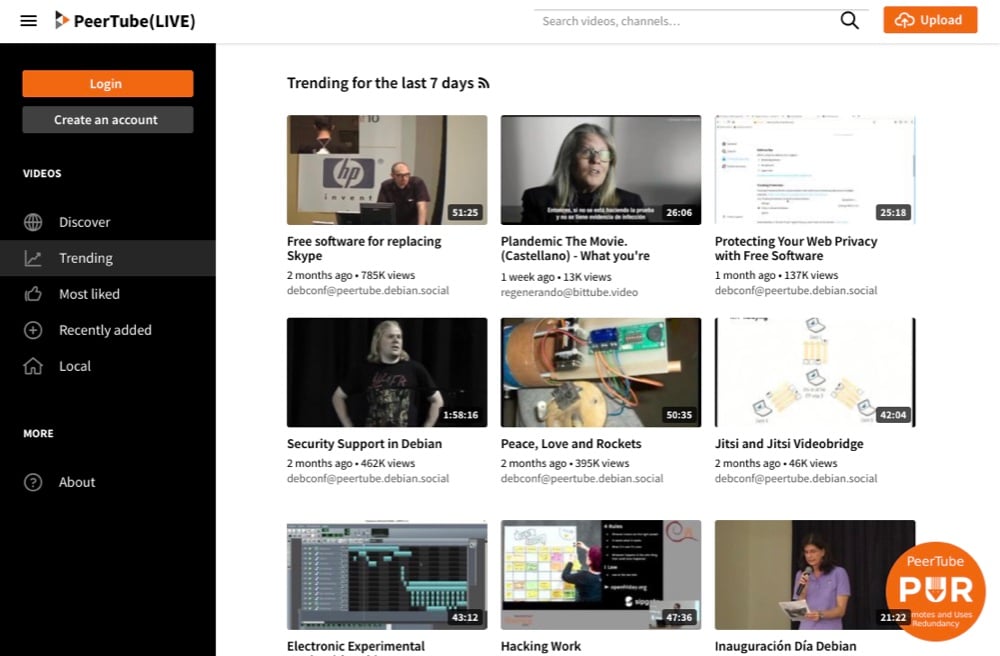 PeerTube is a free, open-source, decentralized, peer-to-peer, federated video platform powered by ActivityPub and WebTorrent protocols.
The first beta was released by French non-profit Framasoft in March 2018 and it now offers over 200,000 videos from 30,000 users which have been viewed more than 10 million times across its instances.
Anyone can start a PeerTube instance with their own rules and content moderation standards and each instance can then choose to form federations (interconnect) with other instances which allows them to share videos without having to host them locally.
The use of the ActivityPub protocol also allows PeerTube users and instances to connect with users and instances on other platforms that use this protocol such as the social network Mastodon.
And since PeerTube is powered by a collection of smaller instances, users of the platform aren't beholden to a single large tech company.
Another benefit of PeerTube is that it doesn't track its users which means that there are no targeted ads or biased recommendation algorithms.
BitTube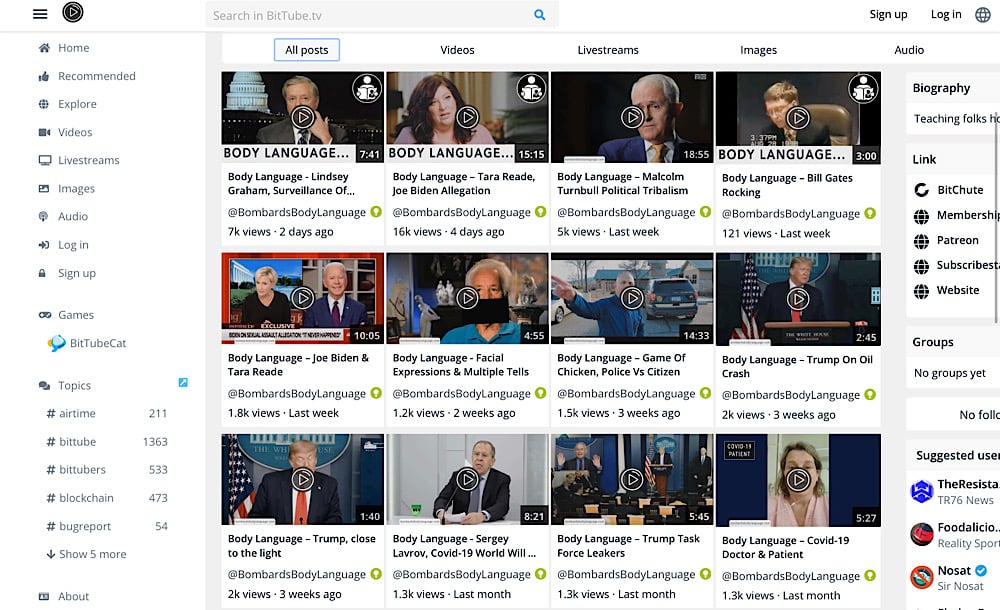 BitTube is a peer-to-peer video sharing platform that launched in early 2018 is based on IPFS and blockchain technology.
It currently has over 420,000 monthly visitors, according to SimilarWeb, and supports both regular video uploads and live streams.
BitTube describes itself as a free speech alternative to the large Silicon Valley-based platforms which stifle free speech, demonetize creators, and ban those that they disagree with.
For video monetization, BitTube uses "AirTime" which it describes as a "blockchain-based technology that rewards both creators and viewers based on time watched without ads."
Users of BitTube can earn TUBE tokens via AirTime and these TUBE tokens can be used to tip BitTube creators and also be used to instantly donate to creators on other supported platforms.
Not only does this model provide monetization for BitTube users but it also means there's no reliance on ads or third parties.
All content posted to BitTube comes with a magnet URI which improves censorship resistance for creators by allowing them to share this URI via BitTube's own AirShare implementation or re-seed it using a BitTorrent client.
One thing for mobile users to be aware of when using BitTube is that it doesn't currently support landscape mode on mobile devices which means you have to hold your phone in landscape orientation to use the site.