GoFundMe has suspended the account of conservative activist and speaker Candace Owens. Owens was banned from the fundraising platform after raising over $200,000 for an Alabama restaurant owner who called protesters "idiots" and suggested that George Floyd's criminal history makes him a "thug."
Just like the owner of the business she was raising money for, Owens has criticized the pervasive narrative that police brutality is overwhelmingly motivated by racism.
In a video posted on social networks, Owens brought to light Floyd's criminal history but also agreed that Derek Chauvin, the arresting officer who had his knee on Floyd's neck, should have been charged. However, Owens suggested that there's no reason to suggest it was racially motivated – a claim that has resulted in backlash on social media.
Parkside Café, located in Birmingham, Alabama, and one of its owners, Michael Dykes, came under fire after a text Dykes sent to other managers was circulated on social media. In the text, Dykes labels Floyd a "thug" and calls the protesters "idiots." The text also suggested raising prices because of the protests.
An employee at the café, Lacey King, who has since resigned, leaked the text on Facebook. The text, which was widely shared, caused an uproar online and calls for a boycott of the café threaten its future.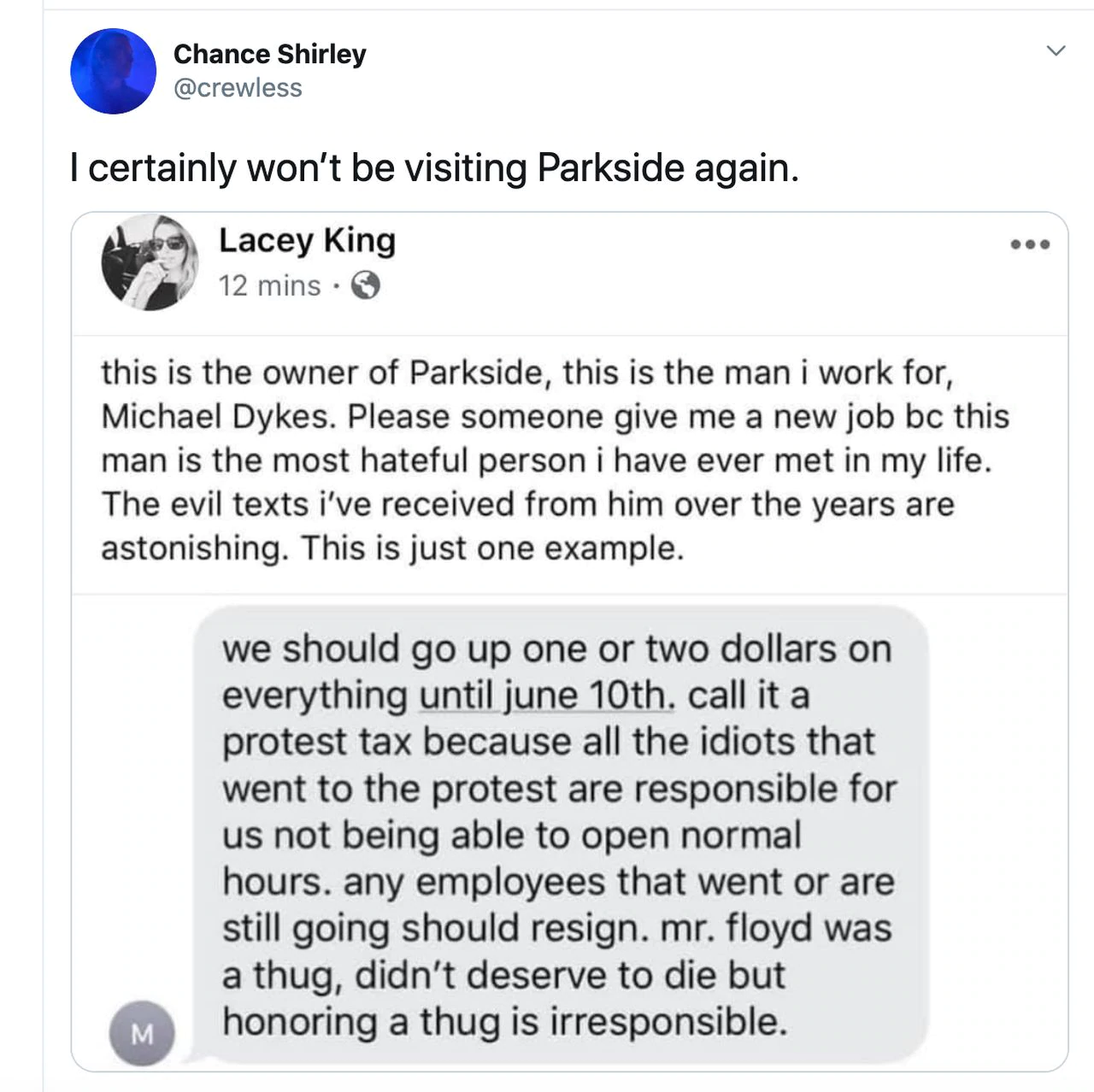 Owens got involved and stood up Dykes, launching a fundraiser for Parkside Café after Dykes told Al.com that his remarks were inspired by one of her videos.
"I was inspired by a black woman, who is amazing, by the way," Dykes told Al.com in an interview.
Owens launched the fundraiser called "Mob rule has no place in America" on Saturday afternoon and it soon became one of the most successful fundraisers on the platform.
"Business owner in Birmingham, Alabama is under attack because in a *private* text leaked by his employee— he agreed with the sentiments of a Candace Owens video. Left is calling for boycotts of his struggling business, so I created a fundraiser for him," read part of the tweet announcing the fundraiser.
By the time GoFundMe suspended the fundraiser and banned Owens, the funds had accumulated to about $200,000.
"GoFundMe has suspended the account associated with Candace Owens and the GoFundMe campaign has been removed because of a repeated pattern of inflammatory statements that spread hate, discrimination, intolerance and falsehoods against the black community at a time of profound national crisis," the fundraising platform said in a statement.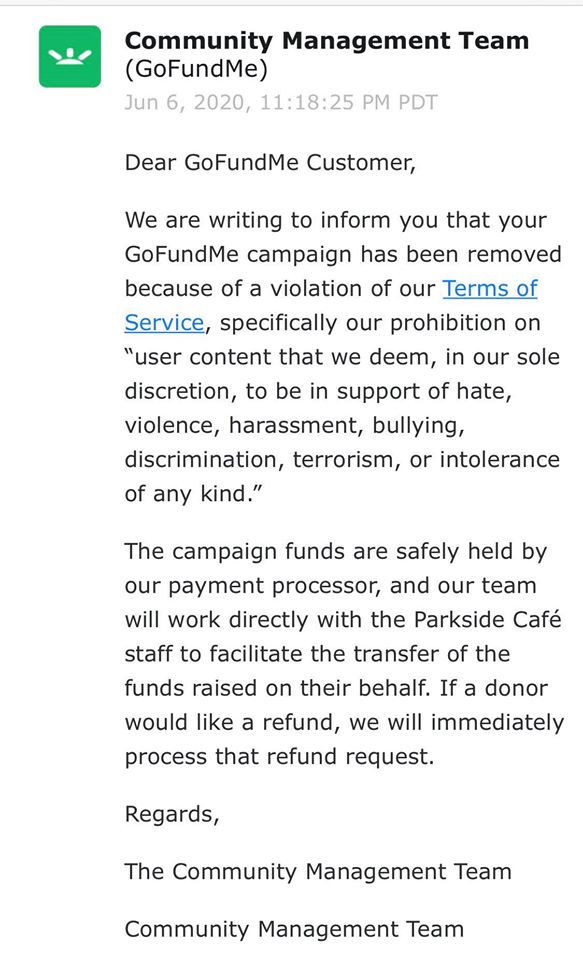 "Unbelievably, after raising $205,000 in 8 hours, GoFundMe suspended my campaign to raise money for the Parkside Cafe in Alabama. At their discretion, they deemed that raising funds to help save a conservative cafe that was being boycotted by a leftist mob, constituted "intolerance," Owens said on Facebook. "Many of you gave to this campaign and GoFundMe has stipulated that they will still give the funds raised thus far to the cafe— which is a major win— but I am absolutely floored that they saw so many patriots coming together to break a fundraising record, and they stopped the campaign dead in its tracks.
"The mob wants me to give up. Since my video this week reached 100 million people worldwide, I have had to deal with hundreds of anonymous death threats, plus the public posting of my address with a call to action for people to show up at my front door. Their obvious hope is that I will be bullied into silence. But it will never happen. In fact, I consider the mob to be my muse. They inspire me every single day get louder, to fight harder, and to create with even more conviction."
GoFundMe allowed the Parkside Café to keep the money that has been raised so far. But it clarified, contrary to what a tweet by Owens suggested, that the money is for the business, not Dykes.
Owens took to Twitter to express her suspension on GoFundMe, deeming it discrimination and intolerance against conservatives.
"While I am glad they will give the funds raised this far to the cafe to the owner, I am angry that such a blatant form of discrimination is acceptable by @gofundme. There was NOTHING intolerant or violent about raising funds to help a conservative business owner."