China claims that Twitter should close accounts of people that spread anti-China sentiment on the platform. The Chinese Communist Party says that China is the largest victim of smear campaigns online.
In a press briefing on Friday, the spokesperson for the foreign ministry, Hua Chunying, said that multiple platforms spread false information about China. The announcement was made hours after Twitter blocked thousands of pro-china propaganda accounts linked to the Chinese regime. These accounts were part of a network spreading coordinated and manipulative falsehoods around topics that make the country look good.
Hua is a heavy Twitter user herself, which she uses to accuse everyone of lying about China.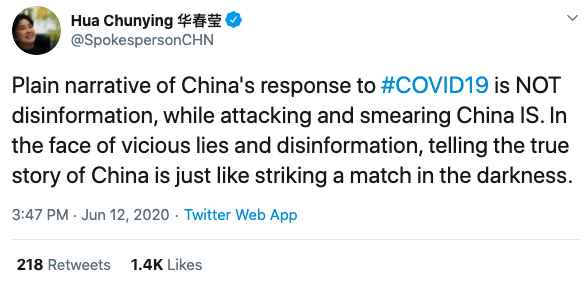 Twitter claimed that the 23,750 blocked accounts spread "geopolitical narratives" helpful to the Communist Party of China. The social platform also blocked another 150,000 accounts created to amplify the government-backed narratives.
According to Twitter, one of the main focuses of the misinformation campaigns was the coronavirus pandemic. The content posted praised the Chinese government's response to the outbreak.
The propaganda network also spread falsehoods about the protests in Hong Kong. The protests have been going on for more than a year. Hongkongers are enraged by the increasing influence of Beijing and the new "security" law that aims at removing some freedoms not enjoyed in the mainland.
However, the Chinese government has previously denied claims of engaging in disinformation campaigns on social platforms.