Twitter has recently locked the Twitter account of Christine Pelosi, daughter of Senator Nancy Pelosi, forcing her to delete a tweet.
The suspension came after Christine endorsed the violent assault on Senator Rand Paul by his neighbor, which left him with broken ribs and missing part of his lung.
In one of her tweets, Christine Pelosi said that Rand Paul's neighbor was right.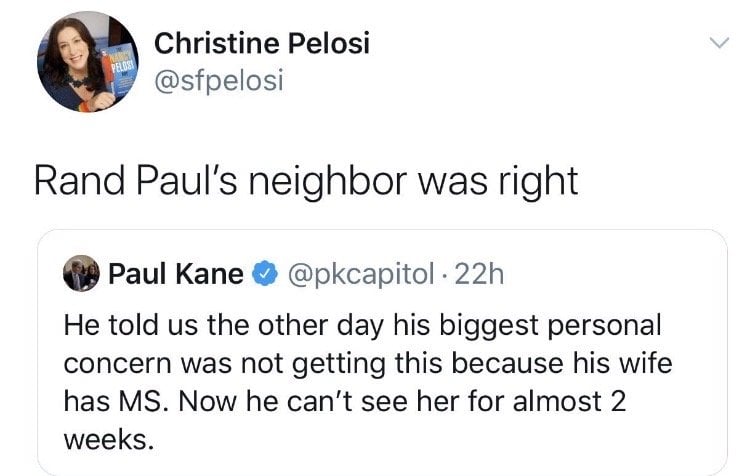 This was in response to Senator Paul's remarks about his coronavirus diagnosis.
Senator Paul said recently that the current guidelines would not have called for him to get tested nor quarantined as he had no symptoms.
He said that his decision to go into self-quarantine is mainly because he was concerned about the lung damage he had received as a result of the attack in 2018.
One of those who got irked was Christine Pelosi who posted the tweet that got her into trouble with Twitter.
"The account owner was temporarily locked out for violating the Twitter rules against glorification of violence," a Twitter spokesperson said.
While many of Twitter's rules are often criticized, the one that most people can agree on is its strong policy concerning the glorification of violence.
According to Twitter's terms of service, no user can glorify, celebrate, praise or condone violent crimes or violent events where people were targeted because of their membership in a protected group.
The assault on Senator Paul qualifies under the terms of service and condoning it is a violation of Twitter's rules.
This left Twitter with no choice but to temporarily suspend Christine Pelosi's Twitter account.
Fortunately for her, the suspension was only for a brief time. It usually takes 12 hours before an account is reactivated after getting suspended by Twitter.
Christine Pelosi's account though was reactivated even before the 12 hours time limit has expired, likely as she deleted the tweet that endorsed violence.