North Carolina's Durham City officials have been accused of attempting to get Wikimedia Foundation (that's behind Wikipedia) to get rid of what's said to be true, but unpleasant to them, information.
And this time, it seems Wikimedia stood behind the right of users (editors) participating on the platform to have such information available.
The city government's demand was to learn who these editors are, Indy Week reported. And information in question has to do with the allegedly illegal/improper professional behavior of several officials, ranging from accusations of bribery to physical violence, and requesting that staff employed by the city join one of their reelection campaigns.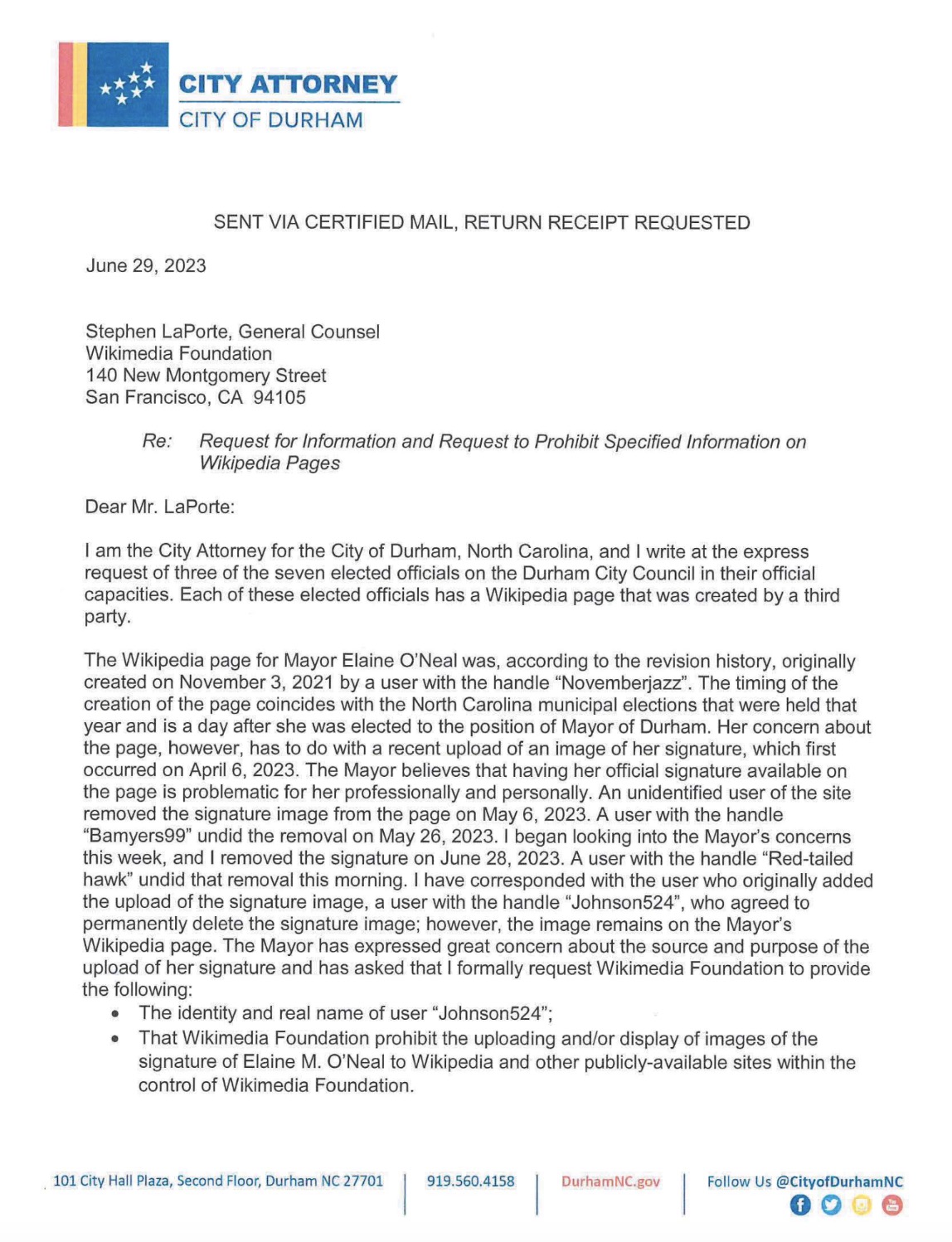 It should be noted that at this time, all these instances are at the level of investigations and accusations, or are claims qualified with the term "reportedly" – and without any conclusive results that prove their guilt/involvement; clearly, the officials thought that was enough "reputation" to protect, and decided to go for the extreme measure of trying to unmask anonymous contributors.
Nevertheless, some reports now say these are all truthful claims, even if obviously not favorable for those facing them, and that the attempt to suppress bad press, so to speak, is resulting in what's known as the "Streisand effect" – namely, in more people learning about this than would have been the case had the Durham officials just ignored Wikipedia.
Either way, the fact is that city attorney Kimberly Rehberg was the one who in late July went to Wikipedia with the demand not to simply remove said article(s), but to reveal real-world identity of those who wrote them.
Rehberg's letter explained that it came at the express request of Mayor Elain O'Neal, and DeDreana Freeman and Monique Holsey-Hyman, both city councilors.
What's seen as particularly jarring is that the letter apparently made no "express" claim the Wikipedia articles were factually incorrect, (it couldn't, because the investigations are not over) but merely that the city officials felt the need to "take issue" with this content.
But some observers note that the Wikipedia articles in question "apparently" contain no factual errors and come with links to articles on news sites that reported about the accusations.