The president of the Nicholls State University seems to lack a proper understanding of the US Constitution's First Amendment, a fundamental piece of legislation when it comes to free speech protections.
If he were president of a university of Europe, Jay Clune's statement in the June 8 letter, that "free speech does not protect hate speech" would have highly likely been a valid point, because so-called "hate speech" is criminalized in most European countries. (And yes, it's then up to whoever's in charge to define what constitutes "hate speech.") (We'll rant about that another time.) But things work differently in the US.
That's the point of a letter the Foundation for Individual Rights in Education (FIRE) has sent to the president of the Louisiana-based university in response to his own.
Clune had wrongly recently told students that "hate speech" is not protected free speech, in an attempt to influence their online social media posts.
"While we, as a university, encourage the expression of free thoughts and ideas, Nicholls will not tolerate any form of hate speech," Clune wrote in an email to students and staff at the public university in Thibodaux, Louisiana. "Free speech does not protect hate speech. We ask that all of our community be mindful of the things they post and how they interact with people on social media." Clune vowed to respond to hate speech "with the swiftest, harshest action allowed by law."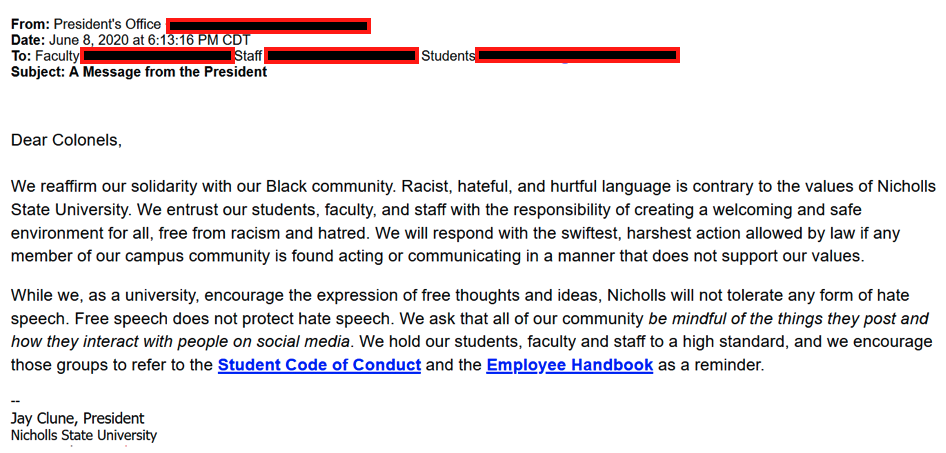 The response, written by Adam Steinbaugh, makes a case that the First Amendment does not contain any express exceptions that mention hate speech.
Steinbaugh argues that, with this legal definition in mind, saying that free speech does not protect hate speech is misleading students and faculty, and could result in lawsuits and scrutiny by civil rights groups.
The First Amendment protections are extended to public university campuses by the Fourteenth Amendment, and the letter points out that Nicholls State is a public institution that must live up to its status and not limit free speech of students and faculty.
It's also suggested that instead of introducing censorship by wholesale undermining free speech rights of everyone in an attempt to protect one group, students should be allowed to counter speech that they perceive as offensive with their own speech.
Clune's June 8 letter came at a particularly turbulent social and political time in the US centered around race issues, a time which Steinbaugh's response said was also rife with pressure and attempts to clamp down on free expression.
But Clune's message warns about the "swiftest, harshest action allowed by law" that will be taken against any member of the campus who is found to be using "racist, hateful and hurtful" language, and make the contentious statement regarding what free speech does and does not cover.
The letter also – in italics – warns everyone should be "mindful of the things they post and how they interact with people on social media."
Not necessarily true.