The chairman of the global investment bank Credit Suisse claimed that a "social media storm" was partially responsible for the company's recent woes that culminated in it being taken over by the multinational investment bank UBS at a heavy discount.
"Who is responsible for this disaster?" a reporter asked Credit Suisse Chairman Axel Lehmann during a recent press conference.
Lehmann responded by pointing to several factors, including social media.
"Last autumn we had a social media storm and this had huge repercussions," Lehmann said. "More in the retail sector than in the wholesale sector. And too much becomes too much and that's when we reach this point."
This isn't the first time Lehmann has blamed this so-called "social media storm" for Credit Suisse's decline. In December, he described it as "a real storm" and claimed that it caused "really massive outflows for two to three weeks."
The incident Lehmann is referring to is an October 2022 episode where the banking giant faced increased scrutiny on social media.
Yet Credit Suisse was struggling long before these October 2022 discussions on social media. Its stock price peaked at $77.12 in May 2007 and had already declined to a new record low of $3.83 on September 29, 2022.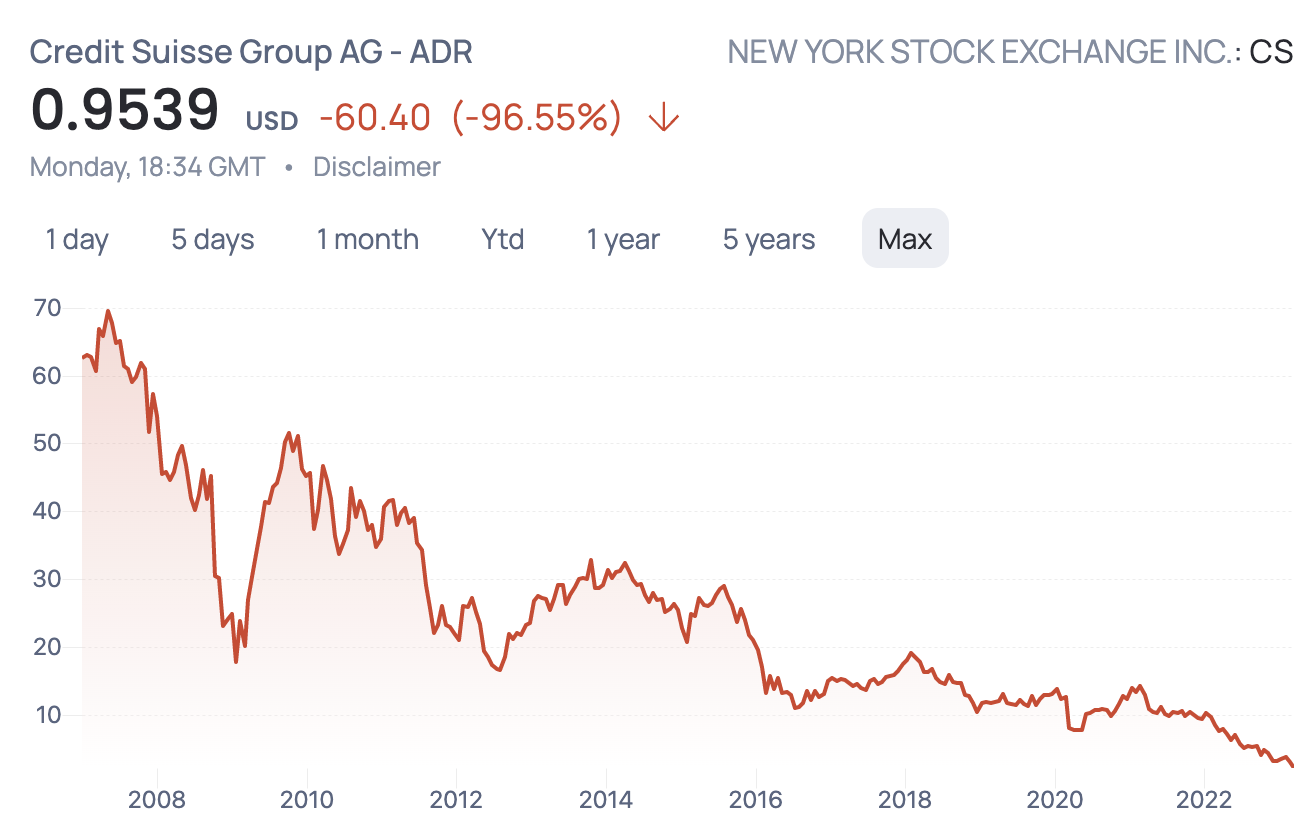 The banking giant has also been involved in numerous scandals such as being found guilty of failing to prevent cocaine-related money laundering and admitting it defrauded investors over an $850 million loan to Mozambique.
However, the practice of using social media and online commentary as a scapegoat has become an increasingly popular tactic since the March 10 collapse of Silicon Valley Bank.
Several venture capitalists and politicians claimed that Twitter and social media fueled the bank run that led to Silicon Valley's collapse. Legacy media outlets have amplified claims that "conspiratorial narratives" and "far-right websites" were responsible for Silicon Valley Bank panic. Some politicians have even inquired about the possibility of censoring social media posts to avoid other bank runs.