David Leatherwood was fired from his job at Craft Kafe after activists flooded the establishment with multiple complaints, namely for his recent comments surrounding Black Lives Matter and his support of President Trump.
David Leatherwood, a resident of St. Petersburg, Florida, was let go from his job after four and a half years of service due to a series of complaints.
Craft Kafe received complaints about recent posts Leatherwood made surrounding the idea that "Black lives don't matter to black lives matter," and that the idea of "white privilege" is racist.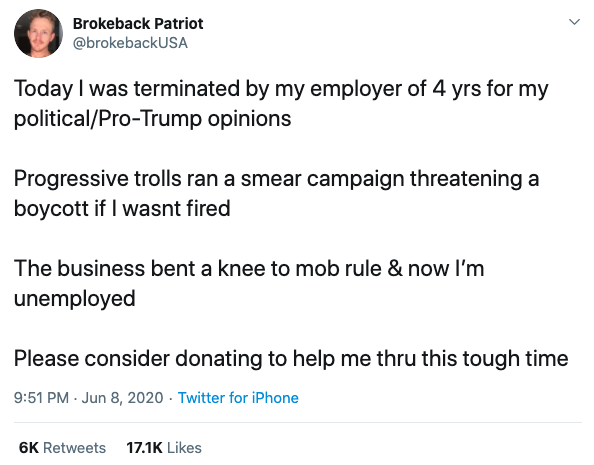 Leatherwood is a supporter of commentator Candace Owens, who was also recently banned from GoFundMe for raising funds for the founder of a business was facing backlash for not supporting Black Lives Matter.
Known on Twitter with the user of @brokebackUSA, Leatherwood is dedicated to publishing content and humorous comments related to politics and society.
Some did not agree with the statements he made using the slogan "All Lives Matter," creating a collective fury that ended in a campaign against him to get him fired from his job.
Leatherwood posted on Twitter that he will not be intimidated by those who want to silence him, and said that all companies that fire staff for political beliefs should be held accountable. Leatherwood is just one of those who have lost their jobs for not supporting the Black Lives Matter protests.