Former Congressman Dr. Ron Paul is bringing the livestreams of his popular Liberty Report show exclusively to Rumble, starting in August.
Dr. Paul has long been censored on YouTube, and has recently spoken out against possible collusion between the government and Big Tech platforms to encourage censorship.
Daniel McAdams, Executive Director at Ron Paul Institute for Peace and Prosperity, made the announcement in the latest Liberty Report episode.
"This has been a long time coming. We've talked a lot about censorship, we've talked a lot about the difficulties of having this show," McAdams said.
"…we've done a couple thousand episodes of the Ron Paul Liberty report. But over the last couple of years, we have struggled a lot with censorship, with the idea that you could be kicked off at any point."
McAdams said that free speech was the main reason to move to Rumble. "We'll be live streaming on Rumble because Rumble is dedicated to free speech," he said. "We're grateful to the people from Rumble for recognizing the effort that we put into the show and for offering us a platform to go live here is the Ron Paul Liberty report on Rumble."
Last year, YouTube completely deleted the Liberty Report channel run by Dr. Paul, without warning, strikes, or explanation.
"Very shocked that @YouTube has completely removed the Channel of my Ron Paul Institute: no warning, no strikes, no evidence," Paul said on Twitter. "Only explanation was "severe or repeated violations of our community guidelines." Channel is rarely used. The appeal was automatically rejected. Help?"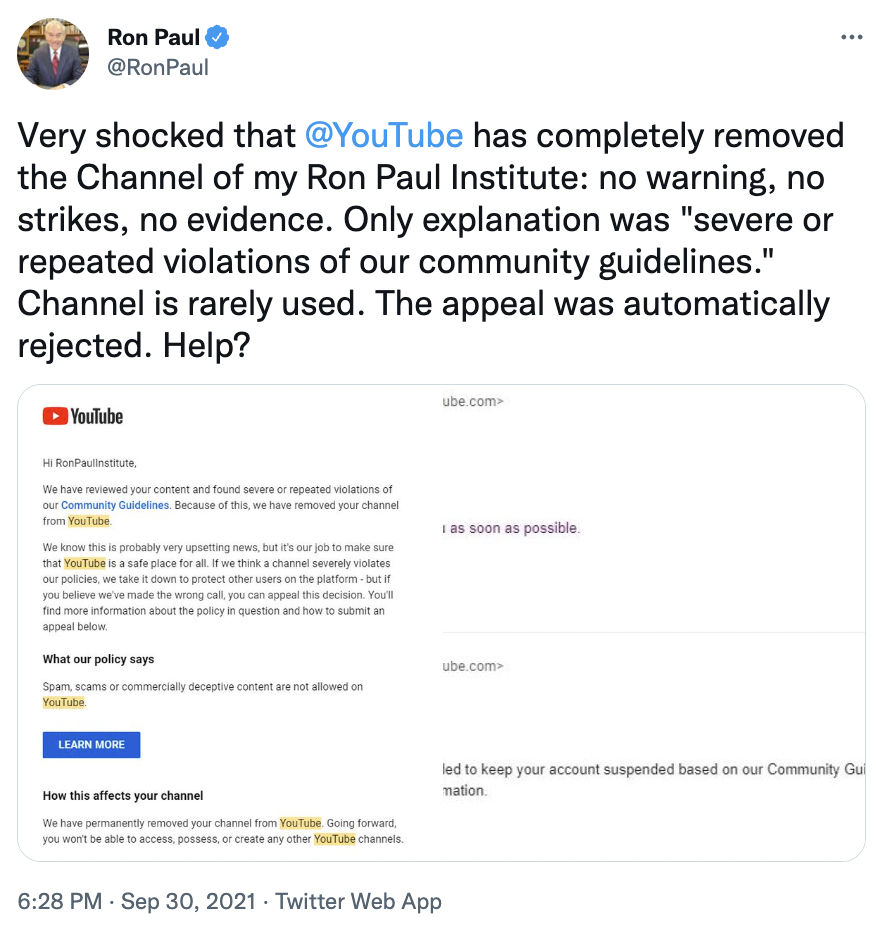 His appeal to get the page reinstated was at first rejected, before YouTube backtracked.
This was not the first or last time Dr. Paul was censored by Big Tech. In January of last year, he was suspended from his Facebook page. Facebook admitted the suspension was a mistake and reinstated the page.
The Liberty Report streams on Rumble from August 2nd.