Elon Musk said he would make public "all internal discussions" at Twitter that led to the suppression of the Hunter Biden laptop story by the New York Post in October 2020.
A Twitter user going by ALX wrote: "Raise your hand if you think @ElonMusk should make public all internal discussions about the decision to censor the @NYPost's story on Hunter Biden's laptop before the 2020 Election in the interest of Transparency."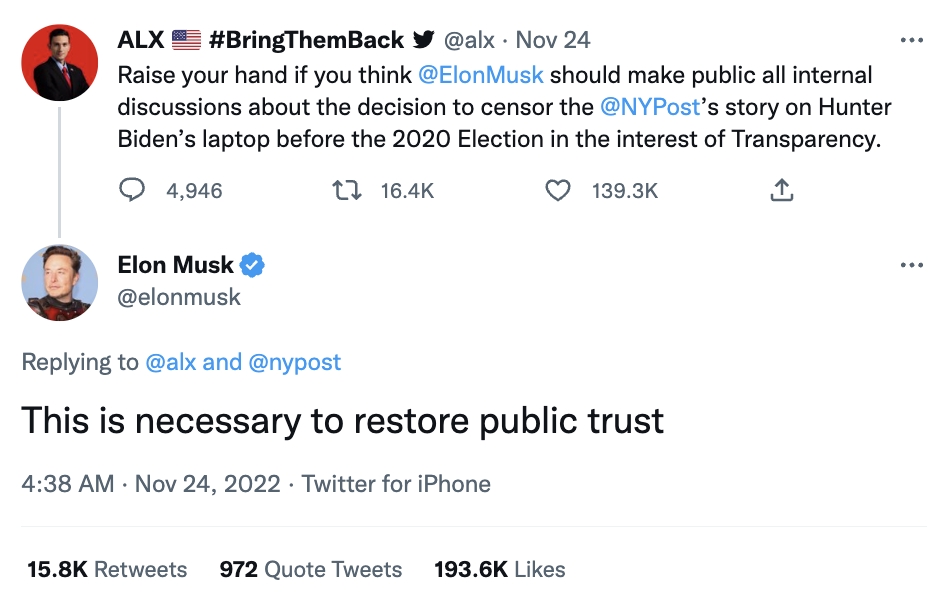 Musk responded: "This is necessary to restore public trust."
The New York Post's story was based on documents recovered from a laptop Hunter abandoned at a repair shop. The Post suggested that Joe Biden used his influence when he was vice president to, among other things, secure business dealings in China and Ukraine for his son.
The story was published on October 14, 2020, a few weeks before the presidential election. When it was shared on Twitter, it was labeled "potentially harmful." The platform also blocked the content when users tried sharing it.
The story has since been verified by mainstream media, including the New York Times. It alleged that the now-president held hostage $1 billion in funds to Ukraine until the dismissal of a prosecutor that was investigating energy giant Burisma, where his son was serving on the board.