After a lengthy legal tussle over Twitter's ownership, Tesla and SpaceX CEO Elon Musk have confirmed that he now officially owns the social media platform.
"I wanted to reach out personally to share my motivation in acquiring Twitter," Musk wrote in a note to advertisers. "There has been much speculation about why I bought Twitter and what I think about advertising. Most of it has been wrong."
Musk continued:
"The reason I acquired Twitter is because it is important to the future of civilization to have a common digital town square, where a wide range of beliefs can be debated in a healthy manner, without resorting to violence. There is currently great danger that social media will splinter into far right wing and far left wing echo chambers that generate more hate and divide our society.

In the relentless pursuit of clicks, much of traditional media has fueled and catered to those polarized extremes, as they believe that is what brings in the money, but, in doing so, the opportunity for dialogue is lost.

That is why I bought Twitter. I didn't do it because it would be easy. I didn't do it to make more money. I did it to try to help humanity, whom I love. And I do so with humility, recognizing that failure in pursuing this goal, despite our best efforts, is a very real possibility.

That said, Twitter obviously cannot become a free-for-all hellscape, where anything can be said with no consequences! In addition to adhering to the laws of the land, our platform must be warm and welcoming to all, where you can choose your desired experience according to your preferences, just as you can choose, for example, to see movies or play video games ranging from all ages to mature."
Before releasing this note to advertisers, Musk dropped another hint that he had finalized his deal to acquire Twitter yesterday when he entered Twitter headquarters while carrying a sink.
"Entering Twitter HQ – let that sink in!" Musk tweeted.
Musk also praised the platform for the way it "empowers citizen journalism" and allows people to "disseminate news without an establishment bias" on the same day that he visited Twitter headquarters. While visiting Twitter, Musk said he was "meeting a lot of cool people."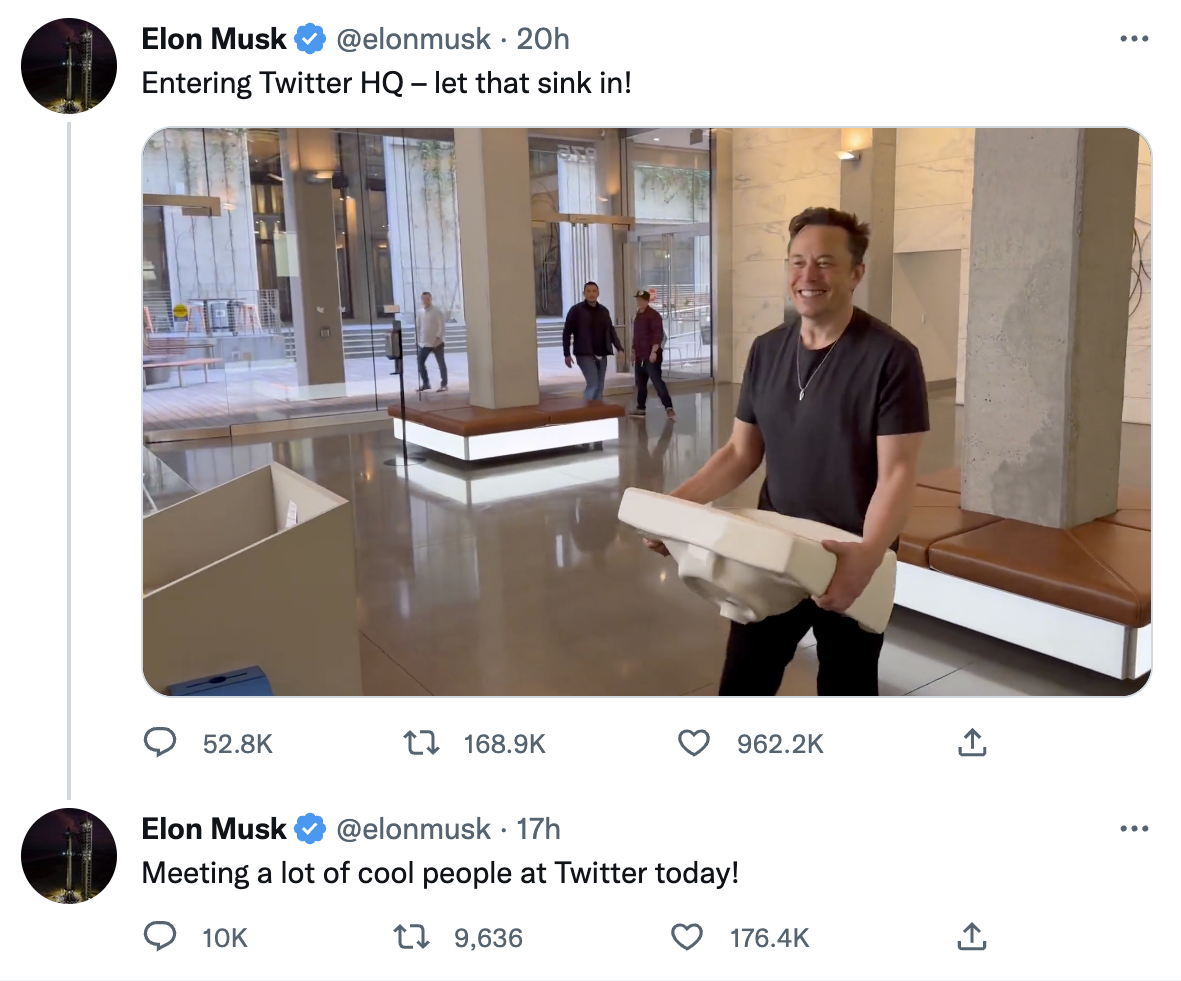 The New York Stock Exchange is preparing to suspend trading in Twitter's stock as of Friday. In anticipation, the NYSE's website showed the suspension was "Pending before the Open" on Oct 28.
Musk initially agreed to buy Twitter in April but then announced that the deal was on hold in May, pending investigations into spam bots. In July, Musk tried to terminate the deal and cited Twitter's failure to provide the information that's required to calculate the number of spam bots on the platform. Twitter responded by suing Musk to force him to close the deal. This kickstarted a months-long legal battle between the two parties which ended in October, shortly after Musk agreed to buy Twitter at the original price of $54.20 per share.
Since first signaling his intent to buy the company, Musk has proposed taking the company private to make free speech changes and described Twitter's censorship of major news stories as "incredibly inappropriate." He's also described the purchase of Twitter as "an accelerant to creating X, the everything app."