A few weeks ago, President Trump signed an executive order prohibiting the controversial critical race theory and gender fluidity reeducation programs in federal agencies. Many have been fired for their jobs in recent months for pushing back against the controversial teachings that have themselves been seen as racist.
Now, he's extended the ban to contractors and companies working with the federal government, meaning that any company that wants federal contracts needs to be free of these kinds of reeducation.
Last month, Christopher Rufo broke the story of how Sandia Labs, a nuclear research lab, was spending a lot of money reeducating white men about race and gender and teaching them about "white privilege."
Trump responded to this completed speech by signing the executive order banning such education in federal agencies, and further extended the scope of the executive order yesterday by including businesses working with federal agencies.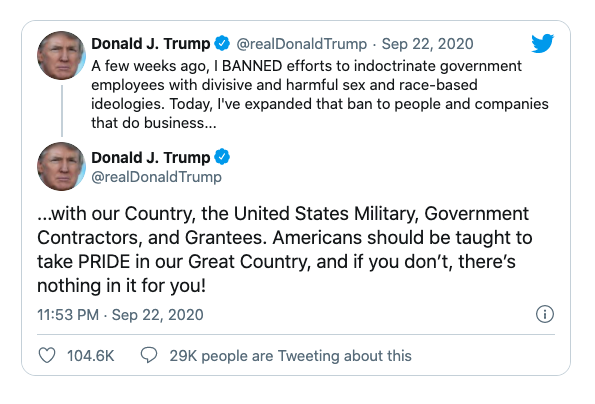 "A few weeks ago, I BANNED efforts to indoctrinate government employees with divisive and harmful sex and race-based ideologies. Today, I've expanded that ban to people and companies that do business," Trump wrote in a tweet.
Read the executive order here: Executive Order on Combating Race and Sex Stereotyping
In the executive order, the president noted that "many people are pushing a different vision of America" that is based on "collective social and political identities" instead of "inherent and equal dignity of every person as an individual."
Rufo tweeted "Victory" after Trump announced the changes to the executive order.
"VICTORY: The President has just signed a full Executive Order abolishing critical race theory from the federal government, the military, and all federal contractors.
The president has effectively declared war on CRT—and extended the battlefield to all of our institutions," Rufo wrote.
In the order, Trump refers to a workshop by the Department of Treasury about racism that claimed "virtually all white people, regardless of how 'woke' they are, contribute to racism. At the seminar, employees were told they should "be more color-blind" and "let people's skills and personalities be what differentiates them."
There are multiple departments, labs, and contractors that hold critical race theory workshops based on the ideology that "racism is interwoven into every fabric of America." Now, no company can work with the government if they reeducate employees on race and gender.
The President writes that the "malign ideology" of critical race theory "is now migrating from the fringes of American society and threatens to infect core institutions of country." He cites my original reporting on the Treasury Department, Argonne National Labs, and Sandia Labs. pic.twitter.com/M4Zx0fIlTS
"The point on federal contractors is a major escalation: if a private company wants to work with the US government, they can no longer teach critical race theory anywhere in their offices. This could potentially disrupt CRT programs in half of the Fortune 500," Rufo explained in a tweet.
Rufo also noted that the ban would disrupt funding into critical race theory in schools as it prohibits federal grants to support such programs.
"The executive order will also disrupt the flow of money to academia's critical race theory programs. The order stops all federal grants that support CRT—with the potential to cripple hundreds of academic projects moving forward."