Late last November, Twitter announced it would start deactivating inactive accounts – i.e., those that haven't been signed into during the previous six months, and freeing up usernames, making them once again available to new users.
But the social network faced a lot of backlash, because it was clear from the original announcement this would also apply to accounts of those who have passed away.
In a followed-up, Twitter said it would look for ways to preserve these accounts.
"We will not be removing any inactive accounts until we create a new way for people to memorialize accounts," the company said at the time.
We've heard you on the impact that this would have on the accounts of the deceased. This was a miss on our part. We will not be removing any inactive accounts until we create a new way for people to memorialize accounts.
But now Twitter has now gone back on this promise as at least one account of a deceased person became inaccessible on February 14 – even though it's likely due to some other random reason, rather than inactivity.
The Twitter account of Desmond Amofah – a popular YouTuber known as Etika who committed suicide last June – has been suspended.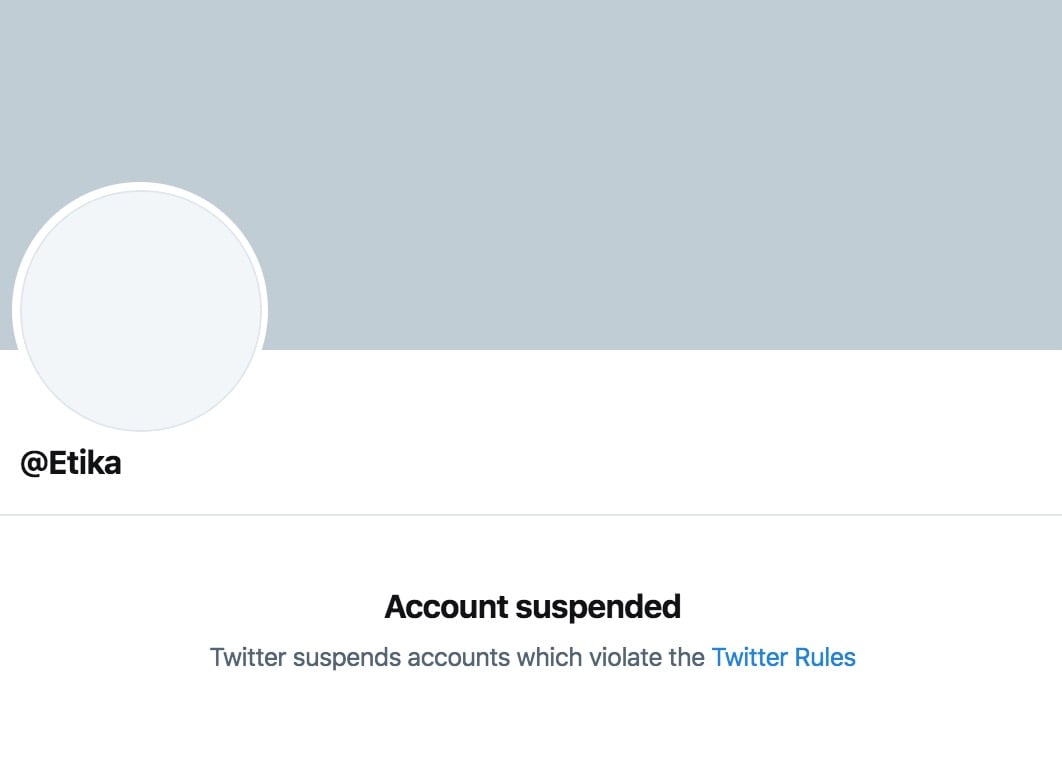 Etika, who focused on producing Nintendo-centric videos and streams, had a huge following on YouTube and was, despite his public struggles with mental health problems and sometimes erratic behavior a well-loved and missed figure in the community.
As one commenter put it drily, "I guess it's against the Twitter TOS to die." But it actually remains unclear if Twitter is now enforcing the inactive accounts policy and if this is the reason behind the suspension of Etika's account.
Twitter users have been urged to press Twitter to restore the account as a means to memorialize the late creator.
Etika's Twitter account is currently suspended again. All we can do is inform @Twitter and @TwitterSupport. All of us are hoping that they can establish a better solution to keep his account on this website since many people still want to visit his page. pic.twitter.com/SzyMTvOVNS

— Etika Memories (@EtikaMemories) February 15, 2020
Damn bro Etika wasnt even alive how did he violated the rules? Chill. pic.twitter.com/ucC9JYjRbV

— DanSmolBean (@DanTheReborn1) February 14, 2020
Yo @TwitterSupport can you restore @Etika 's Account? Just because he's gone, it doesn't mean that you can rob his memories. His legacy. Put it back. pic.twitter.com/g9Heob6x0L

— TVGN2000 (@TVGN2000) February 14, 2020
https://twitter.com/Damage_Go/status/1228445939829854208
Shortly after he died, Twitter also suspended the YouTuber's account, to later restore it.
And while he was alive, in the throes of his mental issues, Etika uploaded content on YouTube that was in clear violation of the rules, and got his channel banned.
However, fans later appealed to have the channel restored – minus, obviously, the content that's not allowed – and in this way let the creator's work to live on.
However, YouTube ignored these demands and the channel remains unavailable.