If you can't beat them, join them, seems to be the motto under which various entities and individuals are worming their way inside some of the world's best known VPN services, that are supposed to be trusted to protect their users' anonymity and privacy online.
One of them, ExpressVPN, continues to be riddled with controversies mere weeks after the acquisition by Kape Technologies worth just under $1 billion. Kape is a company that some industry observers are now openly calling "a former malware and adware distributor."
For whistleblower Edward Snowden, what crossed the line was the revelation that ExpressVPN CIO Daniel Gericke was one of three former US intelligence officers who earlier in September settled with the US Department of Justice (DoJ) for their role in UAE's spying project Raven.
Gericke and others did not contest charges, are cooperating with US authorities in this case, and paid fines, while ExpressVPN decided to publicly back him in a statement, praising his technical expertise and suggesting that his presence on the team meant improved privacy and security for millions – while at the same time saying ExpressVPN "does not condone" Project Raven.
From the ExpressVPN statement:
"We find it deeply regrettable that the news of the past few days regarding Daniel Gericke has created concerns among our users and given some cause to question our commitment to our core values. To be completely clear, as much as we value Daniel's expertise and how it has helped us to protect customers, we do not condone Project Raven. The surveillance it represents is completely antithetical to our mission."
"If you're an ExpressVPN customer, you shouldn't be," Snowden tweeted in response to the news, clearly unconvinced that the crossover between cyber mercenaries for hire and companies that are supposed to ensure privacy and security by encrypting web traffic and successfully masking IP addresses is the best idea.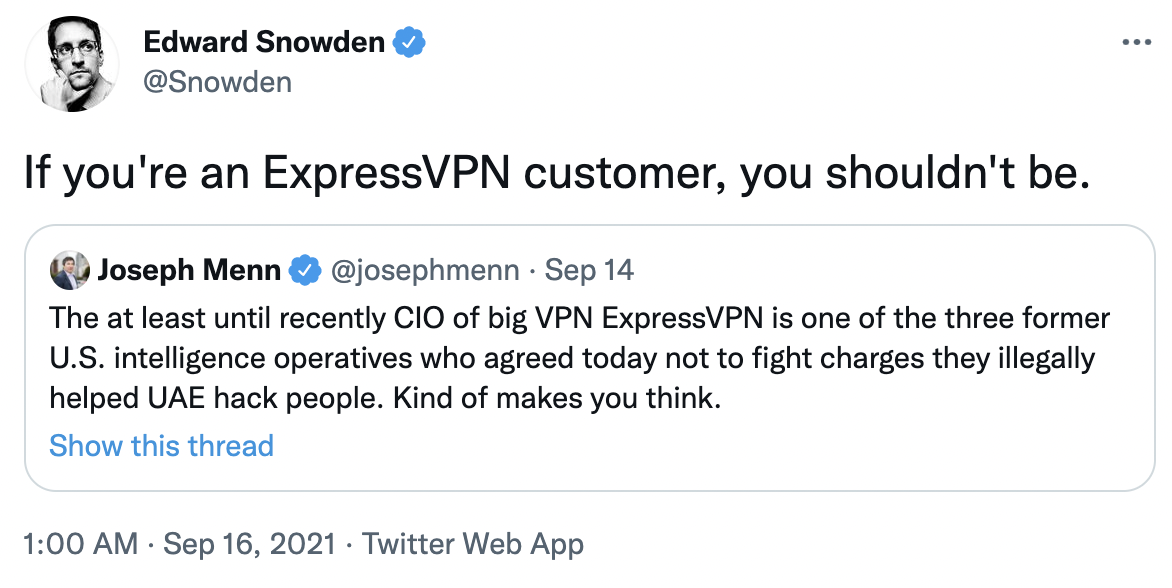 Controversies with trust and ethics don't stop there, since ExpressVPN's new owner, Kape Technologies, appears to have arrived at the big VPN scene with a lot of baggage. Formerly known as Crossrider, this company, based in Israel, originally allegedly sold malware and adware, before changing its name and switching to acquiring VPN services.
But that's not all, as observers say Kape is also buying VPN review websites that many people, especially those non-technical, rely on when choosing their VPN provider. Owning both a major VPN like ExpressVPN and major review sites indicates a possible conflict of interest, reports say.
And Kape is a relatively new participant in the VPN scene. As recently as in 2018, back in its Crossrider incarnation, it was best known for providing technology that would effectively allow for browser hijacking through malware spread via software bundles. This let Crossrider clients monetize their software by directing traffic to advertisers, while the malware affected both Windows and Mac computers, and all major browsers.
There is currently no proof that Kape Technologies continued to make money in the malware and adware business as it seems to be fully focused on building its VPN empire. Its first acquisition was CyberGhost VPN for $10 million. CyberGhost referred to Kape Technology's previous brand and business as "ad tech products" that were "the opposite" of what this VPN service tried to do – namely, provide users with online privacy.
And Kape itself, naturally, didn't speak of its products in terms of adware much less malware, but as "past activities" – this is how CEO Ido Erlichman phrased it after the 2018 rebranding effort. The company's owner, Israeli billionaire Teddy Sagi is said to have given the company its original "flavor" – having previously amassed his wealth in the gambling industry, and served time for insider trading. Another "key figure" is Koby Menachemi, who is linked with Israel's spy agencies.
Before Kape bought ExpressVPN for $936 million, it also bought Zenmate VPN for $5 million, and Private Internet Access (PIA) for $127 million in 2019. Some users of these at the time of their respective acquisitions well-positioned and trusted services were already aware of Kape's reputation (past – as best as anyone can tell at this point), and vocally unhappy about the takeovers.
But one way to ensure that ExpressVPN's reputation doesn't get irreparably damaged would be to make sure tech press and review sites consistently rank and rate it high.
That is why Kape's decision to buy Israel's Webselenese and the two sites in its portfolio – vpnMentor.com and Wizcase.com – is raising some eyebrows now. The sites are said to have a combined 6.1 million monthly visitors, and by accident or otherwise, both have ranked the three VPNs owned by Kape as their top three recommendations for 2021.
That is, they do right now – but before Webselenese and these sites got acquired, the list of best VPN services also included NordVPN and Surfshark.