The US President Donald Trump has recently been released from the hospital and is still undergoing treatment for COVID-19. Upon discharge, he made several comments on social media platforms that motivated Big Tech platforms to end up censoring his tweets.
After spending nearly three days at Walter Reed National Military Medical Center for treatment, Trump has returned to the White House this Monday. He is reported to have received experimental drugs, including antiviral remdesivir and anti-inflammatory steroid dexamethasone.
"Don't be afraid of Covid. Don't let it dominate your life," wrote Trump as he got released from hospital.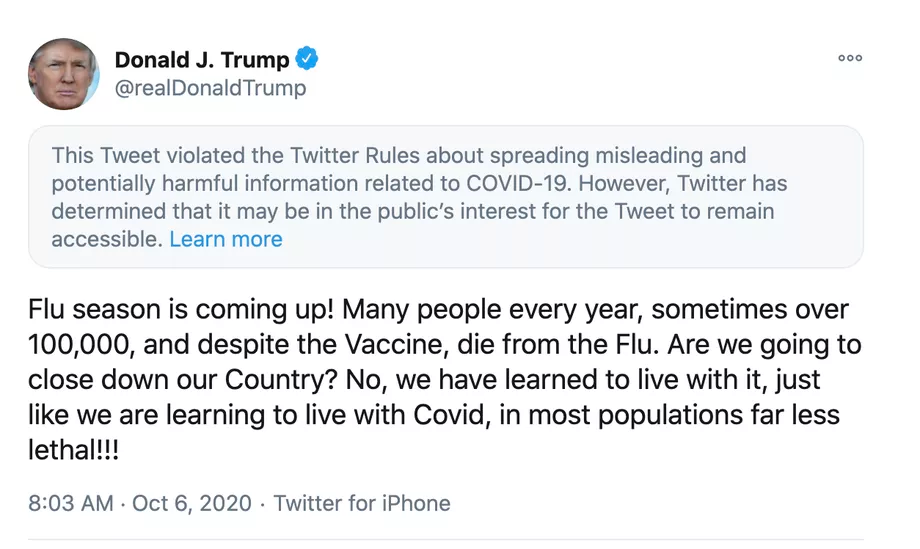 He also went on to express that the population was learning to live with COVID-19, just as they are living with the flu. Calling COVID-19 "far less lethal," Trump said that the country won't be shutting down due to the pandemic.
"Flu season is coming up! Many people every year, sometimes over 100,000, and despite the Vaccine, die from the Flu," tweeted Trump.
"Are we going to close down our Country? No, we have learned to live with it, just like we are learning to live with Covid, in most populations far less lethal!!!" wrote Trump.
Facebook ended up taking the aforementioned post down as Trump called COVID-19 "far less lethal" which they say is a violation of the platform's rules.
Twitter too jumped the wagon and slapped a label against Trump's tweet saying that it was spreading "misleading and potentially harmful information."
Back in March, the President made similar statements.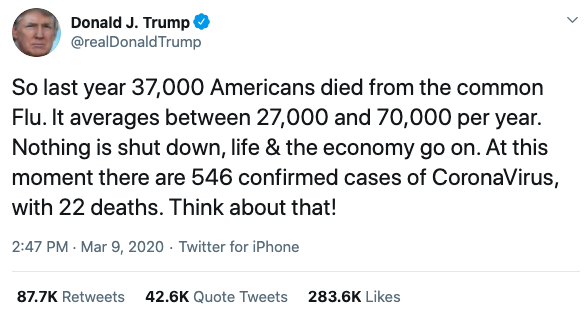 "So last year, 37,000 Americans died from the common Flu. It averages between 27,000 and 70,000 per year. Nothing is shut down, life & the economy go on. At this moment there are 546 confirmed cases of CoronaVirus, with 22 deaths. Think about that!"
Trump wrote on March 9th. This message wasn't censored.