Facebook has admitted that it has cut the distribution of a New York Post report that claims it has evidence that Vice President Joe Biden and his son, Hunter Biden, engaged in an alleged corruption scandal.
"While I will intentionally not link to the New York Post, I want be clear that this story is eligible to be fact checked by Facebook's third-party fact checking partners. In the meantime, we are reducing its distribution on our platform," tweeted Facebook policy communications manager Andy Stone.
Stone was a long-time Democrat staffer before joining Facebook and has previously worked for the John Kerry for President campaign and the Democratic Congressional Campaign Committee.
The 2015 email featured in the article shows that Vadym Pozharskyi, an adviser to Burisma, thanked Hunter Biden for "giving an opportunity" to meet former Vice President Joe Biden.
The story is popular as the Presidential candidate has previously said he has "never spoken to my son about his overseas business dealings."
The email featured in the article was also sent less than eight months before then-Vice President Joe Biden admitted to pressuring Ukrainian President Petro Poroshenko and Prime Minister Arseniy Yatsenyuk into firing Prosecutor General Viktor Shokin during a December 2015 trip to Kiev by threatening to withhold a $1 billion US loan guarantee.
Shokin has said that at the time of his firing, he was planning crime-investigation procedures against all members of the executive board of the energy company Burisma which included Hunter Biden.
The emails were reportedly contained on a laptop that was handed to a repair shop in Delaware in April 2019, according to the store's owner, and both the laptop and its hard drive were seized by the FBI in December.
This is the first time Facebook has admitted that it will be intentionally suppressing a story about a presidential candidate before it has been fact-checked. When Facebook fact-checks a story, its viewership tanks by 95% and this pre-emptive censorship could likely prevent millions of users from seeing the New York Post's story.
Journalist Glenn Greenwald described Facebook's unprecedented action of "actively controlling the news and discourse" as "a terrifying threat."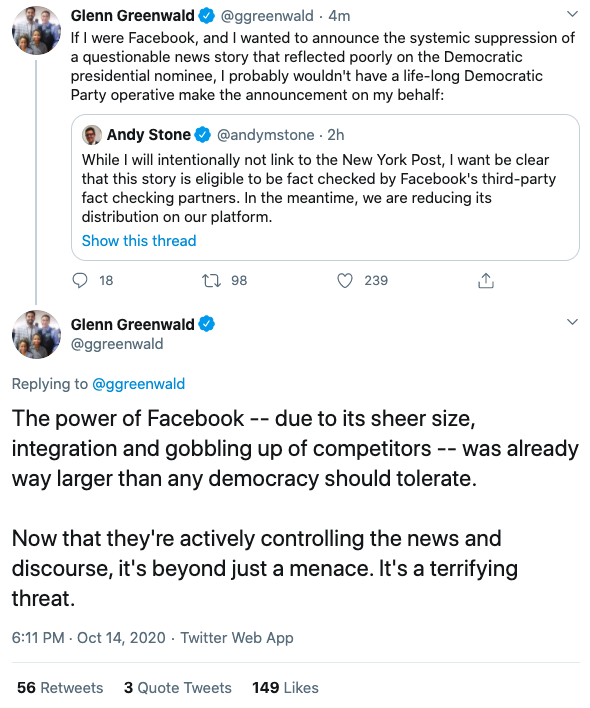 Senator Josh Hawley demanded that Facebook explain why it's censoring a news report about "potentially illegal corruption by the Democrat candidate for president" and added that if the company has evidence of the story being false, it should disclose it immediately.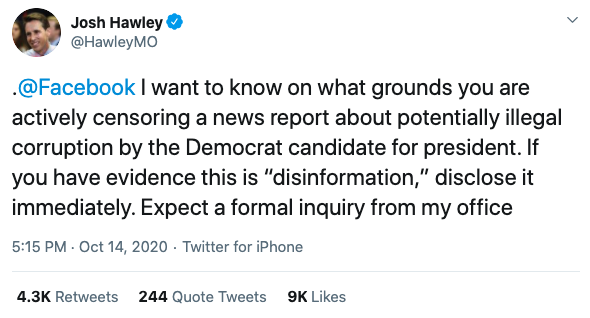 Former acting Director of National Intelligence blasted Facebook for allowing a "Democrat at Facebook" to manipulate the news.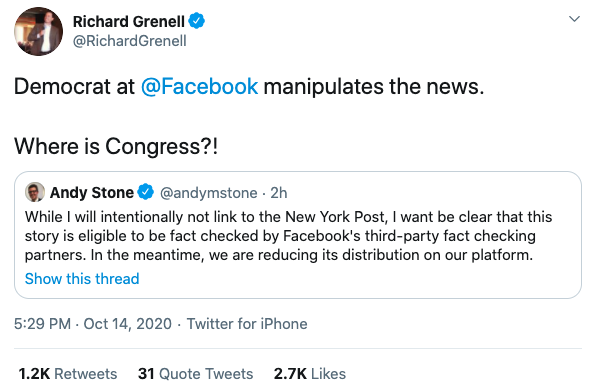 The Federalist's Senior Editor Mollie Hemingway described Facebook's suppression of the story as an open admission of "interference in a U.S. presidential election by blatantly censoring media outlets that print negative facts about their preferred presidential candidate, Joe Biden."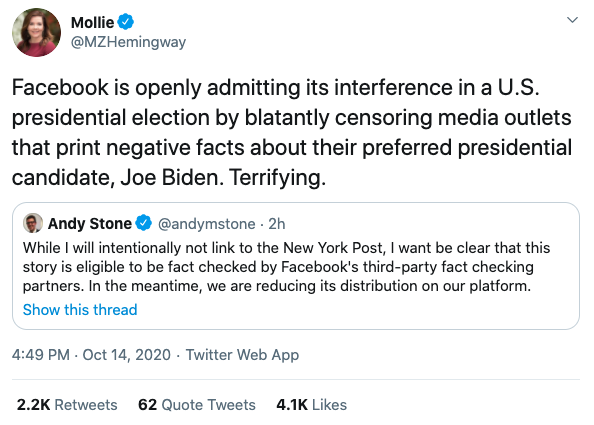 The development sets a concerning new censorship precedent where Facebook can arbitrarily decide that some stories will be subject to stricter censorship standards, even when they've not been reviewed for potential community guidelines violations.
And even the protections Facebook usually affords to mainstream media outlets aren't enough to prevent these stories from being censored with the subject of the story seemingly driving these arbitrary censorship decisions.