2020 has (so far) been marked by two major crises, one global, the other local to the US; and while the first, that of the coronavirus epidemic, is now overshadowed in some media reports by the more recent one – it's still the one to watch.
The way the pandemic has disrupted and rearranged economies and lifestyles around the world will only become apparent in the time ahead – and when that happens, some will no doubt want to go back and investigate how the crisis played out in the media at its peak, and even how the media influenced it.
But it looks like whatever record Facebook content provides for that future reporter – it won't be particularly useful.
The social network that "speaks for" over 2 billion people is mired in attempts to strike some sort of artificial balance of censorship – while all it seems to achieve is even more damage to its reputation as a platform/publisher.
Facebook's "moderation" relies on two methods that are at this point so lacking that it's shocking to see a global behemoth with any sense of accountability rely on them: some fairly crude AI (machine learning algorithms), plus, third-party fact-checkers (that run the gamut of being merely incompetent all the way to ill-intentioned.)
And that's how we get to this point it time: Alex Berenson, a noted coronavirus narrative skeptic and former NYT reporter, saying that Facebook is making a huge mistake by "fact-checking" and then flagging posts by CNBC and the World Health Organization (WHO).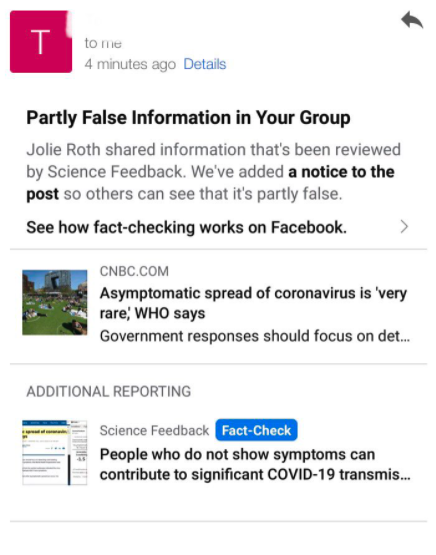 But it looks like Facebook's censors have simply been slow to pick up on the ever-changing story coming out of the WHO.
It used to be that "asymptomatic" carriers of coronavirus were very contagious to others. Now, the WHO says this is actually "rare."
CNBC dutifully reports about it – but Facebook calls the report "partly false" (whatever that actually means.)
"This is a massively stupid overreach by Facebook – not just because they are implicitly challenging the WHO, but because the more they do, the more they take responsibility for EVERYTHING posted on their site, no matter how libelous or dangerous," Berenson said.
And remember, Facebook recently said that if it caught you consuming too much "misinformation," it would purposely show you extra articles from the WHO. So what does it mean now that Facebook is fact-checking the WHO itself?
It just shows how much of a mess Facebook's overreaching censorship has become.