David Banks, a school board member of Cobb County, Georgia, is now at the receiving end of backlash after he referred to COVID-19 as the "China virus" in an email he sent. Facebook moms in Cobb County were outraged and several demanded that he must resign and step down from his position on the board.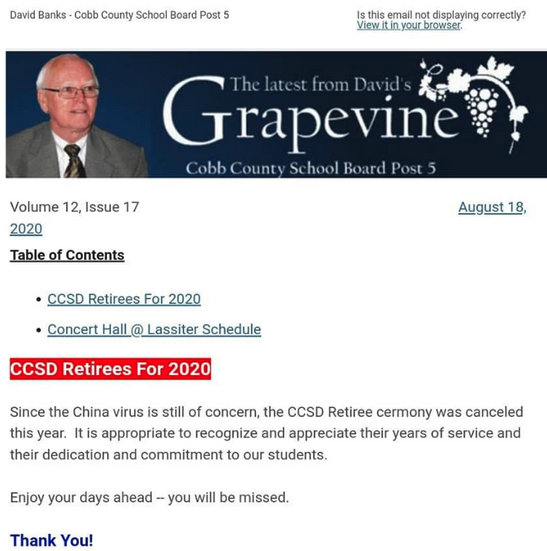 "We have been in this district for a year and I'm appalled and disheartened by his callousness and ignorance to the current environment. He should resign immediately," said Brainne Skinner, a resident of the district.
"Our educators should be held to a high standard of promoting factual, science-based knowledge, and terminology in communications. Our school district motto literally contains 'One Team,' and Mr. Banks is using politically charged language that alienates 10% of our district. Words are important, and this type of language fosters hatred and fear, and promotes bullying."
Banks wrote about how the ceremony for the retirees of the school district was canceled due to COVID-19 concerns. "Since the China virus is still of concern, the CCSD Retiree ceremony was canceled this year. It is appropriate to recognize and appreciate their years of service and their dedication and commitment to our students. Enjoy your days ahead — you will be missed," wrote Banks.
Skinner started the calls for Banks to resign and posted about the email on Facebook and also shared a screenshot of her reply.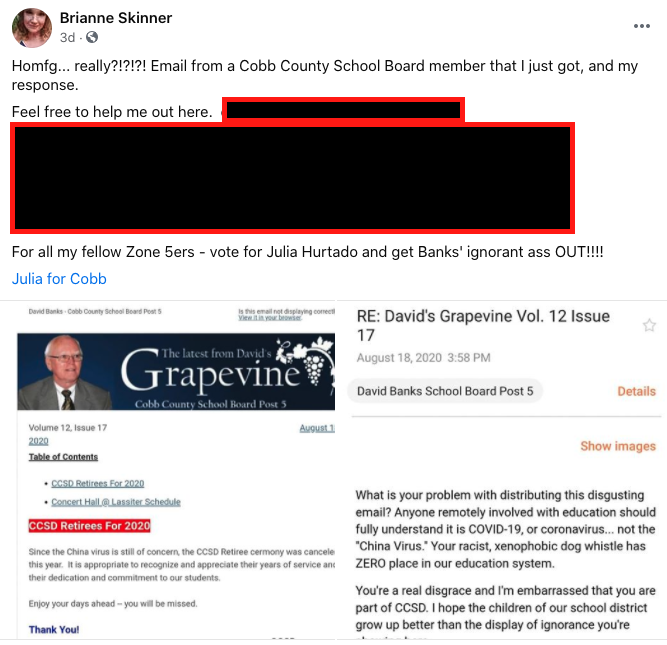 "What is your problem with distributing this disgusting email? Anyone remotely involved with education should fully understand it is COVID-19, or coronavirus… not the 'China Virus.' Your racist, xenophobic dog whistle has ZERO place in our education system," read a part of the email Skinner sent as a response to Banks' email about the canceled ceremony.
As the outrage began to pour in, a spokesperson of Cobb County said that Banks speaks for himself and not on behalf of the district. "As a District, we are entirely focused on a successful start to a very complicated school year, on our students and on our staff. Mr. Banks is an elected official and communicates his own views and opinions. His newsletters are not District communications and any Board member questions should be directed to Board members."