Facebook has caused a major decline in QAnon related hashtags and phrases just a few weeks after announcing a crackdown on Pages, Groups, and accounts linked to QAnon.
On August 19, Facebook announced a crackdown on QAnon-related accounts and Groups, creating widespread bans that even managed to hit accounts that weren't even associated with QAnon. Now, according to Facebook-owned CrowdTangle, traffic for hashtags and phrases related to QAnon have significantly fallen.
One of the most popular QAnon-related hashtags is #wwg1wga (where we go one, we go all), which had around 20,000 interactions the week before the crackdown and only 8,100 interactions last week. On Instagram, during the same period, interactions fell from 15 million to just 960k.
The phrase "The Storm," which is a rallying cry for QAnon, also registered a similar decline.
Journalists on Twitter praised Facebook's actions against the movement.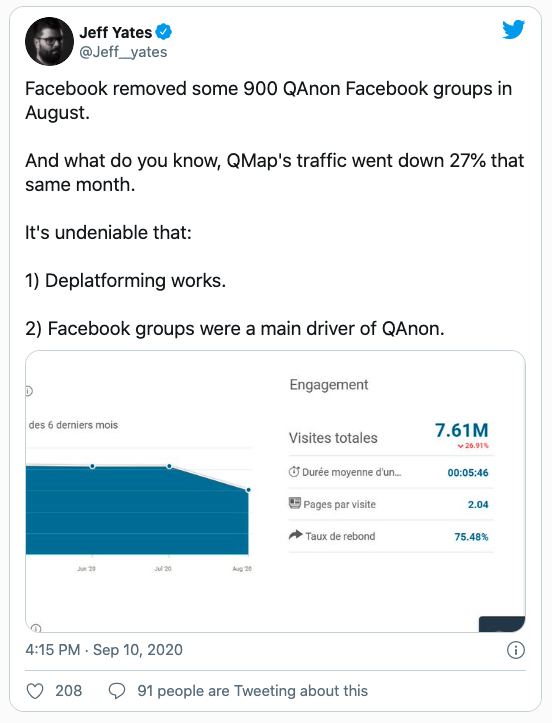 However, interestingly, the phrase "QAnon" has registered an increase in interactions, though it could be due to the movement getting much wider attention and there have been many conversations about it, not necessarily from QAnon supporters.
Though the QAnon movement has been around since 2017, it has only recently exploded in popularity.
After media pressure to suppress the movement, Facebook's crackdown saw the removal of 100 Pages and 790 Groups on Facebook and the suspension of more than 10,000 accounts.
Removing the accounts might reduce the popularity of QAnon on social media, but the movement has moved into political topics that will likely be impossible for Facebook to accurately shut down without causing other unrelated accounts to get caught up in the purge, as with what happened on August 19th.