Facebook and Twitter are blocking links to London Real's Digital Freedom Platform (freedomplatform.tv) which is hosting the documentary "Plandemic: Indoctornation".
The documentary covers the Global Monitoring Preparedness Board which is part of the World Health Organization (WHO). Its board members include Dr. Chris Elias who is President of Global Development at the Bill & Melinda Gates Foundation, Dr. Anthony Fauci who is the Director of the National Institute of Allergy and Infectious Diseases (NIH), and Dr. George F. Guo who is the Director-General for the Chinese Center for Disease Control and Prevention.
It also covers one of the board's recommendations in a September 2019 report that by September 2020, two global pandemic preparedness exercises have to be completed and that one of them has to be done on the release of a respiratory pathogen.
Additionally, it contains clips from a follow up interview with Dr. Judy Mikovits from Plandemic part one.
The documentary is a sequel to Plandemic part one and buzz had been building up across social media for part two.
But Facebook users who attempt to link to Plandemic: Indoctornation or any other pages from the Digital Freedom Platform will be prevented from posting it and presented with a warning message that states: "This URL goes against our Community Standards on spam."

Twitter users can post links to the documentary and other videos on the Digital Freedom Platform but users who attempt to open these link will be presented with a warning page that states: "Warning: This link may be unsafe."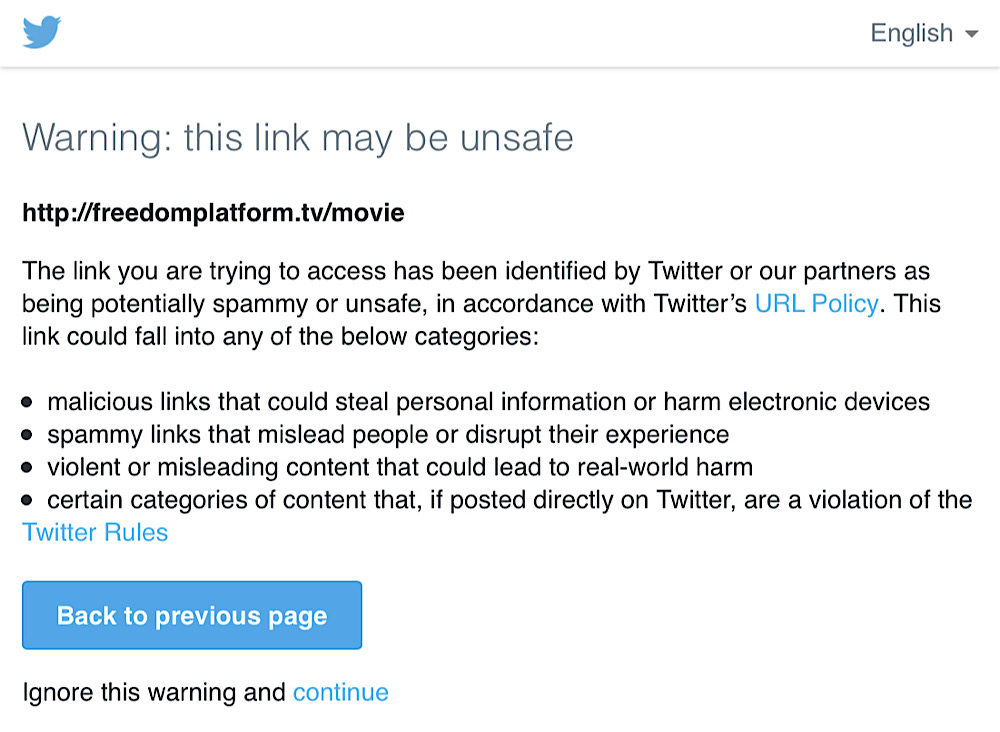 In the 24 hours leading up to the premiere of Plandemic: Indoctornation, many media journalists had pushed the tech giants to get ready to take action against the documentary and some had flagged posts about the documentary to the social media platforms.
The censorship of the Plandemic: Indoctornation is similar to the actions Big Tech took against Plandemic part one in May with that video being taken down for violating their misinformation rules. Google Drive even took down a user's personal copy of Plandemic part one.
Big Tech's censorship of Plandemic part one was one of the first major demonstrations of these social media platforms' power to crush viral videos.
Since then, the tech giants have exercised this power against viral videos on an increasingly consistent bias with multiple social media platforms censoring the America's Frontline Doctors press conference in July and deleting Infowars correspondent Millie Weaver's Shadowgate documentary in August. Both videos had accrued millions of views before Big Tech took them down.
The blocking of Digital Freedom Platform at the domain level means that many other popular videos hosted on the platform are also being blocked by Facebook and Twitter including London Real founder and host Brian Rose's series of interviews with author and public speaker David Icke and Plandemic part one.
London Real built the Digital Freedom Platform as a way to avoid Big Tech censorship after Rose's first interview with Icke was censored across social media.
But even when those who are censored build their own platforms to host content, the censorship continues at the domain level.
Infowars' video platform Banned.video, YouTube alternative Brighteon, and YouTube alternative BitChute are some of the many platforms that have been subject to this domain level censorship.