Two Facebook insiders have come forward to investigative reporting outlet Project Veritas with leaked internal documents that reveal Facebook has been testing a "Vaccine Hesitance Comment Demotion" system and suppressing both truthful news stories and personal testimony on the vaccine.
The leaked documents state that the goal of this Vaccine Hesitance Comment Demotion system is to "drastically reduce user exposure to vaccine hesitancy (VH) in comments" and reveal that the system is being run on 1.5% of Facebook and Instagram's collective 3.8 billion worldwide users. They add that during this test phase, likes on these so-called vaccine hesitant comments have been reduced by 42.5% and that around 176,000 total likes have been removed.
According to one of the Facebook insiders, a Facebook data center technician, this system uses classifiers in its algorithm to secretly determine "vaccine hesitancy" and assign a score called the "VH Score" ("Vaccine Hesitance Score") to content. If the algorithm can't make a decision, human raters step in and decide whether content is "vaccine hesitant." This VH score then determines whether content gets demoted.
One of the leaked documents also revealed that these human raters only watch 60 seconds of a video, regardless of its length, before deciding whether it's vaccine hesitant.

The insider described this system as an example of the difference between Facebook's public policy and private policy with the public policy being kept vague and ambiguous while the private policy is more specific.
The insider added that they think Facebook is "trying to make it seem like they're not doing as much" and that Facebook doesn't want people to know that it's made something "specifically for vaccine hesitance."
This Facebook insider also discussed how simply reacting to a truthful news story about the vaccine or sharing your own personal experience with the vaccine could result in your post being suppressed under Facebook's existing policy which targets "content that does not break these rules, but could still discourage someone from getting vaccinated."
According to the insider, writing "How is this not scary?" in response to screenshots of truthful posts about people who died after taking the COVID-19 vaccine or "Excruciating pain after my second vaccine! Shaking so bad almost to convulsions" is deemed to be "indirect discouragement" by Facebook which then results in the post being suppressed.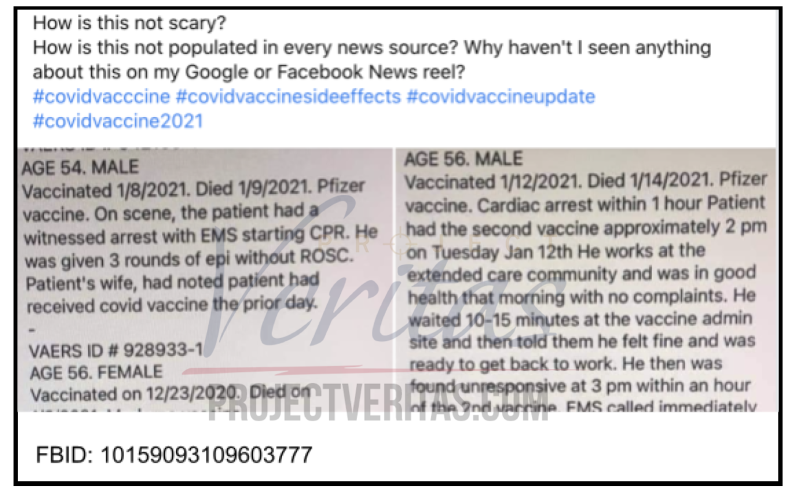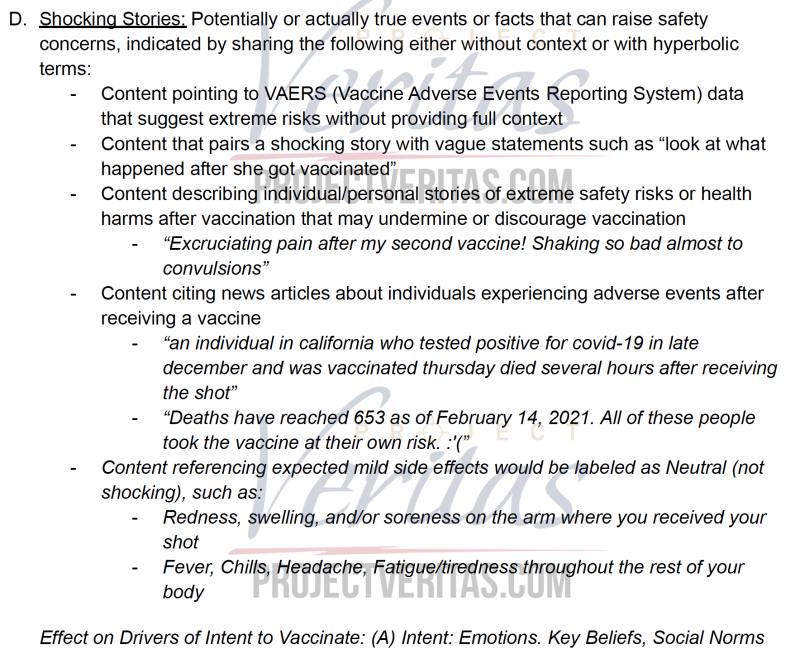 The insider explained that this suppression is because "they [Facebook] don't want people to see someone had a bad effect" and that the truth doesn't matter to Facebook if "it doesn't match the narrative" with the narrative being, "Get the vaccine, the vaccine is good for you. Everyone should get it. And if you don't, you will be singled out as an enemy of society."
According to the insider, Facebook has entire teams dedicated to developing these vaccine hesitancy classifiers. And one of the leaked documents shows one of the heads of these teams just a few levels below Facebook CEO Mark Zuckerberg in an organizational flow chart.
Another revelation from the leaked documents is that Facebook monitors comments for mentions of the Vaccine Adverse Events Reporting System (VAERS), a "national early warning system to detect possible safety problems in U.S.-licensed vaccines" that is co-managed by the Centers for Disease Control and Prevention (CDC) and the US Food and Drug Administration (FDA), and flags any VAERS mentions that suggests "extreme risk without providing full context."

The Facebook insider noted that Facebook's use of "full context" to justify when content gets flagged is another example of the company's use of ambiguous terms in its policies and suggested this term could be used selectively against studies Facebook doesn't like.
The Facebook insider also said at least 25% of Facebook's employees agree that the tech giant's censorship of vaccine hesitance is "morally wrong."
The other Facebook insider, a data center facility engineer who was the source of a previous leaked video showing Zuckerberg's personal opinion on vaccines conflicting with Facebook's rules, said this Vaccine Hesitance Comment Demotion system prohibits people from "being able to have an open dialog about issues that affect their personal security" and compared Facebook's treatment of its users to an "abusive" relationship.
This Facebook insider also questioned why Zuckerberg claims to support freedom of expression yet won't "support freedom of expression in the most basic sense, that's available to all people everywhere: which is to exist as God created them without any interference or intrusion by any interference or intrusion by any corporation or government to exist as they are."