Dr. Anthony Fauci, who will be retiring soon, used what is meant to be his final White House press conference to criticize the "tireless" online Covid "misinformation" spreaders, and said he had no issue testifying before Congress when he is investigated.
Republicans won the majority in the House and, in January, will chair the House Committees.
"I have no trouble testifying… I have nothing to hide," Dr. Fauci said during the briefing. He added that he has testified many times before. The infectious diseases expert has been at the National Institute of Health for 54 years, spending the last 38 years heading the National Institute of Allergy and Infectious Diseases.
"We can defend and explain and stand by everything that we've said," he said.
Fauci said that his only regrets over the three years of the pandemic was that he was not clear in the early days that his recommendations would change as new data came in and for not being forceful enough in countering what he said was misinformation about the vaccines.
"The other side that just keeps putting out misinformation and disinformation seems to be tireless in that effort," he said.
Many Republicans criticized Fauci for promoting measures such as lockdowns.
Some Republicans that ran for office in the midterms went as far as calling for an investigation into Fauci and the allegations of his colluding with Big Tech platforms to censor.
"He thinks resigning will prevent him from being held accountable. He's wrong. We'll be bringing him in ASAP," Arizona Rep. Andy Biggs wrote on Twitter.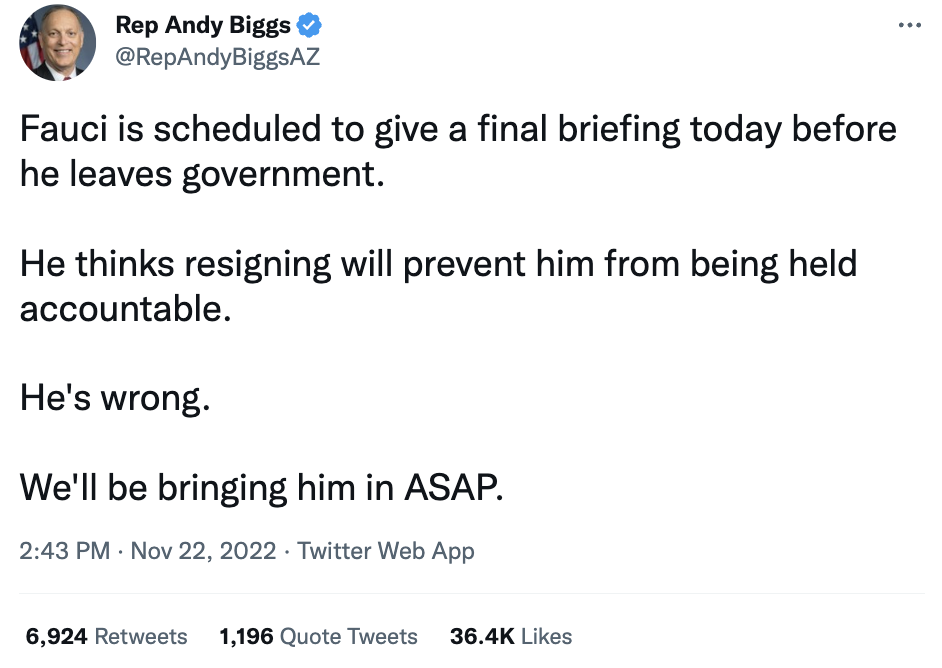 Fauci's press briefing at the White House was an attempt by the Biden administration to encourage Americans to take the bivalent booster, which they claim is more effective against the latest strain of COVID-19. Only 13% of the country's population have taken the booster so far.
"When I see people in this country because of the divisiveness in our country, not getting vaccinated for reasons that have nothing to do with public health but have to do because of divisiveness and ideological differences, as a physician, it pains me because I don't want to see anybody get infected," Fauci said.