Acoustic guitar teacher Gareth Evans' YouTube channel is being threatened with deletion after receiving three copyright strikes on videos that he says are "self made, transformative, and therefore fall within fair use."
Evans has been creating YouTube content for 11 years. During that time, he's uploaded over 500 videos, had over 120 million video views, and his channel has grown to more than 770,000 subscribers.
Evans said that the initial copyright strike, which hit his channel on August 27, was the first copyright strike he'd ever received during his 11 years on YouTube.
Since that first strike, Evans says that his channel has been hit with four additional strikes from two different claimants. As a result, Evans' channel will now be deleted on September 27 unless at least three of the strikes are removed.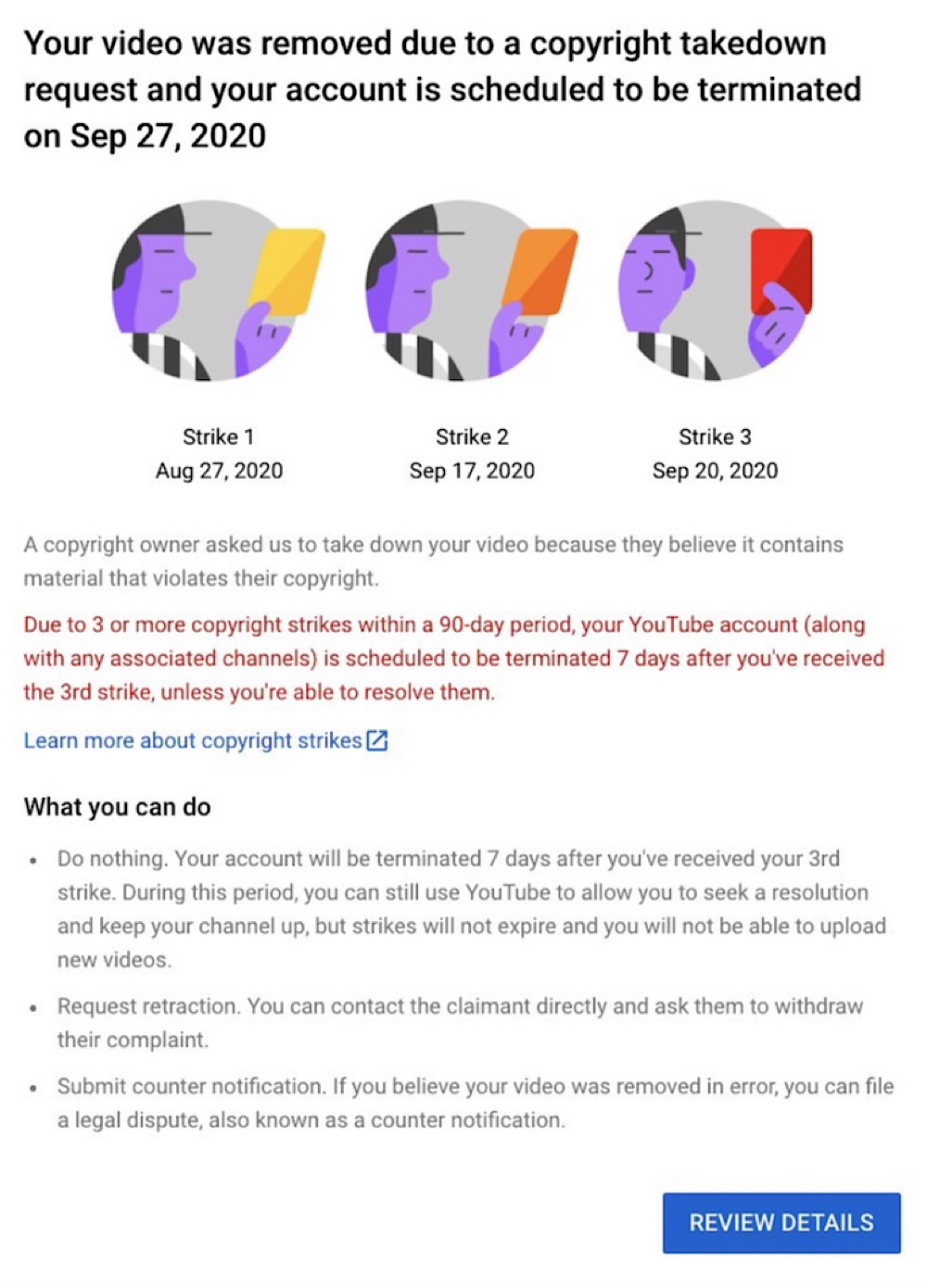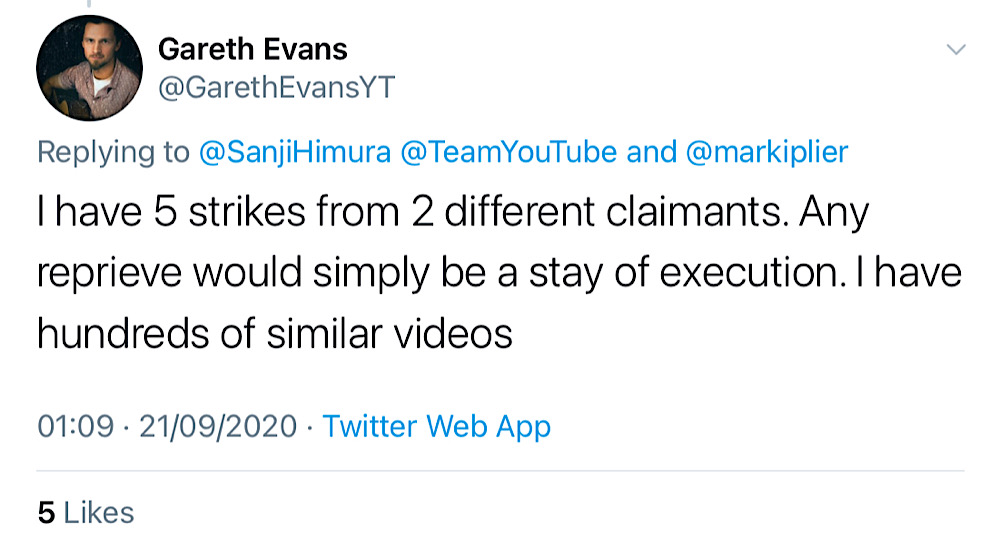 According to Evans, the first copyright strike was from "MUSO TNT LTD" on a tabs video for the song 7 Years by Lukas Graham where he plays his interpretation of the song. The claim was made on behalf of Faber Music Ltd – a company that distributes guitar tabs and sheet music online.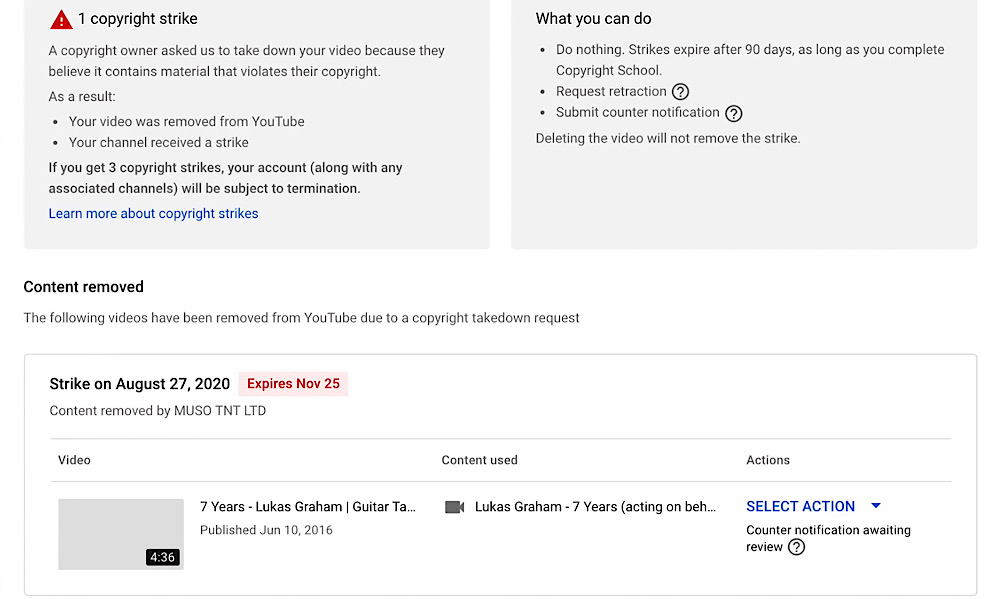 Evans adds that MUSO TNT LTD had also sent two Digital Millennium Copyright Act (DMCA) notices to Weebly, the company that hosts his website, claiming copyright on tabs hosted on his website. Additionally, MUSO TNT LTD had filed a copyright strike against a tabs video on his second channel.
Evans says that YouTube didn't provide any information on the parts of his videos that were in violation of copyright laws but he presumes MUSO TNT LTD is attempting to claim the tabs in his videos are in violation of its clients' rights.
However, Evans notes that he wrote the tabs himself and argues that his 7 Years video should fall under fair use – a provision in copyright law that allows the use of copyrighted material without permission from the copyright holder:
"I didn't reproduce anybody else's tabs or anybody else's version of that song. I made that version of the song from scratch and that version of the tabs. Everything in that video was made by me. And they're all derivative of the original song, they're not copied from that song, they're a derivative of, which in my eyes, therefore, should fall under the fair use under copyright law."
Evans said he's disputed the first strike and has attempted to submit counter notifications but was told: "We think it's possible you are misusing our counter notification process."
Evans added that YouTube provided little information on the subsequent strikes, that he has no idea which aspect of his videos are being claimed, and that his channel uploads are now frozen.

Evans has attempted to communicate the issue to YouTube but instead of getting help with his specific situation, he was directed to generic YouTube support articles.
Copyright lawyer Leonard French weighed in on the situation and tweeted: "My best not-legal-advice, non-binding understanding is that basic chord patterns are not copyrightable unless they are long enough and specific enough to cross an undefined threshold that would have to be argued to a court."
French added:
"The law, 17 U.S.C. 512(g) says that, upon receipt of a counter-notification, the disputed material goes back up and the matter is left for the parties to resolve in court.

Youtube isn't honoring counter-notices."
If Evans' channel is deleted in response to these copyright strikes, not only will he lose all the videos and subscribers that he's built over 11 years but his website lessons will also become redundant because he hosts all his videos on YouTube.
Evans says that he relies on the channel to provide for his family and that the loss of the channel would ruin him financially.
Evans' experience is reflective of many other YouTube creators that have found their content or entire channels threatened after questionable copyright claims.
While many creators have criticized the way YouTube's current copyright system allows companies and entities to claim or strike videos without proving that they hold the copyright, there are no signs that YouTube plans to make any changes in this area.
This means that for now, driving mass attention to specific cases is usually the only way for creators to get issues like this resolved.