GETTR, a new social media platform that is being promoted as a less censorship-prone alternative to Twitter, grew by 230K+ users in a single day, CEO Jason Miller announced.
The platform saw a boost in new sign-ups after Joe Rogan and Dr. Robert Malone also joined and on the same day that Congresswoman Marjorie Taylor Green was banned from Twitter. While Rogan still remains on Twitter, Malone recently got suspended.
GETTR's promise of focusing on giving a voice to independent thinkers and rejecting political censorship and cancel culture are playing a significant role in more people, including high profile ones, joining – as established mainstream social sites like Twitter continue to tighten their censorship screws.
Rogan, who is the biggest star in the podcasting world, joined GETTR to keep his options open in case, as he put it when he announced his decision, "shit over on Twitter gets even dumber."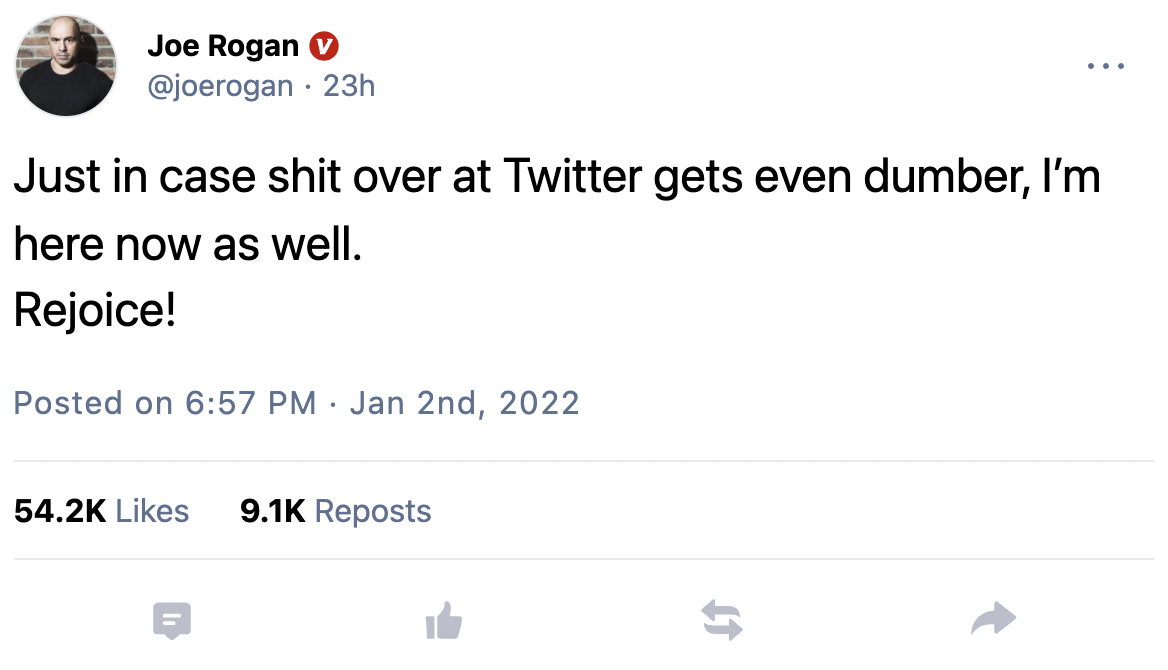 The approach to COVID, pandemic mandates, and vaccines, has long since taken on political overtones rather than simply medical and scientific issues. However, Twitter says its often heavy-handed censorship is based solely on the latter; but many on the receiving end disagree, and look for alternatives.
What Rogan and Malone have in common, other than now being on GETTR, is a recent interview Malone did on Rogan's podcast, when they spoke about Twitter banning Malone.
According to Rogan, Big Tech and Twitter with it have "a censorship agenda and narrative" around COVID and the doctor got silenced and excluded from the conversation for not conforming with those.
Malone, whose Twitter account had half a million followers, became known not only as an early pioneer to the mRNA technology, but also a critic of obligatory vaccination and restrictive COVID protocols. In his interview with Rogan after the suspension, he said his goal on social media has been to provide information that would allow people to think for themselves, rather than tell them what to think.
"Big Tech is censoring itself into irrelevance. It's clear deplatforming President Trump was just the beginning in their war on free speech and now they're coming for anyone who doesn't conform to their worldview," said GETTR Chief Executive Officer Jason Miller in a statement.
"The incredible growth we are experiencing at GETTR is proof that people are waking up to this dangerous reality and are hungry for an alternative which protects freedom of expression. Silicon Valley is officially on notice: GETTR is better."