Gina Carano, the MMA champion and actress that has featured in a number of successful franchises including Star Wars' The Mandalorian and Fast & Furious, is going against the grain of Hollywood elites and is waging a war against cancel culture – especially against those who are incessantly attacking her on Twitter after she refused to cater to the demands of radical activists and include "pronouns" in her bio.
The actress, however, has been standing her ground by not changing her bio and was accused of mocking activists by adding to her name "boop/bop/beep."
"They're mad cuz I won't put pronouns in my bio to show my support for trans lives. After months of harassing me in every way. I decided to put 3 VERY controversial words in my bio.. beep/bop/boop," tweeted Carano.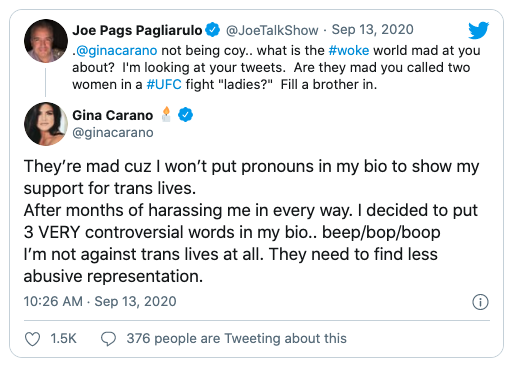 "Beep/bop/boop has zero to do with mocking trans people & [everything] to do with exposing the bullying mentality of the mob that has taken over the voices of many genuine causes."
Drawing attention to how the mobs have been abusive towards her as she refused to comply by their demands, Carano wrote the following on Twitter:
"I don't think trans people would like all of you trying to force a woman to put something in her bio through harassment & name calling EVERYDAY for MONTHS. Such as "Racist" Transphobe" "Bitch" "Weirdo" " I hope you die" "I hope you lose your career" "your fat, you're ugly."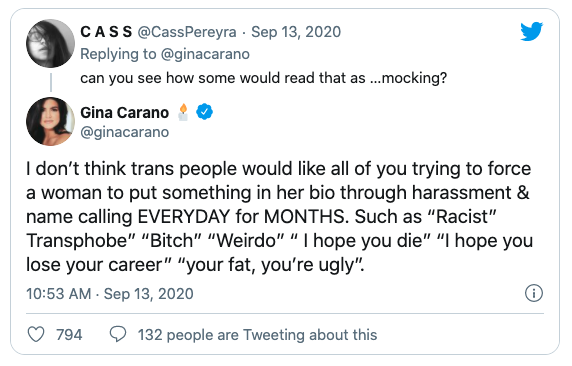 The actress had also said that she discussed the issue of pronouns with her fellow cast member Pedro Pascal and that her opinion on the matter still remains unchanged. "Yes, Pedro & I spoke & he helped me understand why people were putting them in their bios. I didn't know before, but I do now. I won't be putting them in my bio, but good for all you who choose to," she said.
Carano also said that the transgender community needed to find "less abusive representation" as the current Twitter mobs are continuously attacking her for not conforming to their rules. The actress was also accused of being racist, as she had not declared her public support for the Black Lives Matter movement in the past – something her detractors are demanding.