A Scotland-based police officer could be in hot water for her outspoken criticism on social media of the way her country's government has been handling the ongoing coronavirus crisis.
Nevertheless, however scathing it may be, Glasgow police constable (PC) Chelsea Renton's Instagram post that triggered an investigation does not appear to be crossing any apparent lines regarding what's allowed or prohibited to say in a democracy.
Her Instagram post sums up the frustration of the last six months of coronavirus pandemic in the UK and around the world as viewed by those with grievances and criticism of the manner the crisis has been handled.
For one thing, Renton called the UK government "an absolute joke" when it comes to the way they responded to the epidemic by imposing lockdowns, which, according to her, have by now proven not to work (since the country is bracing for a much-advertised "second wave."
Renton's idea is to instead of imposing more restrictions and isolation on people, allow them to go "back to normal."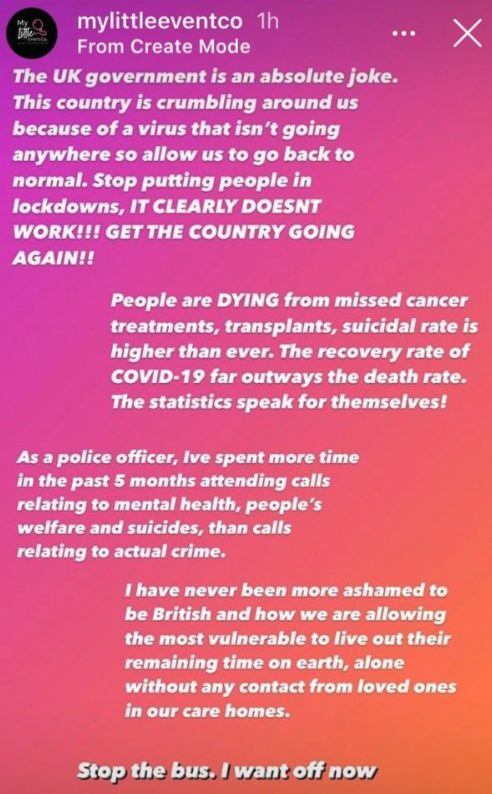 Next, she cites some of the often mentioned consequences of prolonged lockdowns, quarantining and (self) isolation. Harmful effects have been reported on people's health anywhere from their mental wellbeing (with increased suicide rates as an extreme, but not sole example of this), as well as physical health outside the threat of Covid itself.
Many people, as Renton mentions, have not been able to receive proper care in serious situations like cancer and organ transplant cases, because the healthcare system prioritizes coronavirus.
According to Renton, her last 5 months working as a policewoman have had more to do with responding to people in distress due to poor mental health, than with fighting crime.
With all this in mind, the officer said she's "never been more ashamed to be British" especially in view of another consequence of lockdowns – the elderly in nursing homes deprived of the comfort of seeing their loved ones.
But as it was revealed last year, rather suspiciously, police in Scotland can't let users on social media know about who they really are, or how they really feel:
"Officers with an online social network profile or a user of chat rooms should never reveal their personal details and under no circumstances make reference to being a police officer or display anything which clearly shows that they work for Police Scotland."
And that, apparently, is the official reason the officer is now under scrutiny.