It seems like a lifetime away now, as the world struggles to get the spread of coronavirus under control – but on March 13, James Todaro, who holds medical degree from Columbia University, posted about some potentially promising research on Twitter.
Todaro linked to a Google Doc file and said there was "growing evidence of chloroquine as a highly effective treatment for COVID-19."
COVID-19 is the disease caused by the virus, for which there has been no effective prevention or treatment to date, while chloroquine is a component in prescription drugs used to treat malaria and rheumatoid arthritis, among other conditions.
The research Todaro referred to was authored by him and two colleagues – Gregory Rigano of Johns Hopkins, and Thomas Broker of Stanford University.
Nevertheless, Google managed to block access to the linked Google Docs file for violating the giant's terms of service, as well as its anti-abuse program and enforcement.
Journalist Celine D. Ryan tweeted about this on Wednesday saying that her father previously shared a white paper on hydroxychloroquine (a chloroquine analog) with her, but that the link was now dead.
"Have you ever seen that happen with a Google doc before? Can you 'report' a gdoc?," she asks.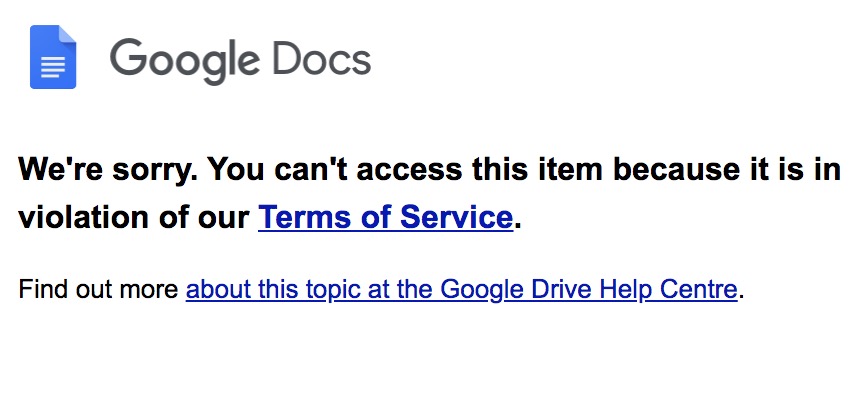 The inner workings of Google, and the way it implements its policies especially when it comes to restricting speech – and even seemingly valid scientific ideas, as in this case – is probably a topic worth a dedicated study of its own.
In the meantime, some of the Twitter users responding to Ryan were baffled both by the decision to designate the paper as a violation of terms of service and abuse policy, as well as by the nature of centralized cloud storage run by corporations, like Google Drive, that removes people's control over their own work and content.
In another tweet Ryan posted a working link to the document and asked, "Why is this being censored?"
We can only speculate. A glitch in the system? The politics of a pandemic?
What's certain is that the virus is currently disrupting people's lives and ravaging economies on an unprecedented scale, while the chloroquine treatment idea has been gaining traction since earlier this month when the paper was first presented – and you can read more about the research and follow its progress here.