Google is blocking access to a PDF document that has compiled 106 pages of screenshots of mainstream media reports about people who have allegedly experienced negative side effects or died after taking a COVID-19 vaccine and social media testimony from those who have alleged adverse vaccine reactions.
The document is titled "Informed Consent Matters" and states that "it is everyone's right to review the first-hand testimonies of the COVID vaccine adverse reactions without censorship." It adds that by giving people access to this data, they can perform their own risk benefit analysis.
It was saved to and being shared from Google's cloud storage service Google Drive.
Despite containing screenshots of stories from numerous mainstream media outlets that Google-owned YouTube regularly brands "authoritative" and gives preferential treatment to in search and recommendations, journalist Anna Brees reported that Google is now blocking the document for violating its terms of service.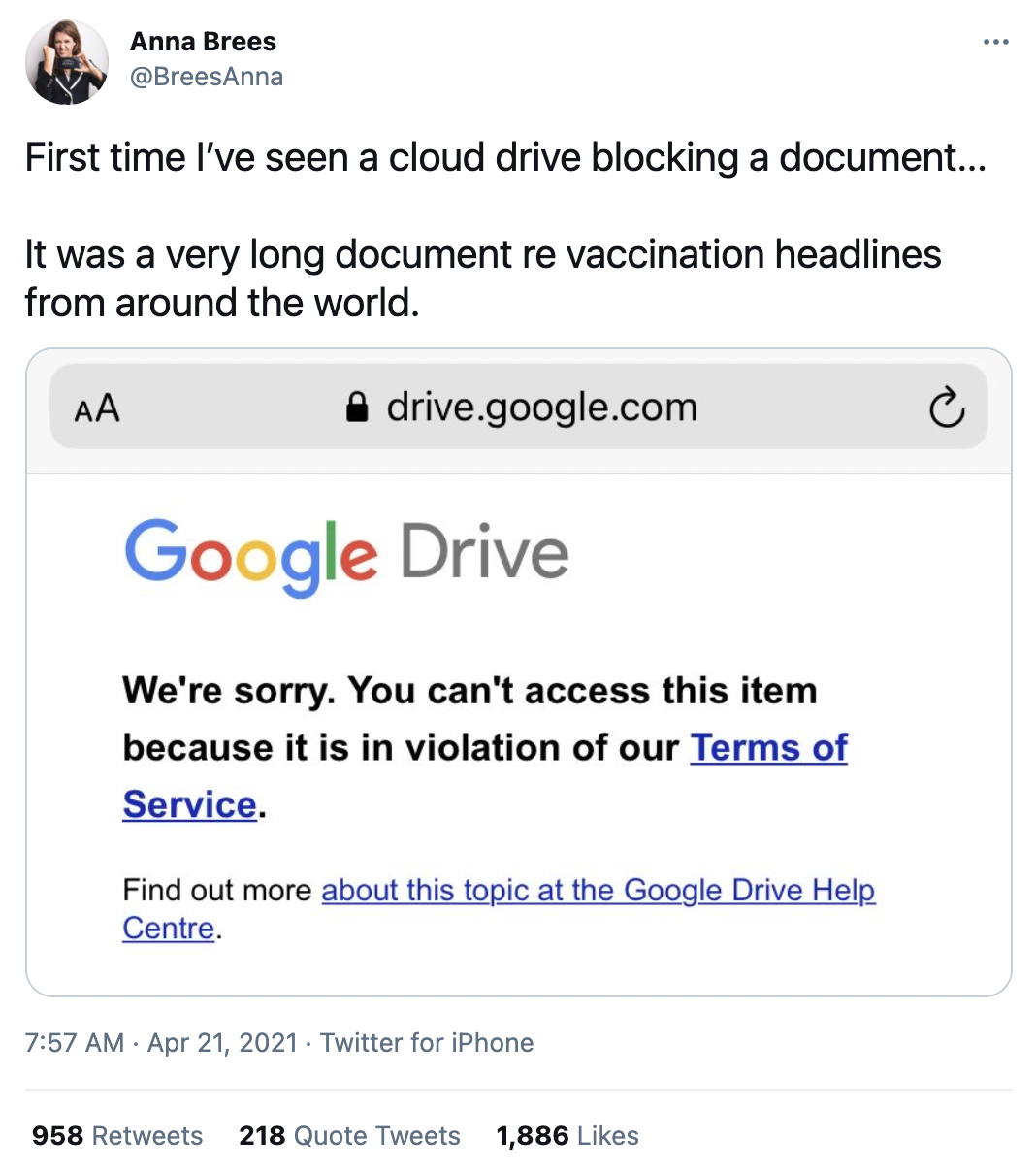 While the screenshot of the notice Google shows when blocking the document doesn't point to the specific terms that the document allegedly violates, Google presumably flagged and blocked the document for violating Google Drive's rules around "misleading content related to harmful health practices."
YouTube regularly uses a similar term, "COVID-19 misinformation," to remove videos that "contradict expert consensus from local health authorities or the World Health Organization."
For many users of cloud storage services such as Google Drive, the cloud is the only place where they have a copy of their documents and files. These users also often rely on cloud storage services to keep a personal copy of content that has been purged from public social media platforms.
Google is one of the most popular solutions in this space and has more than a billion users.
Yet now Google is starting to expand the scope of its censorship beyond public social media platforms such as YouTube and starting to police the documents people store in its cloud storage service.
Related: Private and encrypted cloud storage providers
Last year, it censored a Google Doc containing a medical hydroxychloroquine coronavirus treatment trial paper and removed a user's personal copy of Dr. Judy Mikovits' Plandemic.
Similar censorship features are also making their way into other Google storage services such as its cloud-based photo storage and sharing service Google Photos. Like Google Drive, Google Photos is one of the most popular services in its category with over one billion users. And Google is working feature that lets users flag "misleading" shared albums to the tech giant.