Big Tech's growing crackdown on "misinformation" and "misleading" content has reached the popular online photo storage service Google Photos.
App researcher Jane Manchum Wong has discovered that the service is working on the ability for users to report "misleading" shared albums.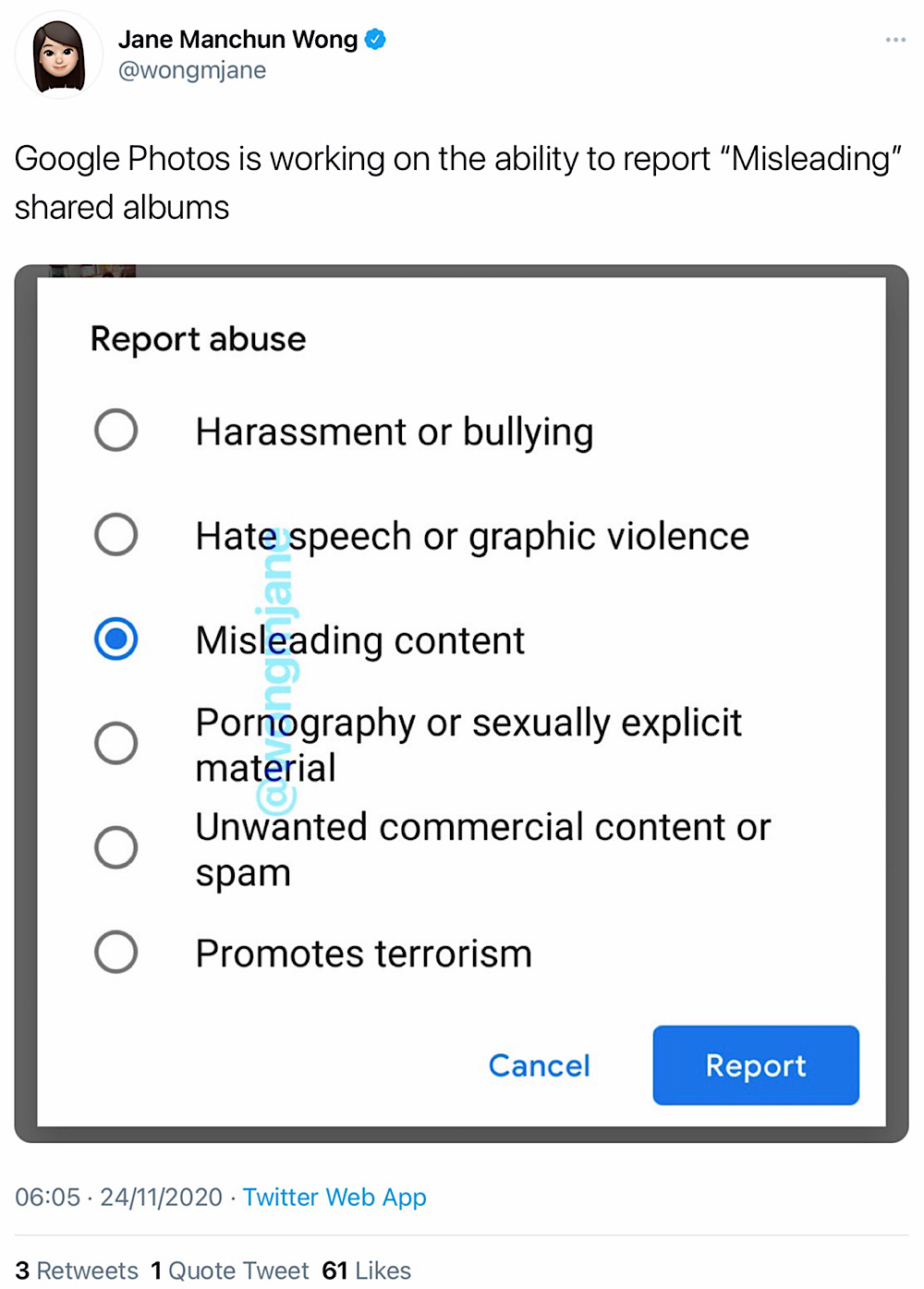 Google already outlines some of the types of content it deems to be misleading in its Google Photos "Abuse Program Policies and Enforcement" page. The page lists "misleading content related to civic and democratic processes," "misleading content related to harmful health practices," and even "manipulated media" as examples of content that violate Google Photos' policies.
These labels have been used by all of the major Big Tech platforms to mass censor public posts about the 2020 US presidential election, the coronavirus, and memes.
This development suggests that similar posts or even archives of these posts in Google Photos could now start to be flagged and censored if they're included in a shared album.
Google states that flagged content on Google Photos may be reviewed and that this review can lead to enforcement action which includes "restricting access to the content, removing the content, refusing to print the content, and limiting or terminating a user's access to Google products."
This means that if Google Photos is the sole service someone uses to store and archive their photos, they could potentially lose access to their entire photo archive as a result of Google deeming their shared albums to be misleading. And because these rules apply to all Google products, not just Google Photos, these users could also lose access to any other Google products and services that they rely on.
The development is reflective of a wider trend of Big Tech companies starting to introduce the policies they apply to public-facing social media platforms into non-public facing products and services such as file management services and private chat services.
Related: ? Big Tech's creeping censorship of private conversations
Google has applied similar enforcement measures to user's personal files on its file storage service Google Drive several times this year.
In May, Google Drive removed a user's personal copy of Judy Mikovits' Pandemic documentary after it was flagged by The Washington Post. And in March, Google blocked access to a Google Doc of medical hydroxychloroquine coronavirus treatment trial paper.
A growing number of private chat services are also implementing measures that restrict what they deem to be misinformation. Community chat app Discord has started shutting down communities for "misinformation" and Facebook-owned end-to-end encrypted chat app WhatsApp limits message forwarding to make it harder for popular stories to go viral.