Most of the major US federal government websites and numerous state and local government websites are sending real-time surveillance data back to Google as users browse their websites. Even websites where users are submitting sensitive or personal information, such as the Federal Bureau of Investigation's (FBI's) tips page and the Internal Revenue Service (IRS) website, contain tracking code that sends real-time visitor data back to Google.
Most of these government websites contain tracking code from the web traffic analytics tool Google Analytics. This code collects detailed user data which is sent to Google's servers, analyzed, and presented to website owners via an online dashboard.
Google Analytics automatically collects data on the pages visited, the time and duration of each visit, and other visitor data (such as the device, browser, operating system, and screen resolution of visitors). It can also be configured to collect data on more specific actions such as when users click or tap specific links, download content, or fill out forms.
Some government websites also have code from other Google services (such as DoubleClick, Google Adsense, Google Maps, Google Play, and YouTube) and other tech giants (such as Facebook, Microsoft, and Twitter) embedded on some of their pages.
The US government openly admits to using Google Analytics tracking code on 400 executive branch domains and 5,700 total websites. It even displays this surveillance data publicly via a real-time online dashboard which also tracks visitors with Google Analytics.
This dashboard highlights the most visited government website pages, the most downloaded content from these pages, the locations of visitors to these pages, and other visitor data (such as a breakdown of the devices, browsers, and operating systems that they use).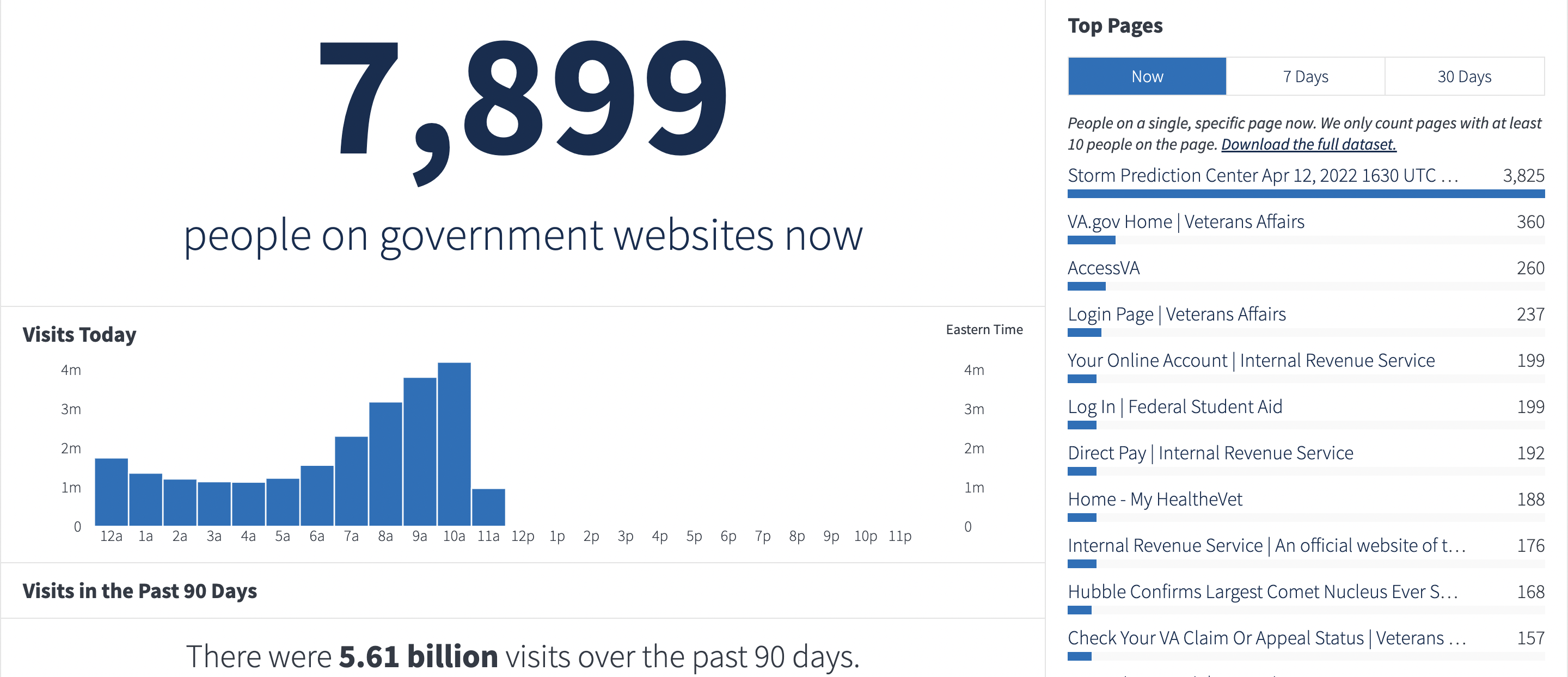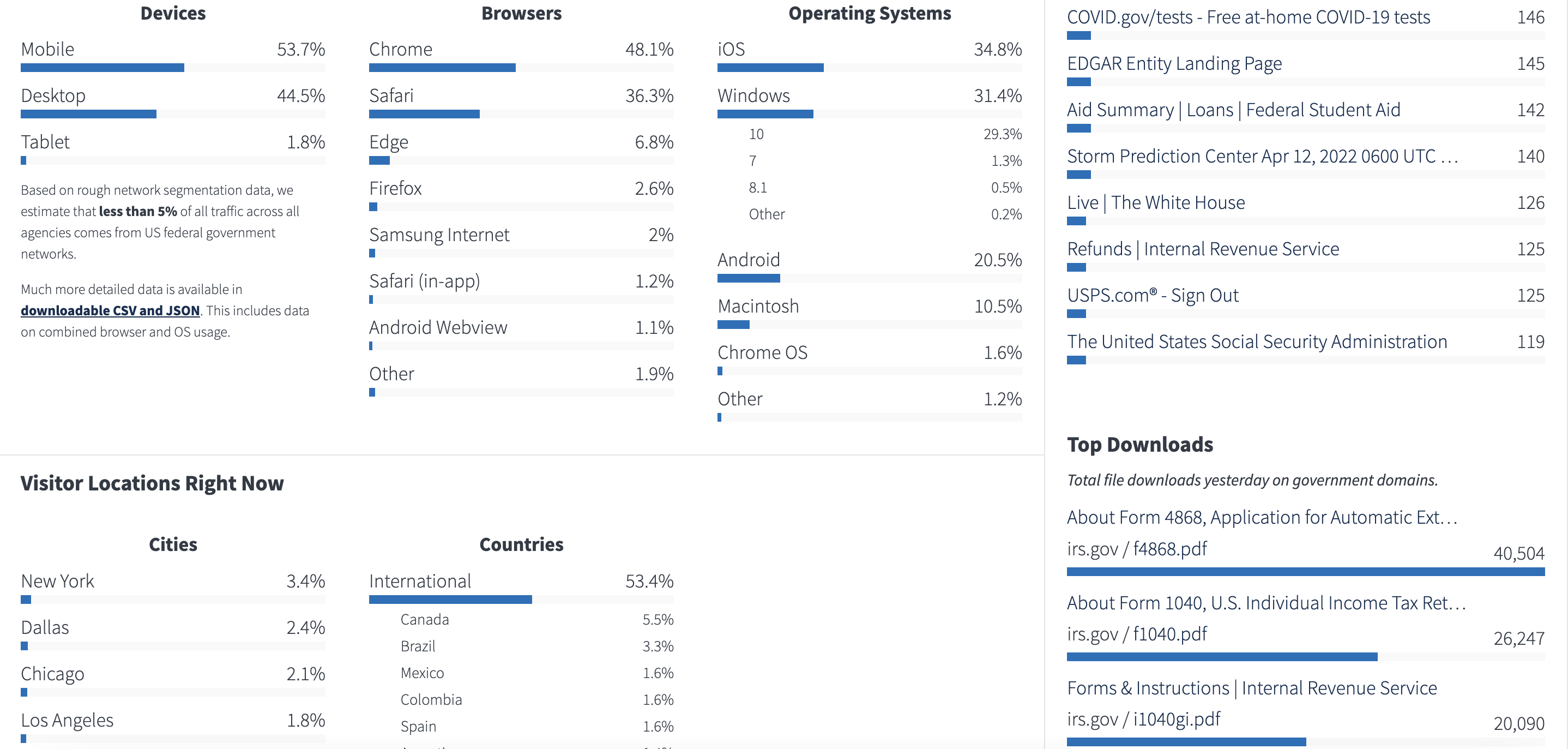 You can see the real-time dashboard here (note: you'll need to use an ad-blocker to avoid being tracked via Google Analytics).
The dashboard also links to CSV files that list the government domains and websites that contain Google Analytics tracking code.
Some of the many federal government websites that contain Google trackers include:
The White House (whitehouse.gov)
Official guide to government information and services (usa.gov)
Login portal for government services (login.gov)
US Postal Service (USPS) (usps.com)
IRS (irs.gov)
National Security Agency (NSA) (nsa.gov)
Centers for Disease Control and Prevention (CDC) (cdc.gov)
National Weather Service (weather.gov)
Social Security (ssa.gov)
Department of Veteran Affairs (va.gov)
National Park Service (nps.gov)
Vaccine search tool (vaccines.gov)
Federal Student Aid (studentaid.gov)
Identity theft reporting (identitytheft.gov)
Government digital services guidance (digital.gov)
Citizenship and Immigration Services (uscis.gov)
FBI (fbi.gov)
Department of State (state.gov)
Department of Homeland Security (DHS) (dhs.gov)
Immigration and Customs Enforcement (ICE) (ice.gov)
Drug Enforcement Administration (DEA) (dea.gov)
Bureau of Alcohol, Tobacco, Firearms and Explosives (ATF) (atf.gov)
Department of Health and Human Services (HHS) (hhs.gov)
National Institutes of Health (NIH) (nih.gov)
MedlinePlus (medlineplus.gov)
Federal Communications Commission (FCC) (fcc.gov)
Federal Trade Commission (FTC) (ftc.gov)
Food and Drug Administration (FDA) (fda.gov)
Federal Emergency Management Agency (FEMA) (fema.gov)
Department of the Treasury (home.treasury.gov)
National Aeronautics and Space Administration (NASA) (nasa.gov)
Official employment site (usajobs.gov)
Courts (uscourts.gov)
US Embassy (usembassy.gov)
Army (army.mil)
Air Force (af.mil)
Cyber Command (cybercom.mil)
Some of the many state and local government websites that contain Google trackers include:
California (ca.gov)
Texas (texas.gov)
Florida (myflorida.com)
New York State (ny.gov)
Pennsylvania (pa.gov)
Illinois (illinois.gov)
Ohio (ohio.gov)
Georgia (georgia.gov )
North Carolina (nc.gov)
Washington (access.wa.gov)
New York City (nyc.gov)
Chicago (chicago.gov)
While thousands of government websites are using Google Analytics, our analysis of the trackers on these websites via Brave browser's built-in ad-blocker revealed that some of these websites also contain code from other tech giants.
The CDC website has Microsoft code (azure.com, microsoft.com, and visualstudio.com) on some pages and the Cyber Command website has Facebook code on its homepage.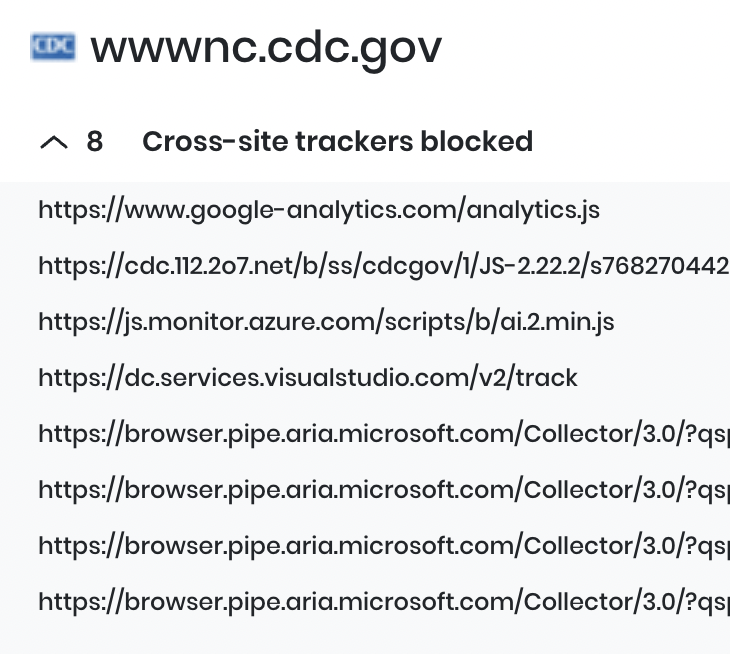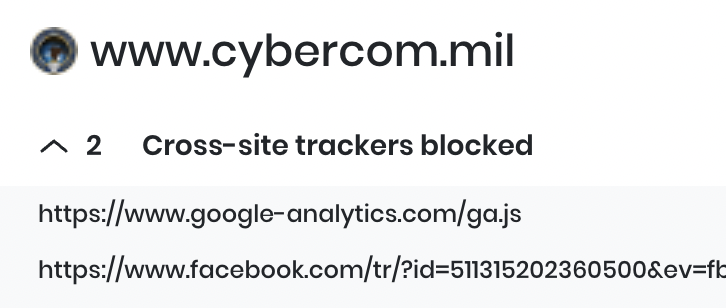 Additionally, the DHS, FCC, DEA, MedlinePlus, NASA, California, and Texas government websites have Twitter code on some of their pages.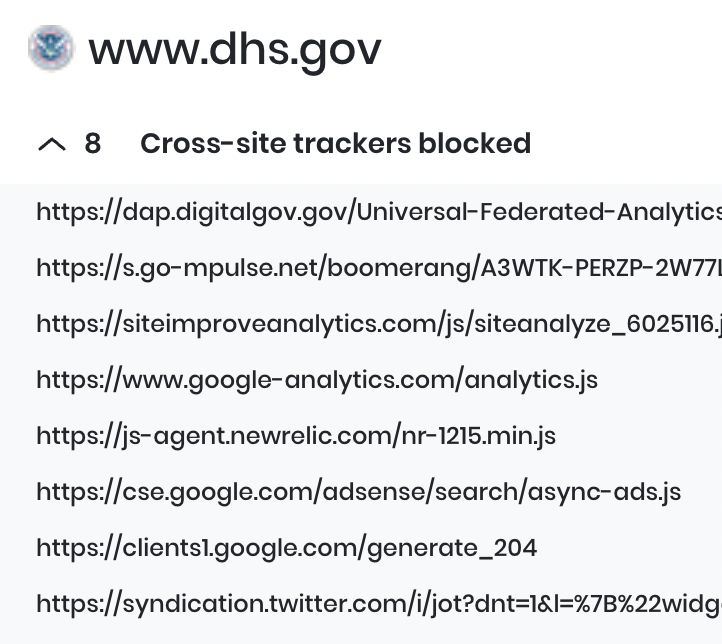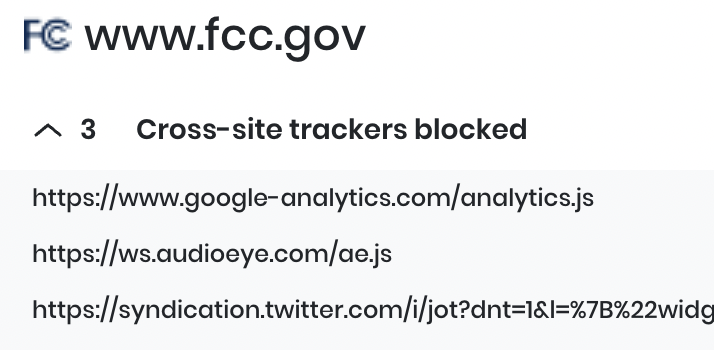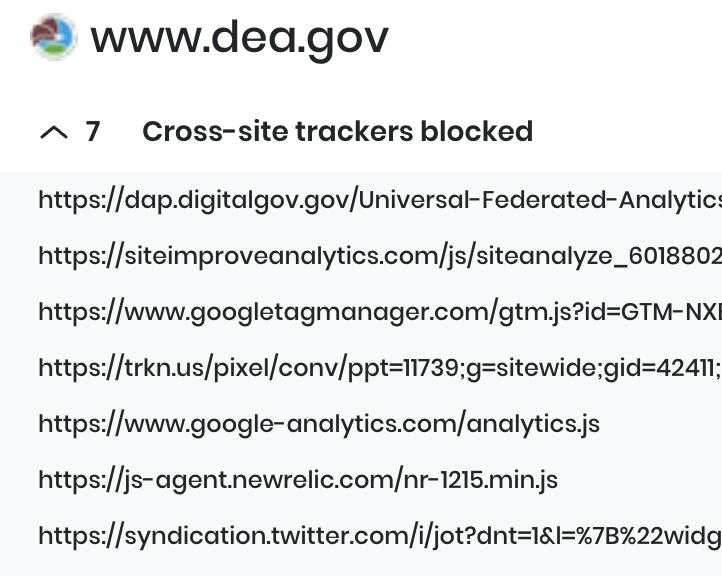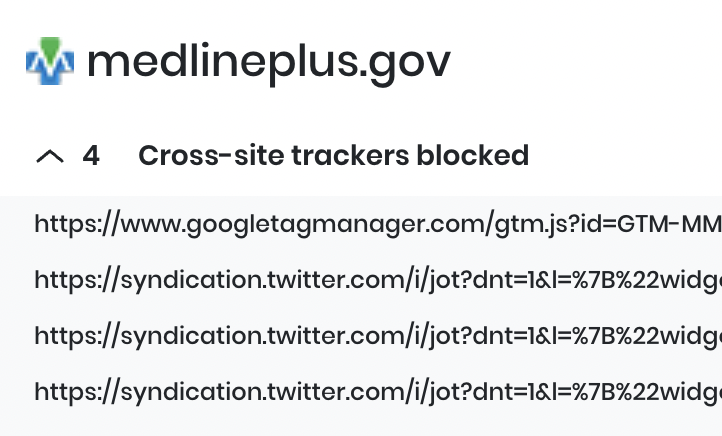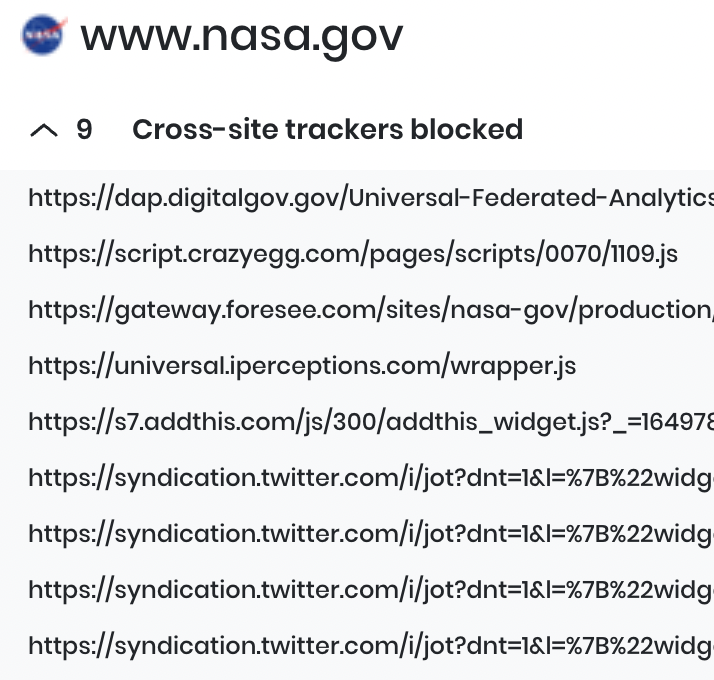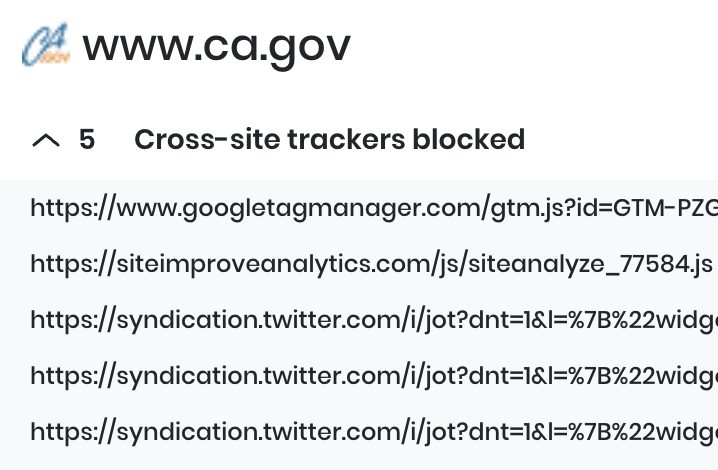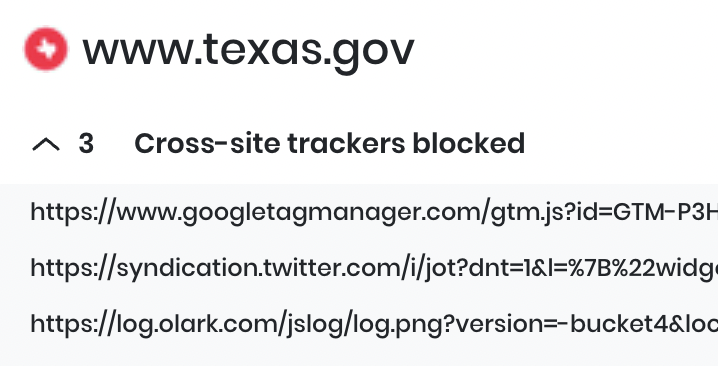 The US government insists that none of the federal government data tracked as part of its Digital Analytics Program are shared with Google's corporate advertising partners and that "no personal information that personally identifies you" is collected. Twitter also claims that it doesn't store web browsing history from .gov and .mil domains.
However, the data tracked by Google is still relatively revealing and gives the powerful tech giant real-time insights into how US citizens use government websites. For example, when citizens file their tax returns on the IRS website, Google can see, in real-time, the order that which they visit pages, click or tap links, and download forms. Not only can Google track the entire real-time journey of citizens filing their tax returns but it can also associate this data with their device, browser, operating system, and screen resolution.
Filing taxes is just one of many potentially sensitive or revealing actions US citizens can take on government websites while having their visits tracked in real-time by Google. These websites are also used to access online government services, track USPS deliveries, claim benefits, submit anonymous tips to government agencies, and more.
The government also doesn't clarify whether the data Google collects is combined with the huge amounts of data Google collects through its other services.
Related: ? Big Tech wants to partner with Biden to create a "National Cloud"
Ironically, many federal, state, and local governments are willingly sending this data to Google following public complaints from officials about the power of Big Tech.
For example, President Joe Biden has repeatedly complained about online "misinformation" and proposed privacy reforms that are aimed at the tech giants yet the White House website contains Google tracking code. Florida Governor Ron DeSantis and Texas Governor Gregg Abbott have also pushed to reign in Big Tech while their official state websites contain Google tracking code.