Two former executives of 21st Century Fox have been charged with bribery for their alleged role in a multimillion-dollar scheme involving kickbacks to Fifa officials in exchange for broadcast and marketing-related rights to some of soccer's biggest tournaments.
The two executives were named as Carlos Martinez and current Wondery podcasting network founder and CEO Hernan Lopez.
Lopez's podcast network produces shows such as Sports Wars, Business Wars, and American Scandal – and he is now accused by the Justice Department of his own American Scandal.
Read the full indictment obtained here by Reclaim The Net.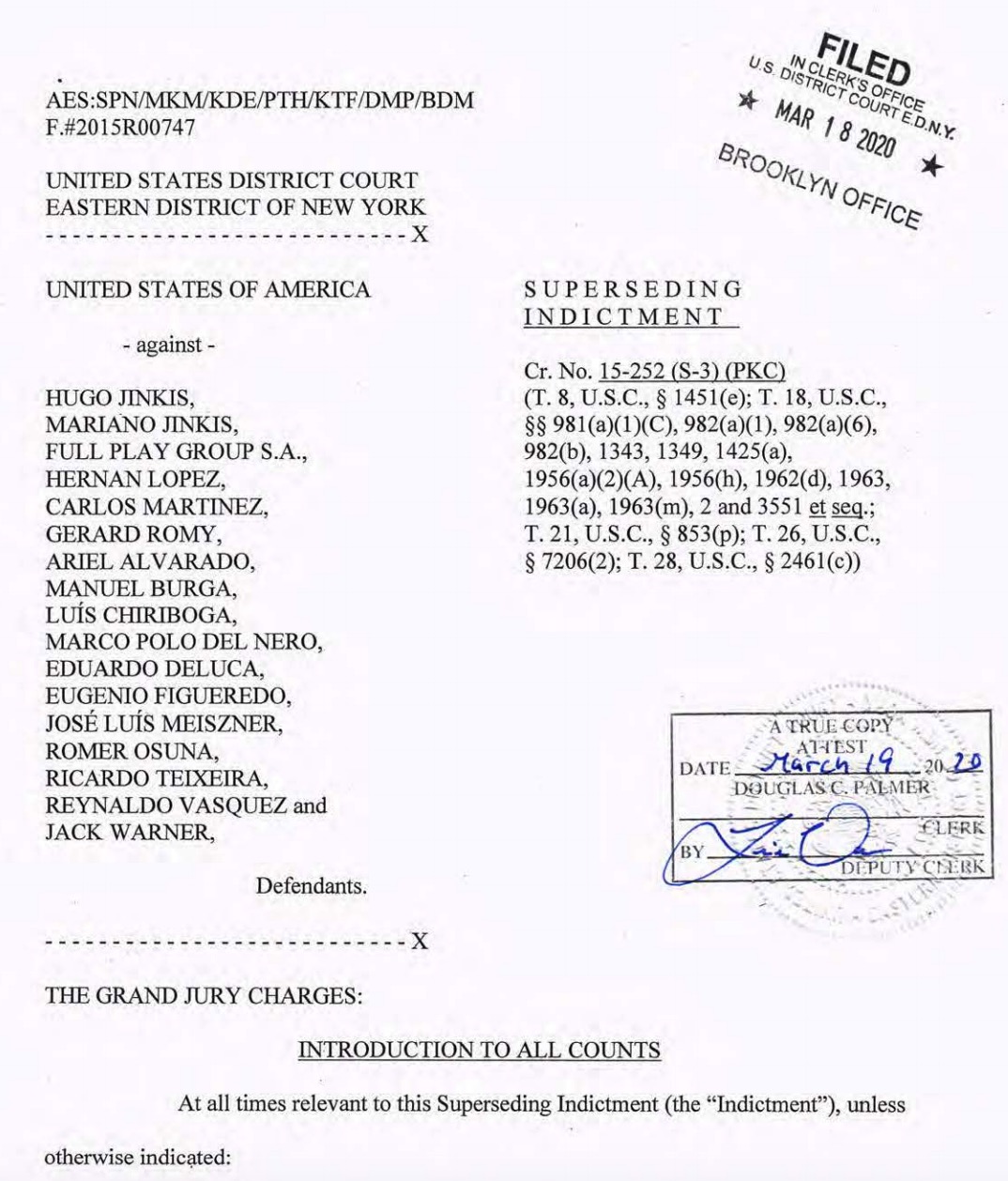 The two were charged with fraud and money laundering as well as using shell companies and bogus consulting contracts to hide their bribery activities and payments for kickbacks.
The Justice Department announced this was the result of their investigation into corruption in organized soccer.
Prosecutors said that Lopez and Martinez were able to obtain confidential bidding information and the rights for 21st Century Fox to the 2018 and 2022 World Cup tournaments.
The indictment of the two executives states that they have enriched themselves through bribery and kickback schemes that relate to the sale of media and marketing rights to various soccer tournaments and events.
This action is said to have deprived Fifa, the national member associations, national teams, youth leagues, and development programs of the full value of the said rights.
As alleged:
"Lopez and Martinez, formerly high-ranking executives of Fox subsidiaries responsible for developing and carrying out Fox's sports broadcasting businesses in Latin America, joined Full Play and other co-conspirators in a scheme involving the annual payment of millions of dollars in bribes to officials of CONMEBOL in exchange for the lucrative broadcasting rights to the Copa Libertadores, the region's most popular club tournament, among other events. Lopez and Martinez also relied on loyalty secured through the payment of bribes to certain CONMEBOL officials to advance the business interests of Fox, including to obtain confidential bidding information for the rights to broadcast the 2018 and 2022 World Cup tournaments in the United States, rights that Fox successfully obtained."
The alleged bribery is said to have had anticompetitive effects and has distorted the market for the commercial rights associated with soccer. If true, they would also undermine the ability of other sports marketing companies to compete for such rights.
Lawyers of the two accused executives defended their clients by saying that both of them are innocent. Steven McCool, lawyer of Martinez, says he strongly believes that the jury will exonerate them saying, "We are certain a jury will swiftly exonerate Carlos, as these charges are nothing more than stale fiction."
"It's shocking that the government would bring such a thin case," Matthew Umhofer, an attorney for Lopez, has said. "The indictment contains nothing more than single paragraph about Mr. Lopez that alleges nothing remotely improper. Mr. Lopez can't wait to defend himself at trial."
The two are set to be arraigned on April 9.