After fake news and misinformation have been promoted as the biggest of the problems on the internet today, we seem to be witnessing the birth of yet another term in this persistent narrative: "information disorder."
The term is mentioned several times in an interview with Africa Check's chief editor Lee Mwiti published by the non-profit First Draft.
Many large social media networks want to get critics and old media off their back by using "independent fact checkers" – and Africa Check bills itself as one of them, and the continent's first.
Critics of fact checkers, meanwhile, say that the real reason they are employed as a tool, and often the result of their handiwork, is to suppress free speech rather than weed out disinformation – something that Mwiti surprisingly seems to acknowledge at one point, when asked about "the biggest threat to journalists (in Africa) in terms of information disorder."
"We have seen concerning moves towards shrinking the space for freedom of expression, with authorities citing online misinformation as justification," Mwiti said.
It's hard to see how Africa Check and similar outfits make this situation any better, since their existence perpetuates the assertion that online misinformation is rampant to the point of being dangerous. What's more perplexing is that Africa Check has been one of the more prominent fact checkers of memes – and memes are something that is increasingly described as a form of the "freedom of expression" Africa Check says they're concerned about.
Mwiti's overall reasoning is all the more unclear since he said that in the four countries it covers, this fact checker has brought about "more appreciation of false information and its consequences," and is hopeful it would prove it with hard numbers showing that there is "more general awareness" of misinformation online.
A while later in the interview, Mwiti states that fact checking is "not complicated" but has "immense benefits to society."
"Policy based on disinformation can hurt life outcomes and weaken democracies," he said.
Most people would probably be hard-pressed, however, to explain how some of Africa Check's efforts have "immensely" benefited society or strengthened democracies.
Take for example, their "fact checking" and censoring of a meme about activist Greta Thunberg, that was flagged on Instagram as "false" – despite being satirical, and even more importantly, despite being a meme.
Then there was the censoring on the same platform of the "car tire meme".
Not to mention this image that it took "independent fact checkers" to review and declare as "factually inaccurate."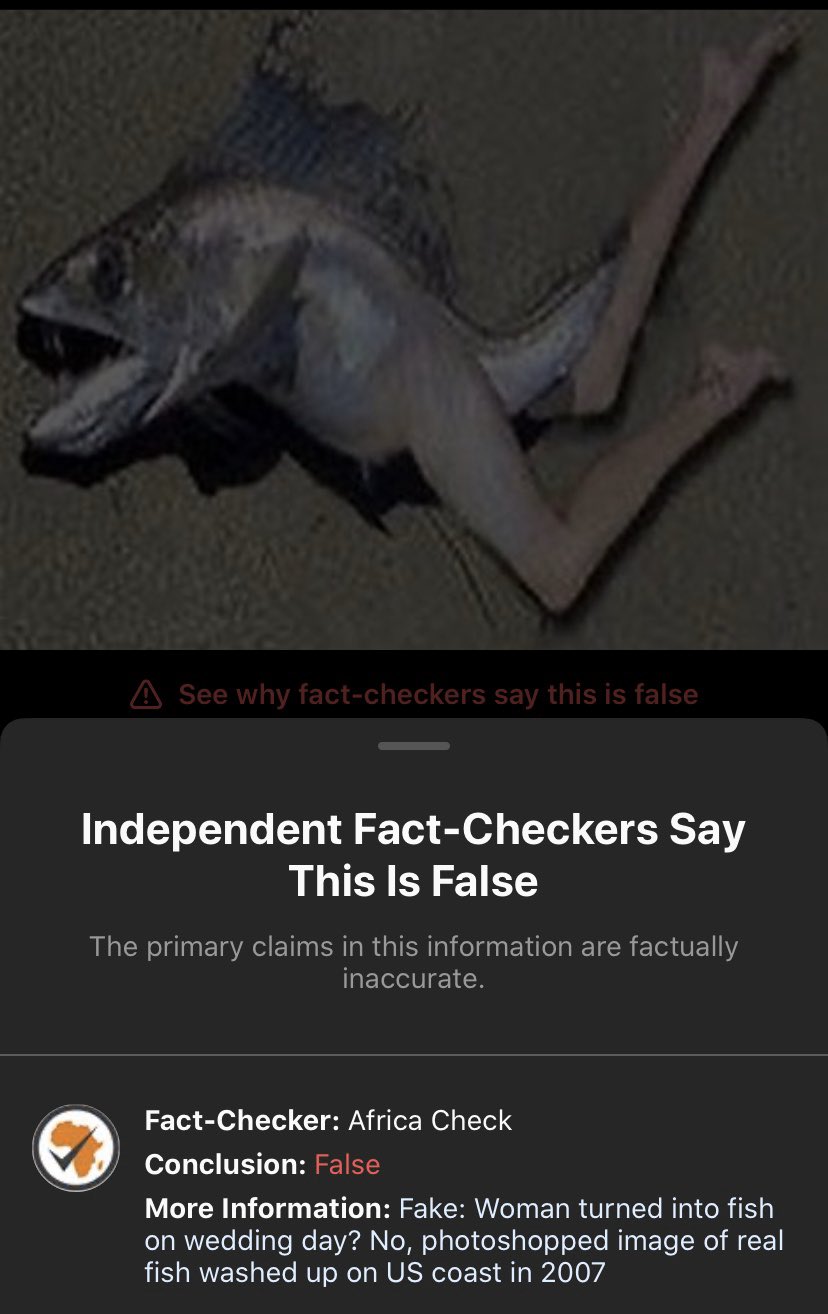 Digital freedom of speech and expression has hit a ten-year low in most parts of the world, according to a recent study by Article 19 – a charity that specializes in promoting such freedoms. The report stated tech companies that have monopolies over the conversation are one of the factors to blame.