A career of the police chief in Lancaster, Pennsylvania, has been cut short after his wife supported President Trump in a comment to a Facebook post.
49-year-old Jarrad Berkihiser, faced an ultimatum from the mayor, Democrat Danene Sorace, to either retire or be fired, and eventually chose the former.
The account of this controversy comes from until recently the head of the Fraternal Order of Police (FOP) for Lancaster, John Fiorill, who said Berkihiser had turned to the organization for advice once he was asked to step down on account of his wife's opinion expressed online.
On September 27, Kristy Berkihiser posted, and then deleted a comment in response to a Trump campaign volunteer who happens to be her friend, and who shared that the president was respectful and thankful to police officers during a rally at Harrisburg Airport.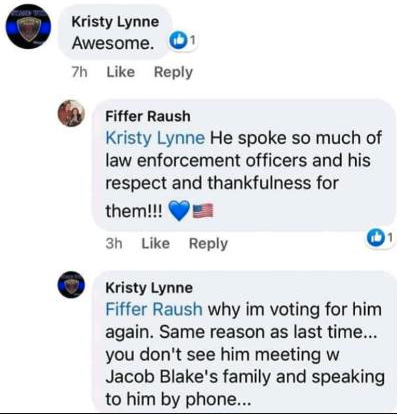 In a climate where this is becoming highly unusual, Kristy Berkihiser replied by saying this was the reason she would vote for Trump once again, adding that (unlike Democratic candidate Biden), Trump was not visiting the family of Jacob Blake, a man shot by the Kenosha police in August.
This was apparently all it took for Mayor Sorace to completely change her mind on chief Jarrad Berkihiser, whom she three years ago, when he was appointed to the job, praised as a leader with integrity, vision, and a deep commitment to his community.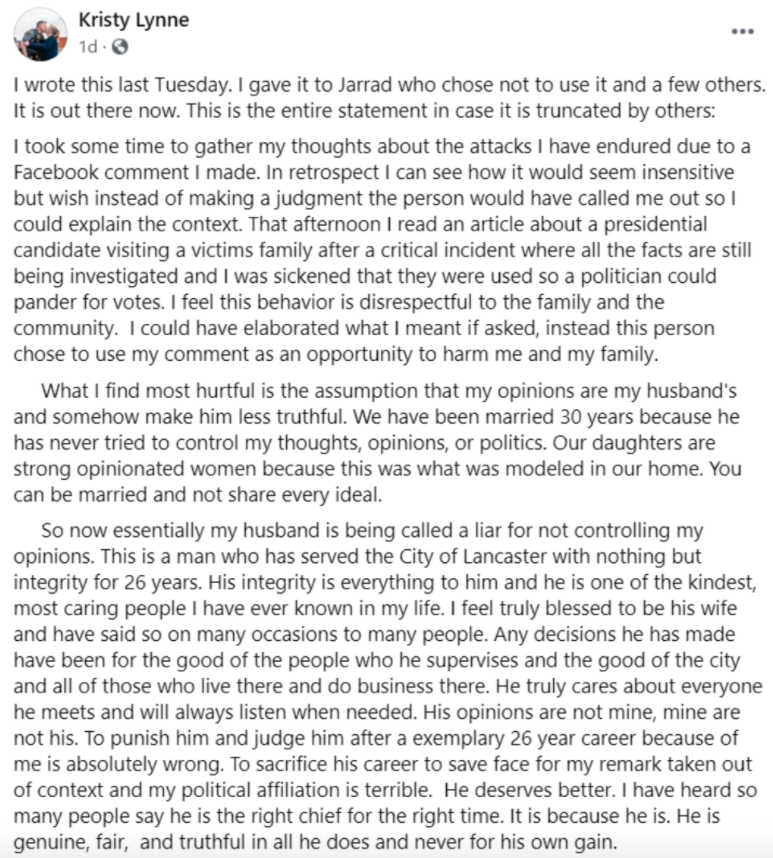 On October 2, Sorace held a 3.5 minute news conference where reporters were not allowed to ask questions, and where Berkihiser was absent, to announce that Berkihiser would retire.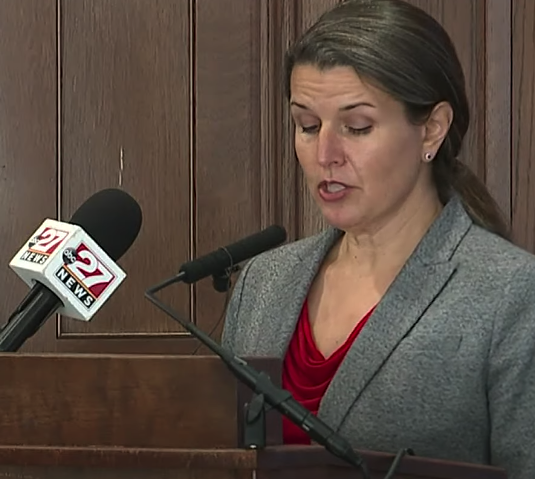 The soon-to-be former police chief's only subsequent comments (apparently because of the terms of his retirement) have been that the move was "unexpected and unplanned" and "after 26 years of service."
Fiorill, meanwhile, recalled that Berkihiser was committed to bringing the police and the local community together after the death of George Floyd, when he met with protesters and marched with them earlier in the year. Now the former FOP head believes that the only reason for Berkihiser's forced retirement is political, rather than professional.