The entirety of Marion's five-member police force and two sheriff deputies invaded the Marion County Record's office last Friday, confiscating computers, cellphones, and other journalistic materials. The unanticipated blitz, in Kansas, spearheaded at Eric Meyer's home as well as the newspaper's premises simultaneously, has chillingly been called a clear assault on the free press, lending a profound sense of foreboding to the future of investigative journalism.
Initial intel points to the raid's motivation as a confidential informant incriminated by a leak of "sensitive" documents to the newspaper. The newspaper's publisher and owner, Eric Meyer, interprets this police action as a crystal clear threat – abide by our rules, or face the muzzling consequences.
The ransacking of the newsroom is troubling to media advocates and leaves the newspaper on shaky operational grounding with an imminent weekly publication deadline.
This startling event follows stories from the newspaper detailing a local restaurateur, Kari Newell, chasing reporters from a meeting featuring US Rep. Jake LaTurner. Additionally, the newspaper exposed Newell for driving without a license and a history of DUI, and Newell complained saying that private information was leaked to the paper.
Meyer, a veteran journalist with an experience of two decades at Milwaukee Journal and 26 years as a journalism professor at the University of Illinois, voiced his disbelief at this extreme suppression of the press.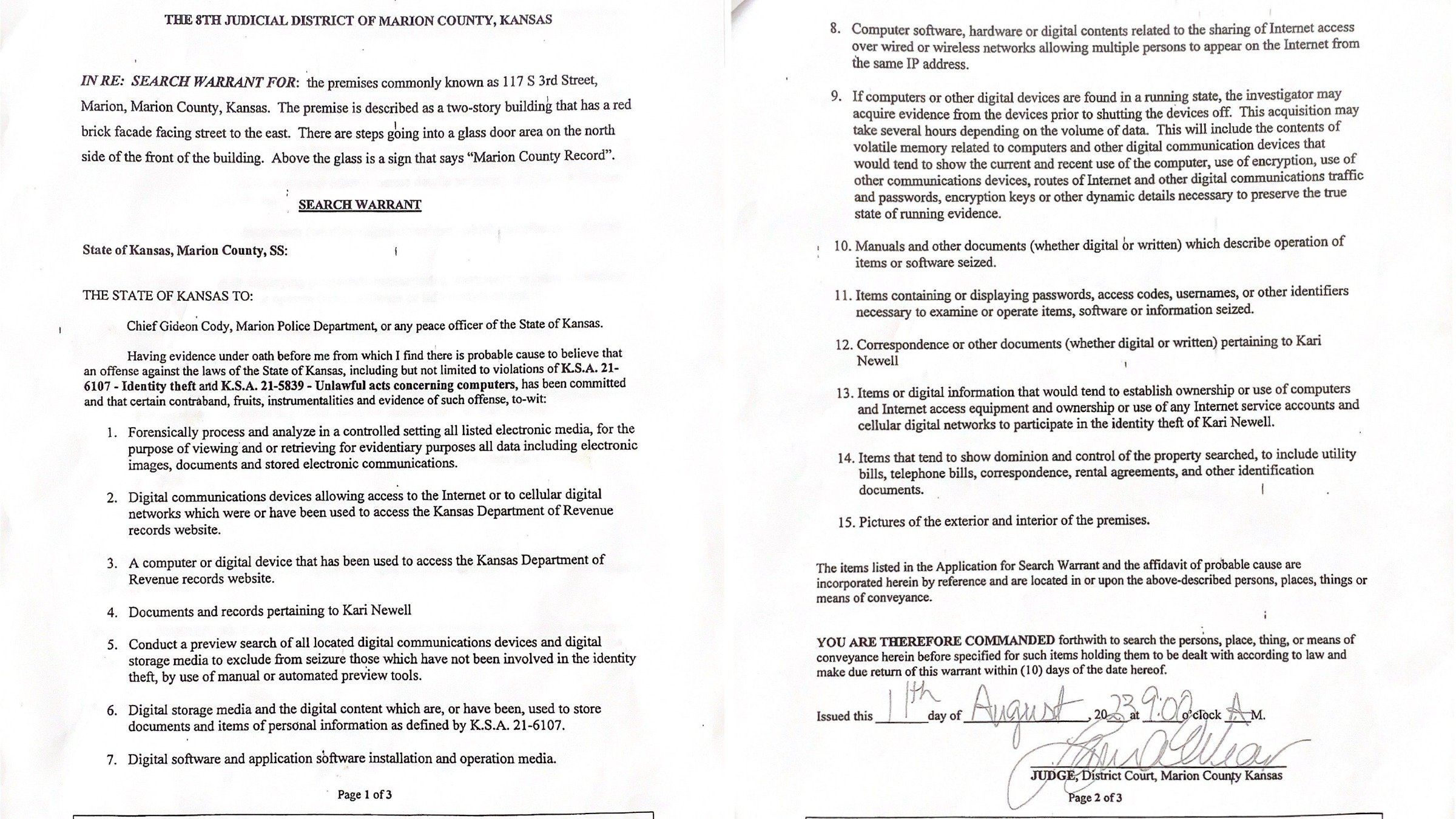 In the eye of this unprecedented censorship storm, the Kansas Press Association's Executive Director, Emily Bradbury, defended the sanctity of journalism as a cornerstone of democracy and public awareness.
The disconcerting operation, supposedly justified by a search warrant issued by Marion County District Court Magistrate Judge Laura Viar, seemingly flouts federal protections against the warrantless seizure of journalistic content. Typically, information from journalists is supposed to be subpoenaed.
Furthermore, legal maneuvering ensues with Meyer mired in suspicion of an ulterior motive from the confidential informant, potentially connected with Newell's divorce process. However, allegations from Newell, concerning the illegal procurement and dissemination of sensitive documents by the newspaper, proved unfounded.
The seizure of computers and other devices used for publication casts a shadow of doubt on the newspaper's upcoming edition.
Newell, however, continues to propel accusatory narratives of biased journalism, describing the entire situation as a ploy to tarnish her reputation and impede her business.
From the institutional perspective, only Police Chief Gideon Cody can comment on the incident, who frustratingly remained unavailable. Similarly, the office of Attorney General Kris Kobach fell silent on commenting on the controversy.
Yet, the Kansas Bureau of Investigation has confirmed it was brought in to investigate criminal allegations, on request from the local police department.
Coming full circle, Meyer – who has familial ties to the newspaper and prevented a potential sale to a multi-national chain in 1998 – mirrors the repression his Egyptian students experienced in their homeland's media landscape to that in Marion, concluding with an ominous note, "I didn't think it could happen in America."