This evening, Twitter permanently banned the well-known Krassenstein brothers – Brian and Ed Krassenstein – who rose to fame for their fast, raging, anti-Trump replies to the President's tweets.
The notorious Trump-bashing Twitter celebs had around 1.6 million Twitter followers between them at the time of their suspension.
While there has been a wave of censorship from Twitter in recent times – something that's escalated in the last few months – this time, it appears that Twitter isn't banning these prominent accounts for their content. This time, it's because Twitter says that an investigation revealed that the Krassenseins were using bots and fake accounts in order to manipulate Twitter.
During the last few years, The Krassenstein brothers appeared to have worked out that replying to the President's tweets fast would get them large amounts of attention and followers. Many often wondered about how the brothers were able to be among the first to reply to President Trump's tweets. This evening's revelation may reveal why.
In a statement about the matter, Twitter said:
"The Twitter Rules apply to everyone…Operating multiple fake accounts and purchasing account interactions are strictly prohibited. Engaging in these behaviors will result in permanent suspension from the service."
The brothers were often praised by leftists and members of "#Resistance-Twitter" for their constant attacks on the President. Their arguments with Trump supporters were often a source of contention and amusement for many on Twitter.
Many conservatives will actually likely miss their interaction with the brothers on Twitter.
Carpe Donktum – often referred to as The President's favorite meme creator – since Trump retweeted his creative memes several times – says he had recently been the subject of an attack from the Krassenstein brothers when they apparently tried to get him banned from Twitter.
However, despite his differences, Donktum said, in a Tweet: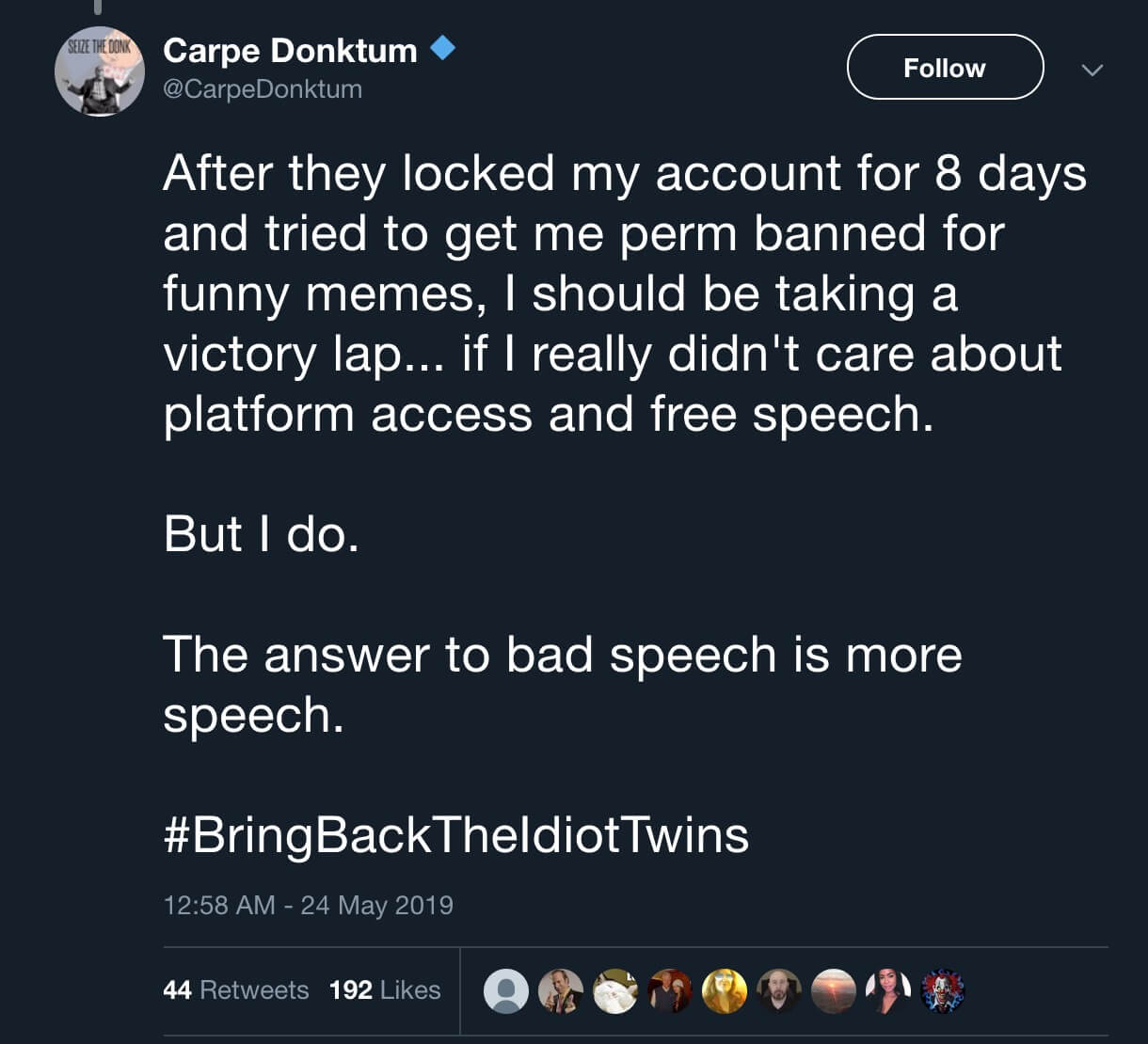 After they locked my account for 8 days and tried to get me perm banned for funny memes, I should be taking a victory lap… if I really didn't care about platform access and free speech.

But I do.

The answer to bad speech is more speech.

#BringBackTheIdiotTwins
Update, May 24: The Krassenstein Brothers responded to Twitter with the following statement:
We, or immediate family members and/or business partners operated multiple Twitter accounts in a 100% non-manipulative or misleading way.  These, however, ONLY included @EdKrassen, which is Ed Krassenstein's personal account; @Krassenstein, which is Brian Krassenstein's personal account; @KrassenCast, which is the official KrassenCasts podcast account; and two additional accounts: @kstein2020 & @FrankKern20, both of which were used specifically to track threatening tweets by others, targeted at us and/or our families (more on this below).
In addition to this, we have run other Twitter accounts in the past for various businesses and projects, which we have not logged into for years.  None of them were misleading or manipulative in any way.  There was one Twitter account used named "Impeach Donald Trump" but we had deactivated it well prior to the suspension, and it was never used to deceive, mislead, or manipulate.
We NEVER, and we want to make this as clear as day, ever bought or sold ANY Twitter accounts or interactions.  We swear on our graves that this is 100% true.