One of the roles of journalism is supposed to be to hold power to account.
Yet most of the mainstream video game news websites have been eerily silent about one of the largest corporations in the games industry, Sony, continuing to abuse the Digital Millennium Copyright Act (DMCA) to censor content discussing the April 27 The Last of Us 2 leaks.
Sony is the parent company of The Last of Us 2's developer Naughty Dog and ever since the leaks hit the internet, videos, memes, and all manner of other online posts that reference them have been taken down in response to copyright claims from Sony Interactive Entertainment and MUSO TNT Ltd, the copyright agent representing Sony.
Some of the content that has been taken down as a result of these claims doesn't even feature footage or screenshots from The Last of Us 2 leaks and is simply people discussing or referencing the leaks.
Content referencing these leaks has been taken down regularly during the two-plus weeks since MUSO and Sony started filing these copyright claims so it's still a very newsworthy and current topic.
In the last couple of days alone, the Twitter account of commentary channel TheQuartering was hit with 21 DMCA claims from MUSO on The Last of Us 2 video thumbnails that had been posted to Twitter, commentary channel HeelvsBabyface had his copyright claim appeals on two The Last of Us 2 videos rejected by Sony Interactive Entertainment, and commentary channel Just Some Guy had a copyright claim on his The Last of Us 2 video lifted and then the same video was flagged again 15 hours later by MUSO.
Several Twitter users have also had their tweets taken down and been locked out of their accounts after being hit with DMCA notices from MUSO.
Mainstream video game news outlets have been covering The Last of Us 2 and stories from outlets such as Eurogamer, GameSpot, and GamesRadar appear close to the top of Google Search news results for "last of us 2."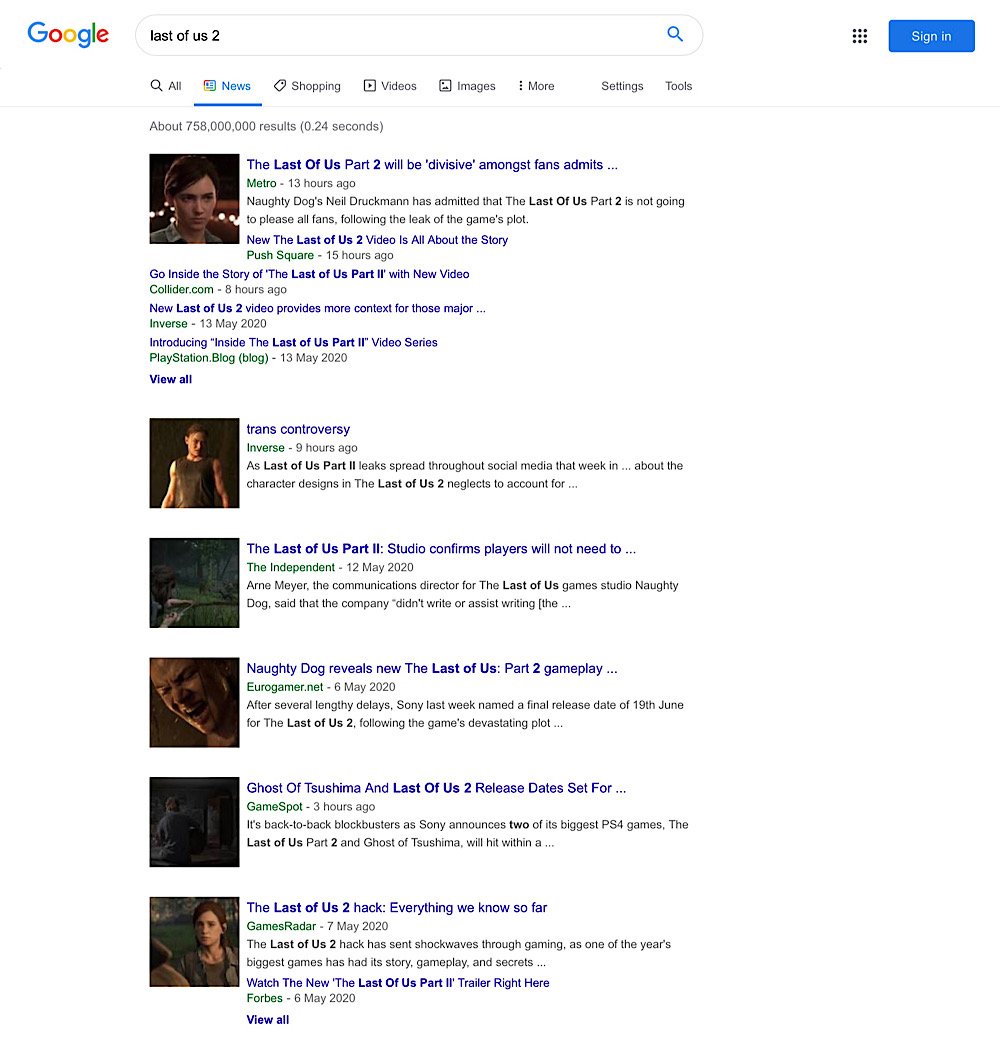 But searching for "last of us 2 DMCA" returns no results from these outlets with most of the results for this topic coming from alternative and independent media outlets.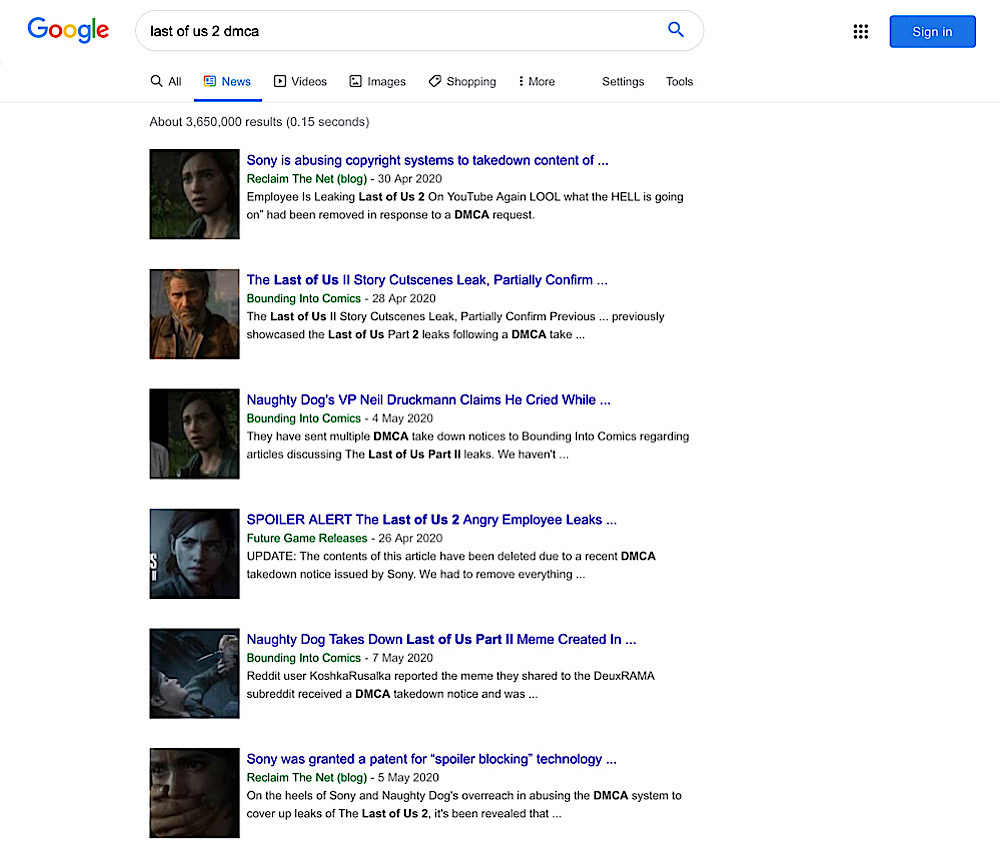 Searching for "last of us 2 copyright" does return some stories from mainstream video game news outlets but most of them only mention the copyright claims in passing and ignore Sony and MUSO's abuse of copyright systems.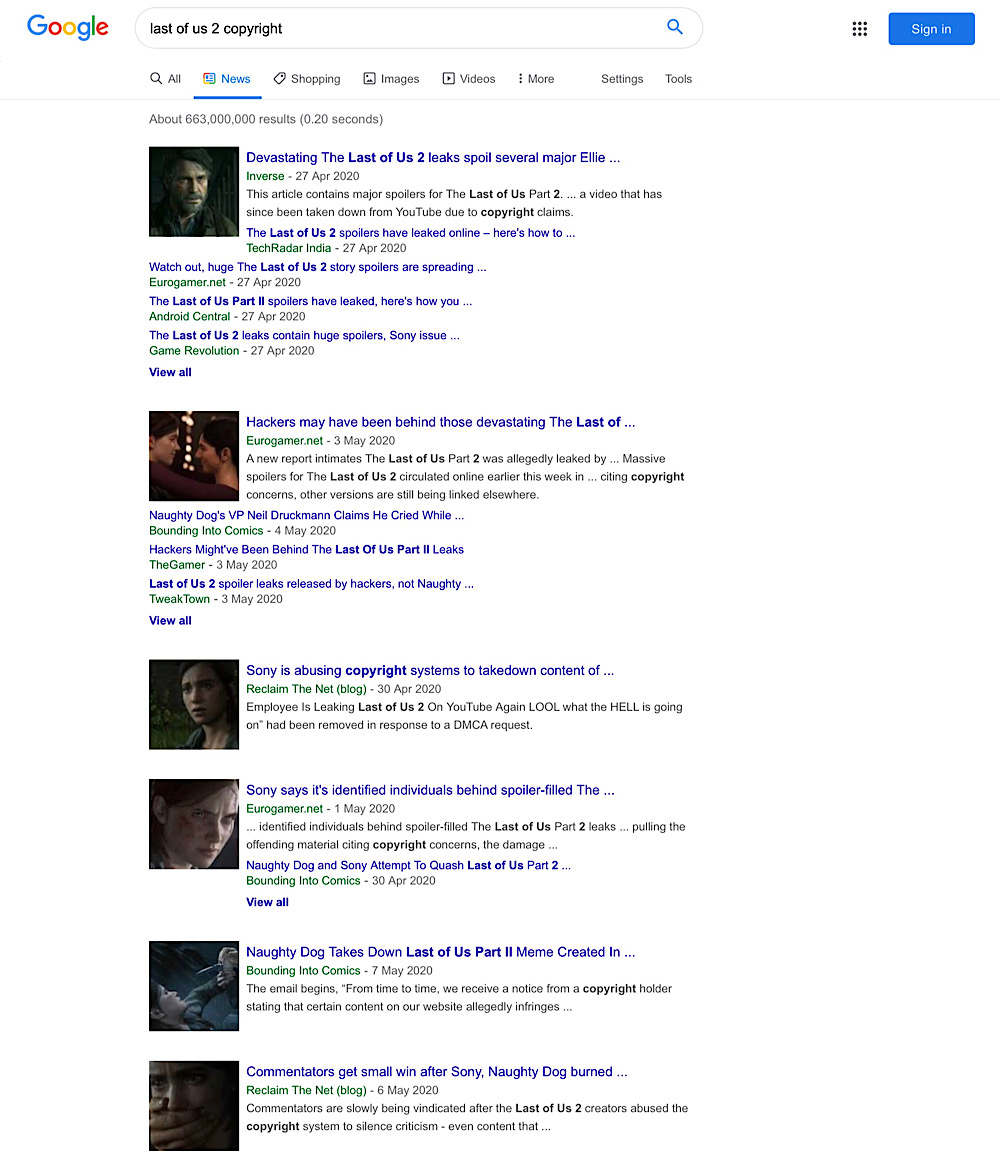 Instead, the stories are largely positive towards Sony and mostly focus on how the leaks have spoiled The Last of Us 2 story or how hackers were behind the leaks.
For example, one of the Eurogamer articles from these "last of us 2 copyright" search results is titled "Watch out, huge The Last of Us 2 story spoilers are spreading online" and has this to say about the copyright claims:
"The first videos have been pulled from YouTube and reddit by Sony, citing copyright concerns, but other versions are still being linked elsewhere. Discussion on social media is now rife on what the plot points mean for the game. There's a sense the genie is out the bottle."
There's no mention in this article of how copyright claims are being used to silence commentary or that some of the content that's been taken down doesn't contain any leaked video or screenshots.
With The Last of Us 2 due for release on June 19, it remains to be seen whether the gaming news outlets will eventually address this scandal or whether they'll continue to ignore the elephant in the room for another month while their review copies of the game arrive.