Many companies have responded to the death of George Floyd while in police custody by publicly supporting the protests that have erupted across the US in the wake of his death.
Several observers have noted that a lot of these corporate statements seem hollow because many of these same companies were silent during the pro-democracy protests in Hong Kong and some even banned apps that were used by protestors.
This week, toy manufacturer LEGO weighed in on the situation by instructing its affiliates to remove the LEGO Creator version of The White House and more than 30 other LEGO products from their sites ASAP.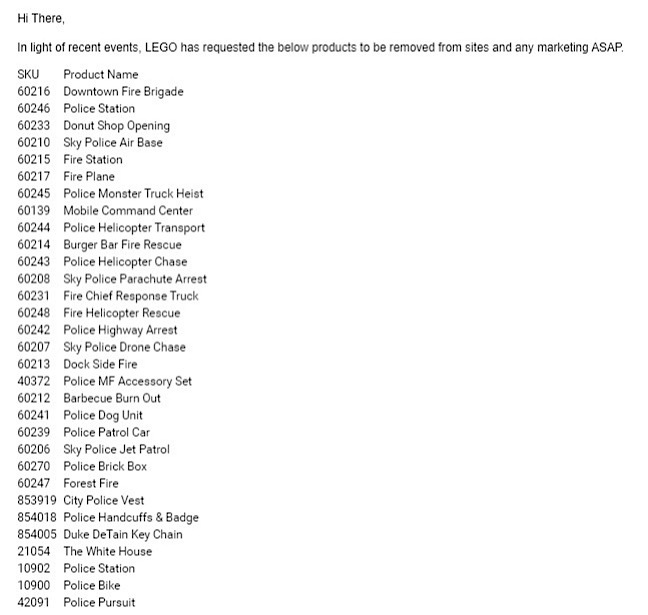 These other products include representation of police officers, firefighters, criminals, emergency vehicles, and buildings.
While the products are still available to buy on the LEGO website, affiliates have been told to refrain from posting promotional content about them.
Keep in mind, there are some false reports out there that LEGO stopped selling the products altogether. While that isn't true, LEGO did tell affiliates to suspend the marketing efforts of the products.
LEGO said the request to affiliates was part of its "decision to respect #BlackOutTuesday" and "in response to the tragic events in the US."
LEGO's decision comes as concerns are rising over the role political bias is having over corporate decisions.
After Facebook said it wouldn't be deleting President Trump's statement last week, employees inside the company protested the decision and pushed for the President to be censored.
Less than a week later, Facebook backtracked and said it was now considering adding warning labels to statements from world leaders.
Twitter has also censored the President's statement several times over the last week and even put him at the top of the search results for the term "racist."